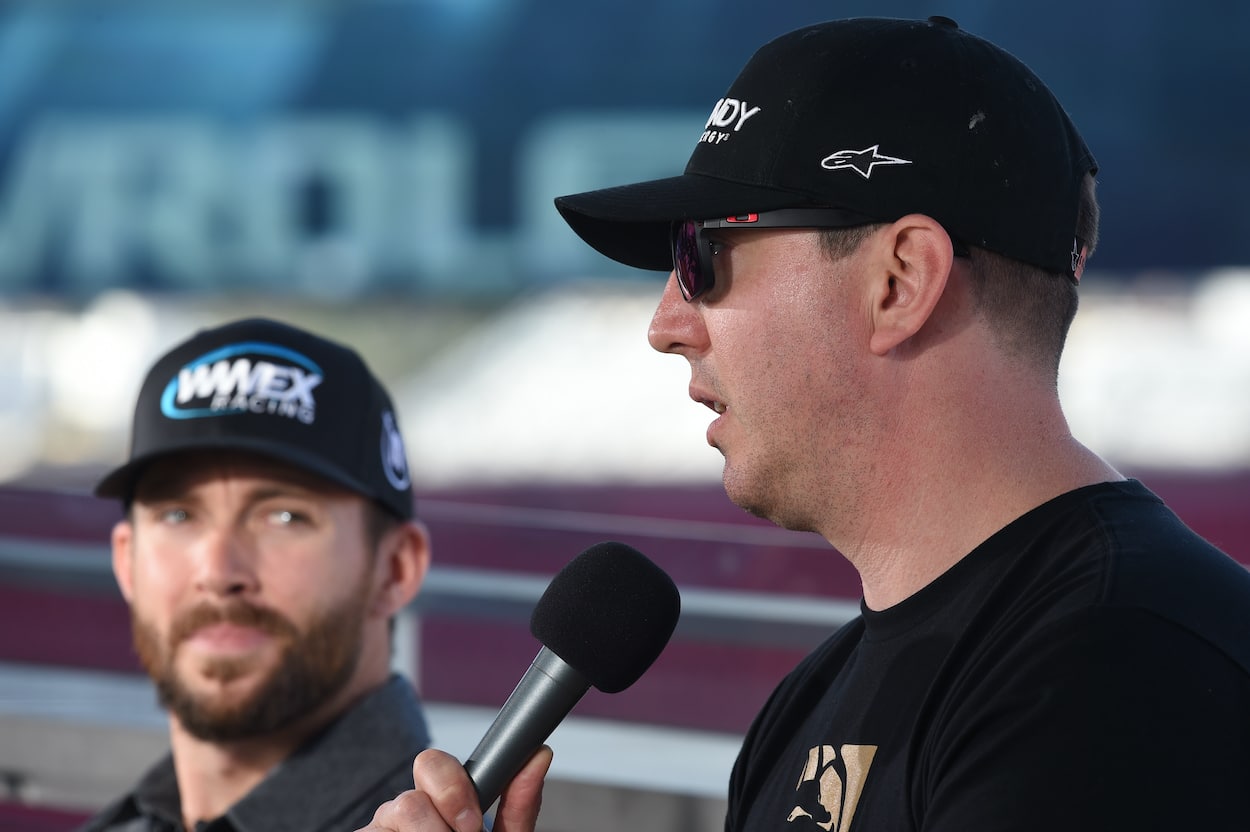 Unhappy Kyle Busch Directs Multiple F-Bombs at Ross Chastain, and Might Be Next to Deliver Forceful Message to Watermelon Farmer Based on Past Experience
Kyle Busch didn't hold back on Sunday at Kansas, directing multiple f-bombs at Ross Chastain, and based on past experience, might be the next driver to try and send a forceful message to the watermelon farmer.
Kyle Busch had some choice words for Ross Chastain during Sunday's race in Kansas, long before the watermelon farmer upset Noah Gragson and came to blows with the rookie driver on pit road. Based on history, the two-time Cup Series champion could be the best candidate to deliver a forceful message and set the Trackhouse Racing driver straight. 
Ross Chastain and Noah Gragson fight on pit road
Ross Chastain wasn't going to get a Christmas card from Noah Gragson after what happened a few weeks ago at Talladega when on a late restart, the 30-year-old driver lined up behind the rookie in the outside lane, and not long after crossing the start-finish line, instead of pushing his fellow Chevrolet, dove down into the middle, making it three-wide and, more importantly, making contact, sending the No. 42 car to the right up into the outside wall.
On Sunday at Kansas, the Legacy MC driver once again found himself going into the outside wall after the No. 1 car came up the track coming out of Turn 4 and gave him very little room. Gragson responded by driving down the track and running into the side of the Trackhouse Racing car.
That was just the warmup.
When the race ended, the 24-year-old walked down pit road, and confronted Chastain, first grabbing his firesuit and pushing him backward before jerking him back and forth several times. The second-place finisher in last year's Cup standings then reacted with a stiff right hook to Gragson's face. 
The rookie tried to return fire with a right of his own, but NASCAR security intervened, and officials broke up the fight before it truly ever got started. 
Kyle Busch directs multiple f-bombs at Chastain
Interestingly, before Chastain aggravated Gragson at Kansas, he upset Kyle Busch. But this isn't anything new with the Richard Childress Racing driver. Last year, with Joe Gibbs Racing, the future Hall of Famer was not happy with how the No. 1 driver raced him at Richmond, getting into the left rear of the No. 18 car and sending the Toyota for a spin. 
Moments after the race, in which Busch managed to rebound and finish ninth, he talked about the incident. 
"We got Chastained this week," he said. "We were his victim this week."
Fast forward to Sunday. Busch did not like how Chastain was racing him and talked about it over the team radio.  
"Is it just me?" the driver asked. 
"Uh no, I don't think so," his crew chief Randall Burnett replied.
"What's [Chastain] pissed about? He wrecks everyone every week," spotter Derek Kneeland questioned.
"He's pissed because I'm f****** pissed because he races like a f****** ass****, and so I doored him twice down the backstretch like, 'This is your f****** warning boy.'"
"Love it," the spotter said.
"Seems to me like he's all out of f****** warnings these days," Burnett concluded. 
Busch punches Joey Logano in 2017
Noah Gragson also felt like Chastain had received enough warnings and initiated the confrontation with him on Sunday but didn't get in the first punch. The rookie clearly wasn't paying attention to Kyle Busch six years ago at Las Vegas when the driver marched down pit road to Joey Logano and didn't say a word or grab any piece of clothing but let his right-hand fly.
That brawl involved multiple pit crew members from both teams and ended with Busch leaving with a bloodied forehead. But that incident showed a driver committed to immediate retribution without concern for discussion or consequences. 
Some would suggest it's that type of scenario that's still needed to get the Trackhouse driver to tone it down. Will Busch finally get fed up enough and run it back to 2017 with Chastain? He might have had that attitude on Saturday but after seeing Chastain's punching power, he might be a little more hesitant going forward.
To stay up to date on the latest happenings in NASCAR, follow Kyle on YouTube and Twitter.