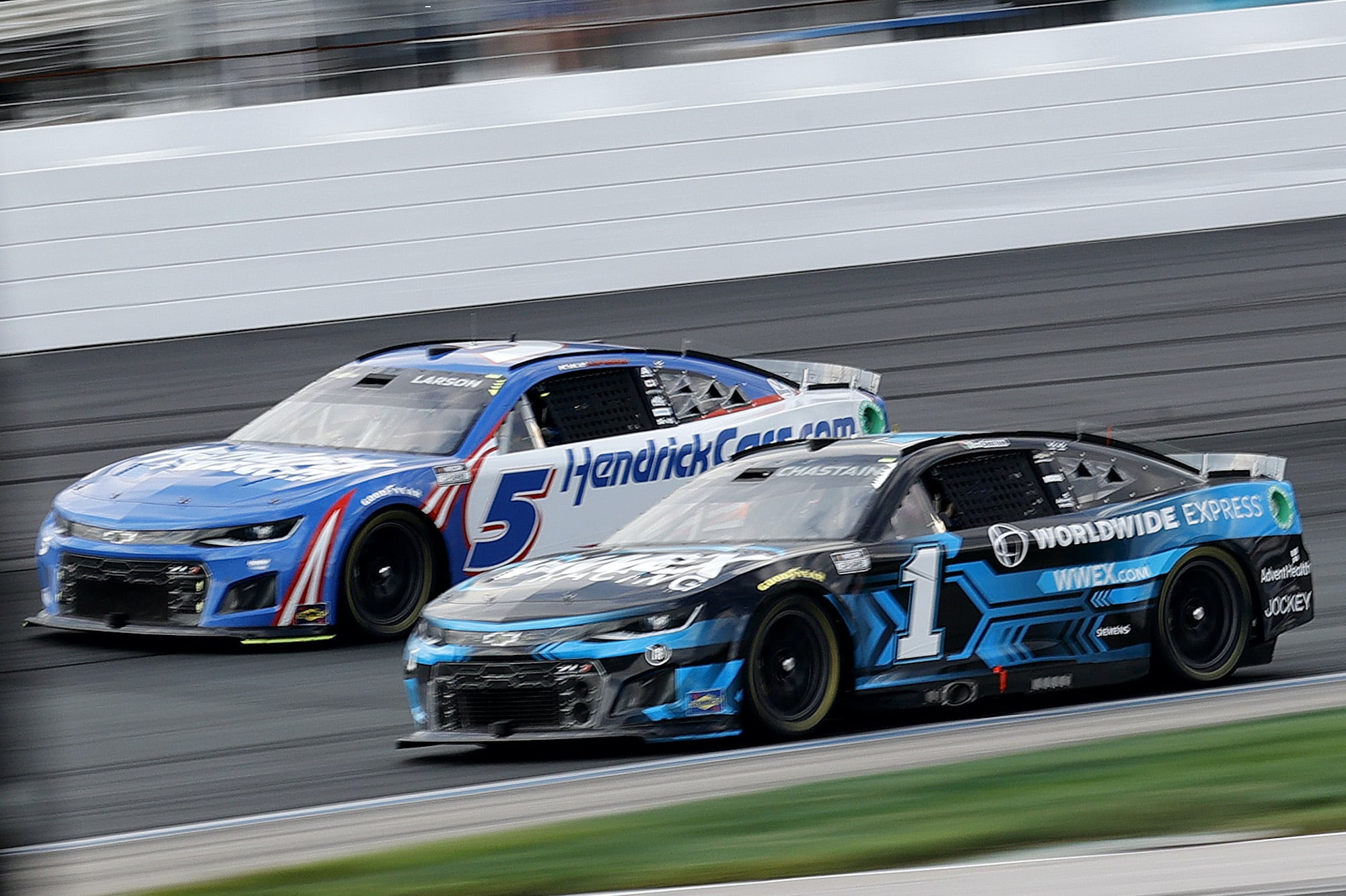 Kyle Larson Openly Mocks and Rejects Offer to Work With Ross Chastain at Michigan
Kyle Larson received a proposal to work with Ross Chastain during Sunday's Cup Series race at Michigan. He first laughed then rejected the offer.
Kyle Larson is the reigning NASCAR Cup Series champion. Ross Chastain is the new kid on the block who has ruffled more than a few feathers this season en route to earning his first two career Cup wins. Both drive Chevrolets. 
On Sunday, during the race at Michigan International Speedway, Larson's team proposed that he might consider working with his manufacturer teammate because they were outnumbered while racing up front against multiple Toyotas. The Hendrick Motorsports driver scoffed at the idea.
Kyle Larson shoots down proposal of working with Ross Chastain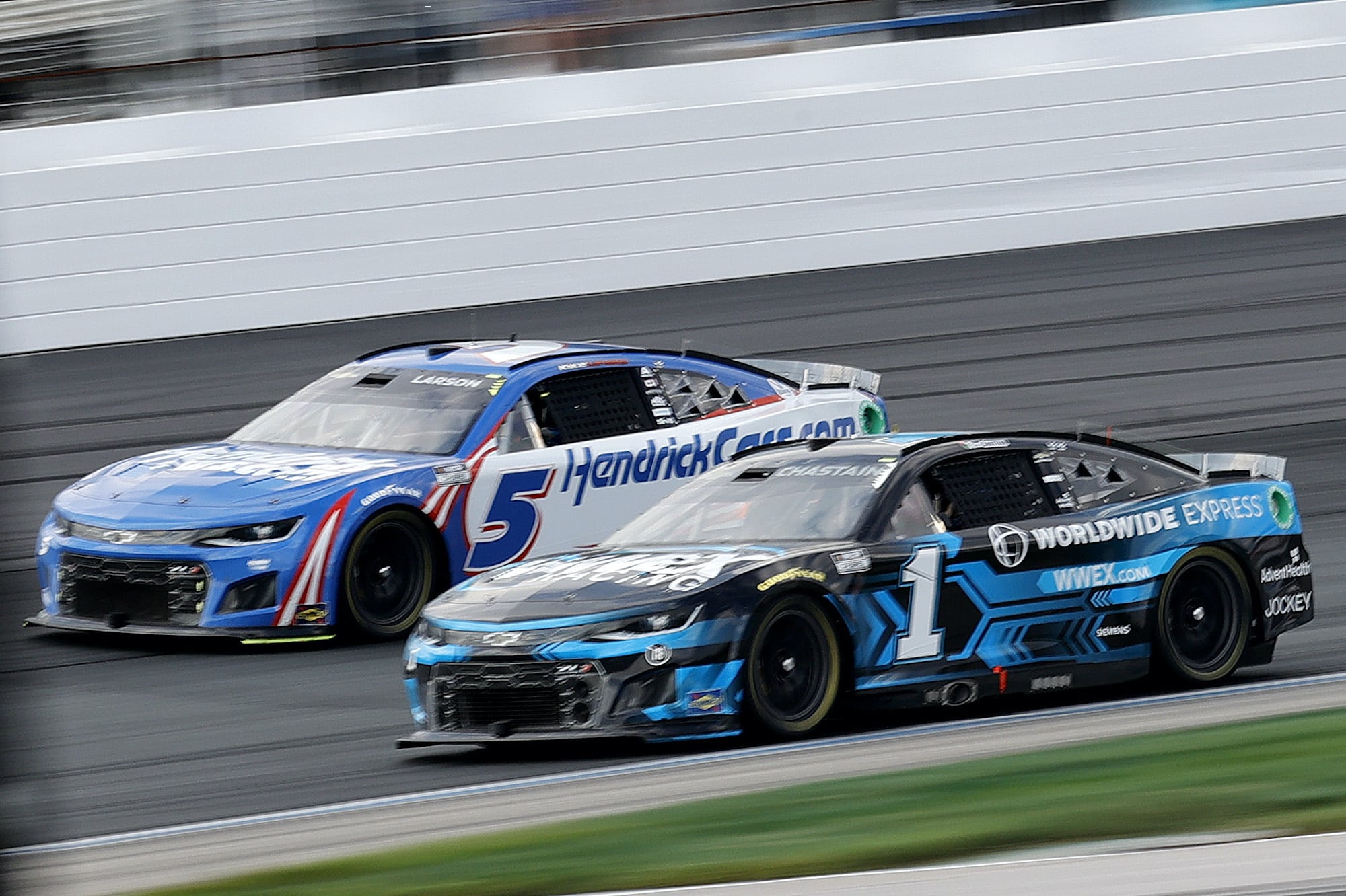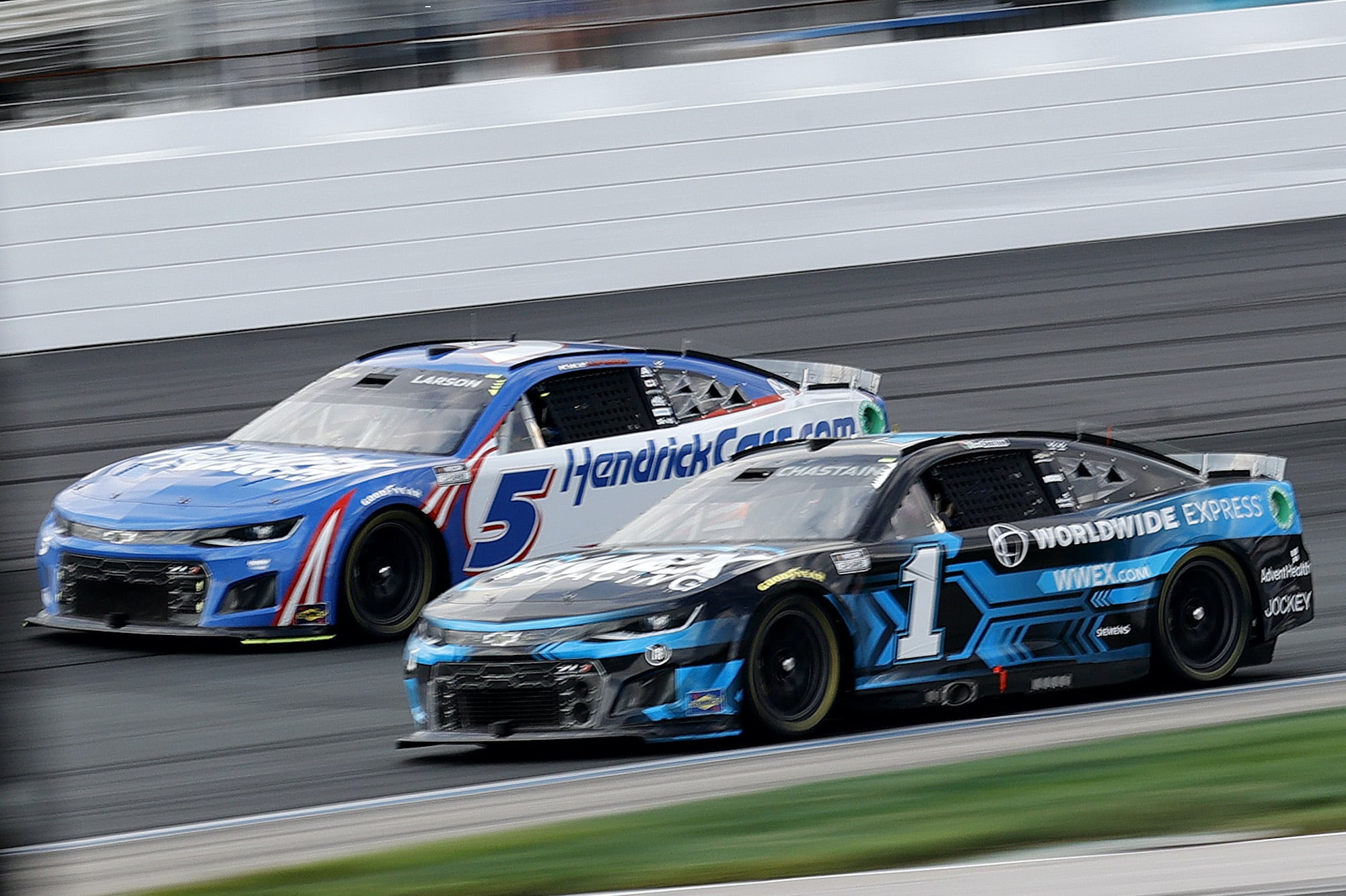 Just before the halfway point of Stage 2 at Michigan, Ross Chastain held the lead with Kyle Larson right behind him. They were being pursued by three Toyotas when Larson's spotter had a proposal for his driver and communicated it over the radio. 
"If you and Ross can work together here, try to pull away," his spotter told him.
"Ha," Larson quickly responded. "Ross doesn't work together with anybody. Funny."
"I mean, I get it, but it may help us both get away from those guys and then we can battle it out later," Larson's crew chief Cliff Daniels added. 
The two never paired up. 
Kyle Larson moves Chastain at Road America
While Kyle Larson hasn't had any issues with how Ross Chastain has raced against him this season, he's watched his HMS teammate Chase Elliott and good friend Denny Hamlin fall victim to the Trackhouse Racing driver's aggressive maneuvers. 
Last month at Road America, the defending champion battled Chastain for third place in Stage 3 when he lost his patience and pulled off a move similar to what the watermelon farmer has done in the past, closing in on the rear of the Trackhouse car, before giving it a nudge heading into the corner. The No. 1 car went off track, and Larson claimed the third position.
"Ready to get that pass over with, so he made it happen," Dale Earnhardt Jr. said of Larson's move on the broadcast.  
Comparing their seasons
Kyle Larson's reputation as one of the best drivers was confirmed last season with his 10 wins and the championship. Interestingly, this season, in a head-to-head comparison with Chastain, the No. 5 car has not been quite as good as the Trackhouse car.
Through 23 races, Chastain has 14 top-10 finishes with a couple of wins. Larson has recorded 12 top 10s and a single win at Fontana. 
On Sunday, after Larson rejected the offer to work with Chastain, both cars dropped back in the field but eventually made their way back to the front. Chastain's day, however, took a turn for the worse when he got blocked by Christopher Bell and his Toyota car late in the race. He finished 24th. Larson finished seventh. 
Like Sportscasting on Facebook. Follow us on Twitter @sportscasting19 and subscribe to our YouTube channel.