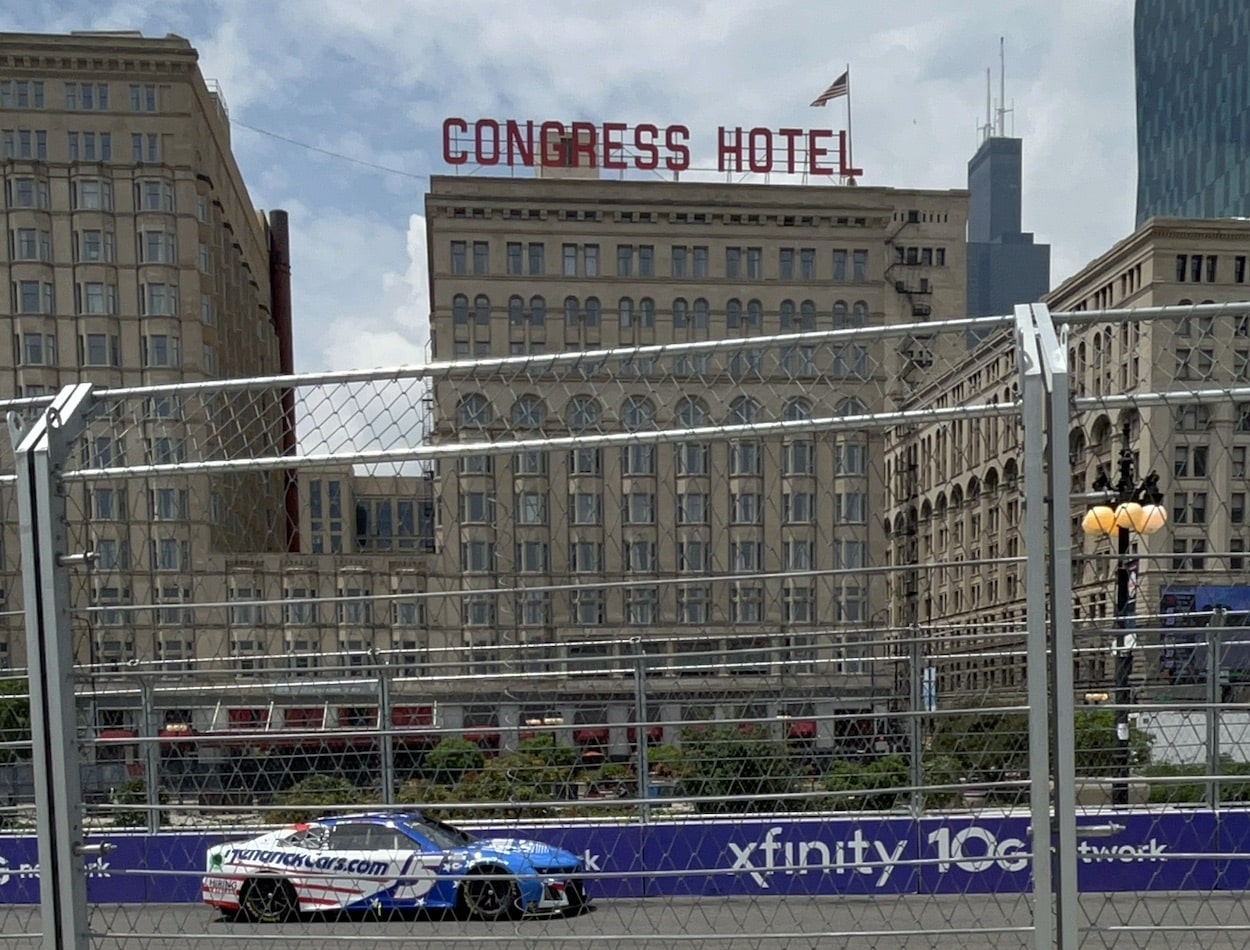 Kyle Larson Shares Details on His View of Shane van Gisbergen Dicing Through Cup Series Field Late in Chicago: 'Holy S***! This Guy Is Flying.'
Kyle Larson talked about his race in Chicago and the one moment Shane van Gisbergen totally impressed and surprised him with his race craft.
Kyle Larson is considered by many to be the best driver in NASCAR. Some, like three-time champion Tony Stewart, have even suggested the 2021 champion is the best of all time. On Sunday in Chicago, the Hendrick Motorsports driver finished fourth in the sport's first-ever street course race.
After the race, he visited with the media and shared what he saw late in the race from the seat of his No. 5 car as he watched Shane van Gisbergen dice his way through the field on his way to a historic victory, including the moment he erroneously thought he'd put some space between himself and the driver making his Cup Series debut.
Kyle Larson has been solid in 2023
Halfway through the 2023 Cup Series schedule, and Kyle Larson is right where you'd expect him to be, with a couple of wins and eight top-five finishes. Interestingly, there potentially could have been more wins, but Ross Chastain has had something to say about it. 
On Sunday in downtown Chicago, the 30-year-old started the Grant Park 220 from the seventh position after a solid qualifying run the day before.
At the completion of a wild Stage 1, which included numerous drivers locking up the brakes on the wet surface and sliding into the tire barriers around the track, the HMS driver stayed clean and maintained his same spot of seventh. 
In Stage 2, Larson methodically made his way forward, and when the stage ended, found himself running in second behind Christopher Bell and in prime position to capture his third win of the year. 
Larson details what he saw in final laps at Chicago
When NASCAR announced it had shortened the race to 75 laps at the Stage 2 break, the field flipped because numerous cars had pitted a few laps earlier and were within the fuel window to reach the end of the race. 
Larson and the rest of the field pitted at the break. The No. 5 car came out 12th to start the last stage. 
In that final stage, the HMS car steadily made progress toward the front. So did Shane van Gisbergen, who restarted in 18th position. With just under 20 laps to go, the New Zealander had made his way up to 10th and sat one position behind Larson. 
After the race, a reporter asked Larson for his thoughts on van Gisbergen's drive in those final laps.  
"It was so fun to watch from my view," Larson said. "When he got to my back bumper, I felt like I pieced together a really good section, and I was like, I thought for sure I'd look in the mirror, and I was going to be like two car lengths or something in front of him, and he was glued to my back bumper, and I was like, 'Holy s***! This guy is flying.'
"He was able to get by me, and then I got to watch the show. I kind of followed him through, and the moves he was making really everywhere — he could pass anywhere, but the moves that he could make into (Turn) 2 was really neat to see, and then the pass that he had for the lead — I thought their battle for the lead was great.
"He made his move into 2. Justin was able to get a good exit and squeeze inside, and I was like, man, he's going to be able to fight him off here for a little bit longer, and he just made a super aggressive lane change back to his right side. It was just — it was sick. It was awesome."
Admits it was humbling and curious what SVG thinks about Cup drivers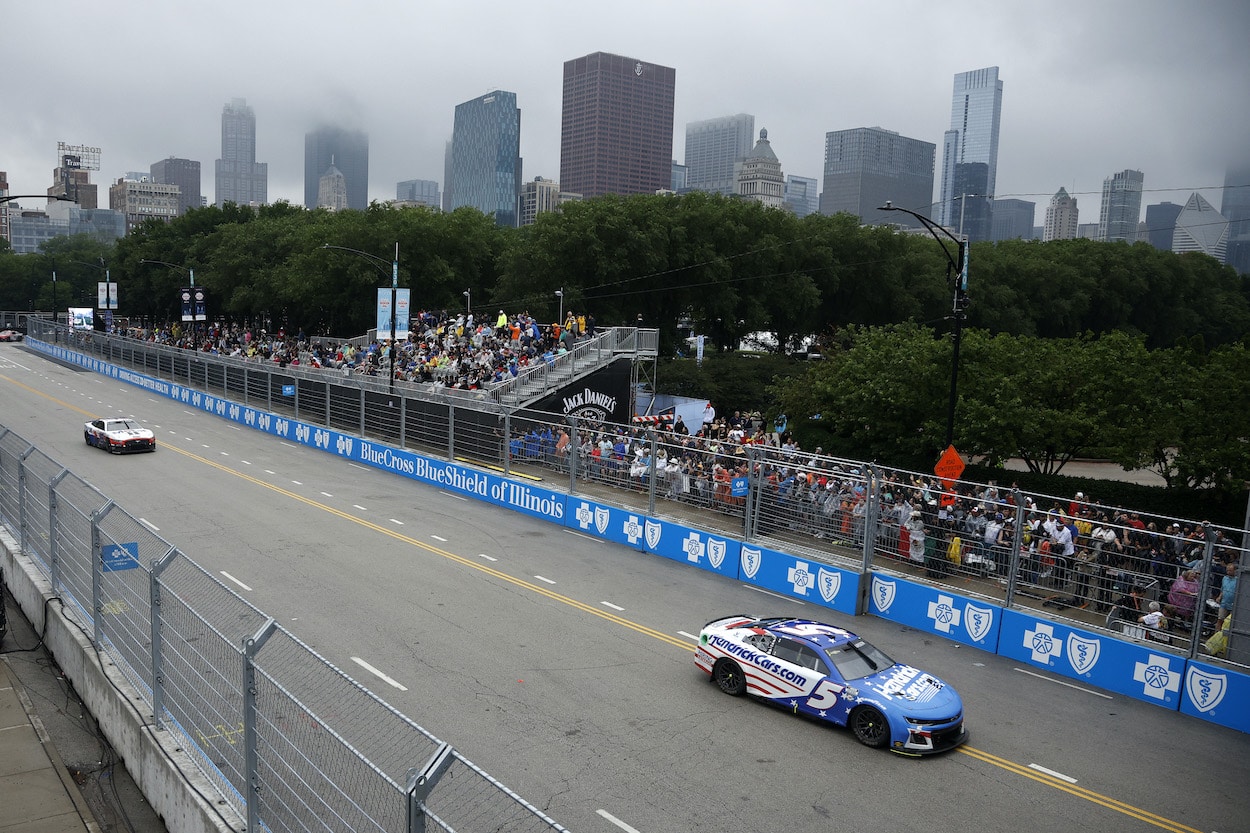 While Larson admittedly enjoyed the SVG performance, he said the overall experience was humbling to see someone come in from the outside and put on a clinic like that.
"He put on a show, and it was cool to see," he said. "And I think when a guy like that can come in and kick your ass at your own game, it shows that we all have room to improve. I'm curious what he thinks about us. He obviously passed a lot of us, so I'm curious if he thinks we all suck or if we could actually like compete if we weren't really that bad."
A few minutes later, the three-time Supercars champion visited with reporters and was told about Larson's comments.
"I'm sure if it was an oval it would be the other way around," he said.
And a very likely possibility that SVG would be just as impressed by Larson's ability to wheel a car.
To stay up to date on the latest happenings in NASCAR, including breaking stories you can't find anywhere else, follow Kyle on YouTube and Twitter.