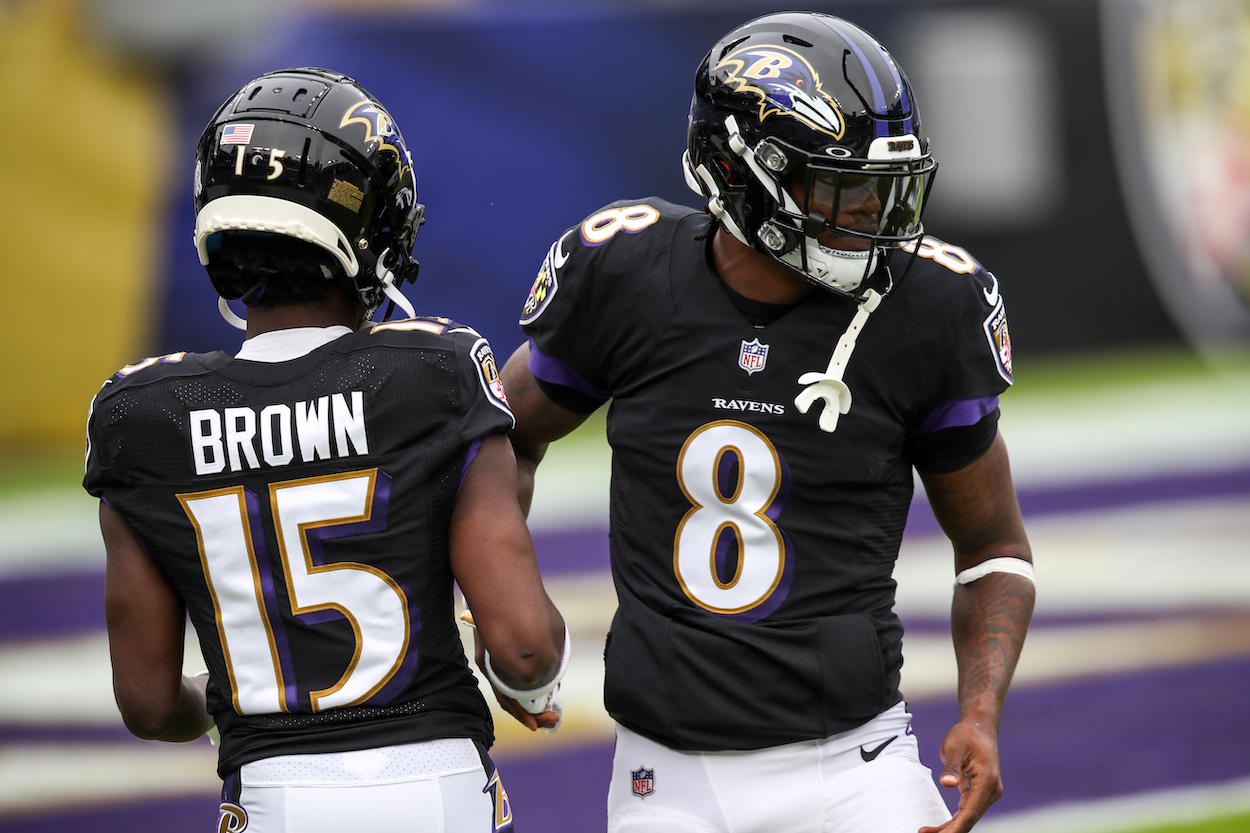 Lamar Jackson and Baltimore Ravens Expect a Boost in Offensive Production for 2021 With Latest Addition
Lamar Jackson is a special talent for the Baltimore Ravens. But that talent can only do so much when you have the NFL's worst receiving corps. Jackson and the offense got an upgrade this weekend.
The Baltimore Ravens have one of the most exciting offensive players in the NFL with quarterback and 2019 MVP Lamar Jackson. While Jackson is an exceptional talent, especially with his legs, the team's receiving numbers were not good in 2020. In fact, they were dead last. 
With the 2020 NFL season officially in the rearview mirror, the Ravens are looking to 2021 and focusing on potential improvement areas. Over the weekend, head coach John Harbaugh announced the addition of a new member to the coaching staff that should make Ravens fans and Jackson excited about the passing game next season. 
Baltimore Ravens and Lamar Jackson had NFL-worst receiving numbers in 2020
The mention of Lamar Jackson immediately elicits thoughts of instant offense. It's true Jackson plays like he's in a video game, making moves and eluding defenders that make Barry Sanders smile. While Jackson's legs are unquestionably a tremendous asset, his arm in 2020 was not as productive as it needs to be to achieve high-level success, and it's due in large part to a lackluster receiving corps.
This season the Baltimore Ravens didn't have a single receiver top the 1,000-yard mark. It wasn't even close. Baltimore's top receiver was Marquise Brown, who finished the season with 58 catches for 769 yards, and eight touchdowns. Jackson's next favorite target was tight end Mark Andrews, who also hauled in 58 catches for 701 yards and seven touchdowns. 
As a group, Baltimore receivers finished with NFL-worst numbers in total receptions (257), receiving yards (2,919), and yards per game (182.4). The New York Jets were second-worst in those categories and finished the season with a 2-14 record. 
Baltimore Ravens help Lamar Jackson with hiring of Tee Martin
This weekend, as NFL teams officially shifted their focus to planning for the 2021 season, Baltimore Ravens head coach John Harbaugh announced several new additions to the coaching staff, one of the more notable, wide receivers coach Tee Martin.
Martin is a familiar name to college football fans as he was the backup behind Peyton Manning at the University of Tennessee back in the mid-to late-1990s. However, Martin accomplished something Manning was unable to achieve, as he, along with running back Jamal Lewis, led the Volunteers offensive attack to the 1998 national championship over Florida State.  
After the 1999 season, Martin played professionally for five seasons between a variety of teams in the NFL, NFL Europe, and Canada. In 2006, he retired from playing and turned his attention to coaching. 
Martin has developed top NFL receivers
Although Tee Martin's professional playing career wasn't exactly inspiring, what he's achieved as a coach since he retired has been impressive. Before joining the Ravens, Martin spent the last two seasons with his alma mater as an assistant head coach and wide receivers coach.   
Prior to his work with the Vols, Martin was an assistant coach at USC, where he started in 2012 as the wide receivers coach. In 2016, Martin was promoted to offensive coordinator. The offense finished 2017 as the nation's No. 13-ranked unit, won the Pac-12 title, and earned a trip to the Cotton Bowl.
While Tee Martin was with the Trojans, he was known for his work developing some of college football's top receivers who have all done pretty well for themselves in the NFL, including JuJu Smith-Schuster, Nelson Agholor, and Robert Woods. Martin also helped develop Randall Cobb while coaching at Kentucky.
In addition to his professional work with receivers, Martin groomed his own son, Amari Rodgers, into a top prospect for the upcoming draft. Last season, Rodgers hauled in 77 catches for 1,020 yards and seven touchdowns for the Clemson Tigers.
If the Baltimore Ravens have any hopes of elevating their game to the next level and making a deep run in the 2021 NFL playoffs, the offensive unit must be more reliant on Lamar Jackson's arm than his legs. With the latest addition of Tee Martin, the organization has taken a big step in the right direction. 
Like Sportscasting on Facebook. Follow us on Twitter @sportscasting19.