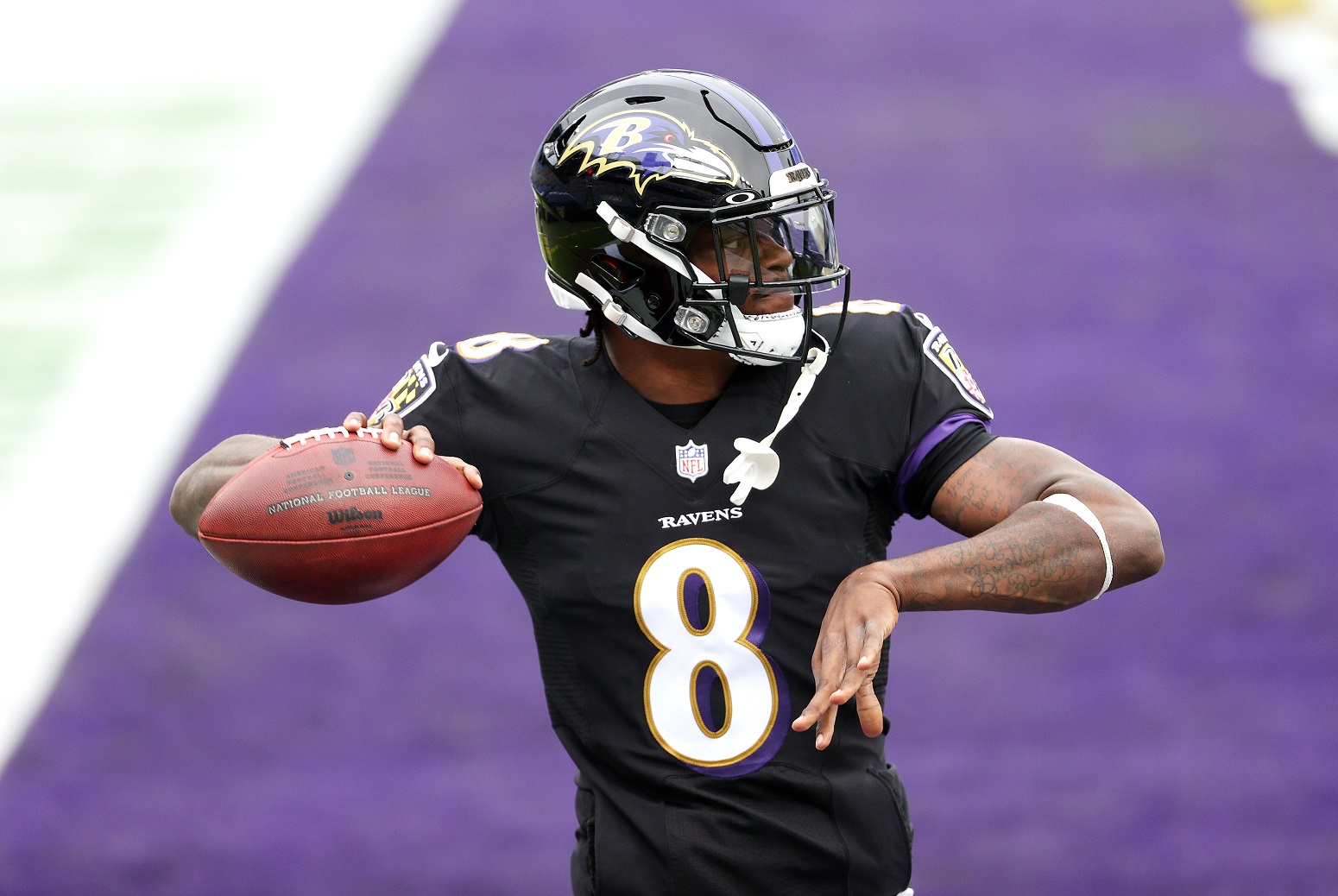 Why Does Lamar Jackson Wear No. 8?
Reigning league MVP Lamar Jackson has voiced a particular reason why he chose to wear No. 8 in the NFL with the Baltimore Ravens.
Through his brief NFL career, Lamar Jackson has quickly become one of the league's most exciting players. Jackson is an elite talent that has put a bright future ahead of the Baltimore Ravens. His rise to stardom provides greater insight into why he chooses to wear No.8.
Lamar Jackson's ascension to NFL stardom
It didn't take long for Lamar Jackson to find his footing in the NFL with the Ravens.
Jackson garnered the starting job midway through his rookie campaign in 2018 and hasn't looked back. The Louisville product put forth a record-breaking 2019 season that made him the second-ever unanimous MVP award winner.
The 23-year-old set numerous NFL records along the way, including the single-season rushing yard mark for a quarterback with 1,206 yards. He also put together incredibly efficient passing numbers with 36 touchdown passes to six interceptions, finished first with an 81.9 quarterback rating, and held a 113.3 passer rating.
Jackson was the guiding force to the league's highest-scoring offense that became the first to average at least 200 rushing yards per game. His performance helped establish him as one of the league's top players with a bright future before him.
Why Lamar Jackson decided to wear No. 8
Throughout Lamar Jackson's brief NFL career, he has donned No.8 with the Ravens.
The number selection dates back to his collegiate days at Louisville, where he won a Heisman trophy award. His choice to initially pick that number came due to former Louisville starter Reggie Bonnafon having the No.7, which he wore in high school. (H/T The Athletic)
"I'm like, 'Damn, are you going to change your number for me?' He was thinking about it, and I was like, 'Naah,'" Jackson recalled. "I asked my mother and she was like, 'Eight is the new beginning.' My Instagram handle was new_era already. I just changed it to new_era8."
Jackson rolled with the number behind his mother's support that helped him garner his image. NO. 8 has become engrained into his NFL career, which has become one of the league's top-selling jerseys over the last few years.
NFL Shop currently has Jackson's jersey slated as the third-highest selling one this season, trailing only Patrick Mahomes and Tom Brady. His rise to stardom last year helped make him a household name and one of the league's most popular players.
Long-term future ahead in Baltimore
The 2020 season hasn't exactly transpired in the manner hoped after Lamar Jackson's record-breaking 2019 campaign.
Teams have adjusted better to game-planning against Jackson this campaign due to the game film. Despite that, the 23-year-old has kept the Ravens in the playoff mix in 2020 and maintains a bright future.
The question becomes what type of extension will Baltimore work out with their star quarterback. Jackson has proven to be a premier talent in the league and has brought tremendous stability to the franchise. He is currently in the third year of his four-year, $9.4 million rookie deal.
The Ravens have the fifth-year option available for the 2022 season to use next offseason, which they will more likely do. The reigning league MVP will also be eligible for an extension, which may see the two sides quickly work out a new contract to avoid any lingering issues.
Baltimore has control of the situation, which it's quite clear that Jackson has a strong desire to stay for the long haul. There isn't a rush to work out a new deal, but the table is set to make it happen sooner rather than later.
All contract details courtesy of Spotrac.