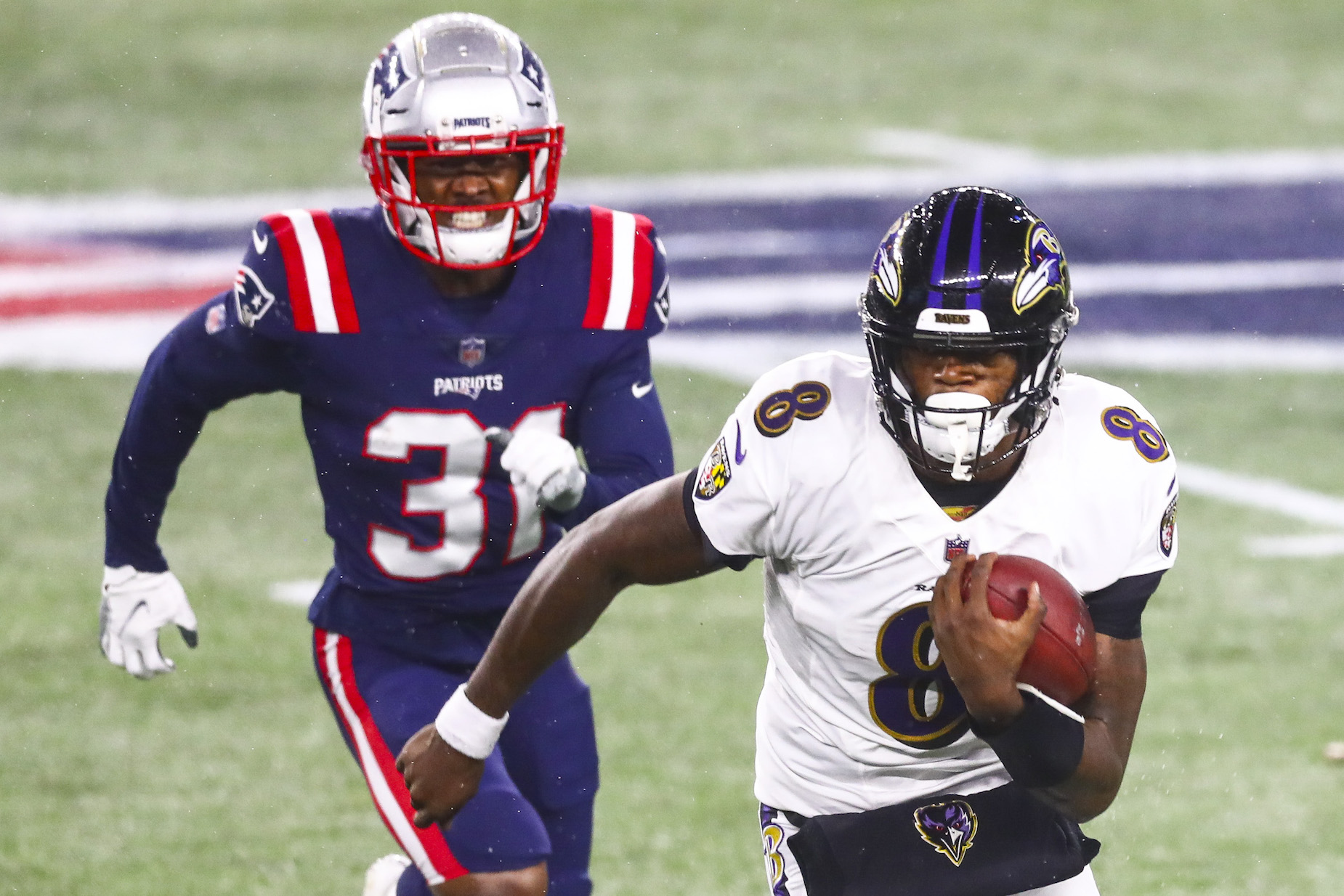 How Fast is Baltimore Ravens Quarterback Lamar Jackson?
Everyone knows that Lamar Jackson is an incredible athlete, capable of outrunning just about anyone. How fast is the Baltimore Ravens quarterback?
While purists might long for the days when a quarterback unflinchingly stood in the pocket, those days are gone. Although there are a few notable exceptions, the modern NFL is about athleticism, extending the play, and, above all else, making things happen. Based on that reality, Lamar Jackson is an ideal centerpiece for the Baltimore Ravens offense.
If you've watched any of the Baltimore Ravens' recent games, you know that their quarterback likes to run the ball and does it quite well. Lamar Jackson, however, is more than just a dual-threat player; he's pretty fast, too.
Lamar Jackson make a name for himself at Louisville
These days, Lamar Jackson has become the Baltimore Ravens' marquee attraction. The quarterback, however, made his name on a different bird-based team.
Jackson grew up in Florida, where he honed his football skills under his mother's watchful eye. When it came time to head to college, Bobby Petrino promised that he wouldn't try to move Lamar to a position other than quarterback; that was enough to earn a commitment to Louisville.
During his first season with the Cardinals, Jackson started eight games and posted solid, if unremarkable, numbers. As a sophomore, however, he would announce himself to the world.
During his second NCAA campaign, Jackson threw for 3,543 yards and 30 touchdowns. While those numbers were impressive in their own right, the quarterback also proved to be a dynamic rushing threat, adding 1,571 more yards and 21 additional touchdowns on the ground. Those numbers earned him the 2016 Heisman Trophy and a place in Louisville lore.
After a third season in college, Jackson decided that it was time to take the next step. He entered into the 2018 NFL draft, ready to make an impact at the professional level.
Running to glory at the NFL level
Despite his NCAA success, Lamar Jackson didn't receive rave reviews coming into the 2018 NFL draft. With some teams unsure if the quarterback had the chops to run an offense at the professional level, he slipped to the end of the first round. There, the Baltimore Ravens snapped him up with the 32nd-overall pick.
While Jackson began his career behind Joe Flacco, he didn't have to wait long for his chance. After the incumbent suffered a hip injury, Jackson started seven regular-season games, leading the Ravens into the playoffs; he also started the club's postseason contest, which ended in defeat.
That showing earned Jackson the top job, however, and he seized his opportunity with both hands. In 2019, he threw for 3,127 yards and 36 touchdowns while rushing for an additional 1,206 yards and seven scores. While Baltimore's campaign ended in playoff disappointment, the quarterback still captured a unanimous NFL MVP title and proved himself to be one of the most dynamic players in the league.
Just how fast is Lamar Jackson?
Whether you've watched Lamar Jackson play or simply checked out his stats, it's apparent that the quarterback can run with the best of them. As you'd expect, it helps that Jackson is pretty fast.
Although Jackson didn't run the 40-yard dash at the NFL combine—he preferred to highlight his passing ability rather than his raw athleticism—we do have some figures about his speed. After joining the Ravens, the quarterback was asked about his 40 time; according to ESPN, Jackson said he had posted a 4.34 despite running with turf toe. "I don't know what I really run," he added.
If you prefer something more recent and relevant—while a 40-yard dash may measure pure speed, it's not exactly applicable to a game situation—there are some numbers that paint a fuller picture of Jackson's running ability.
Earlier this season, NFL Next Gen Stats clocked one of Jackson's touchdown runs at 21.01 miles per hour. While that speed was the fastest recorded run of the quarterback's professional career, it still wasn't his best. According to NBC Sports, Jackson said that his sprint was "really just a burst of energy" and admitted that he "slowed down" once he was home free.
If you're a football purist, you might not love the sight of Lamar Jackson breaking out of the pocket and running for the end zone. No one, however, can legitimately argue that the quarterback isn't talented and, perhaps more centrally to his scrambling ability, fast.