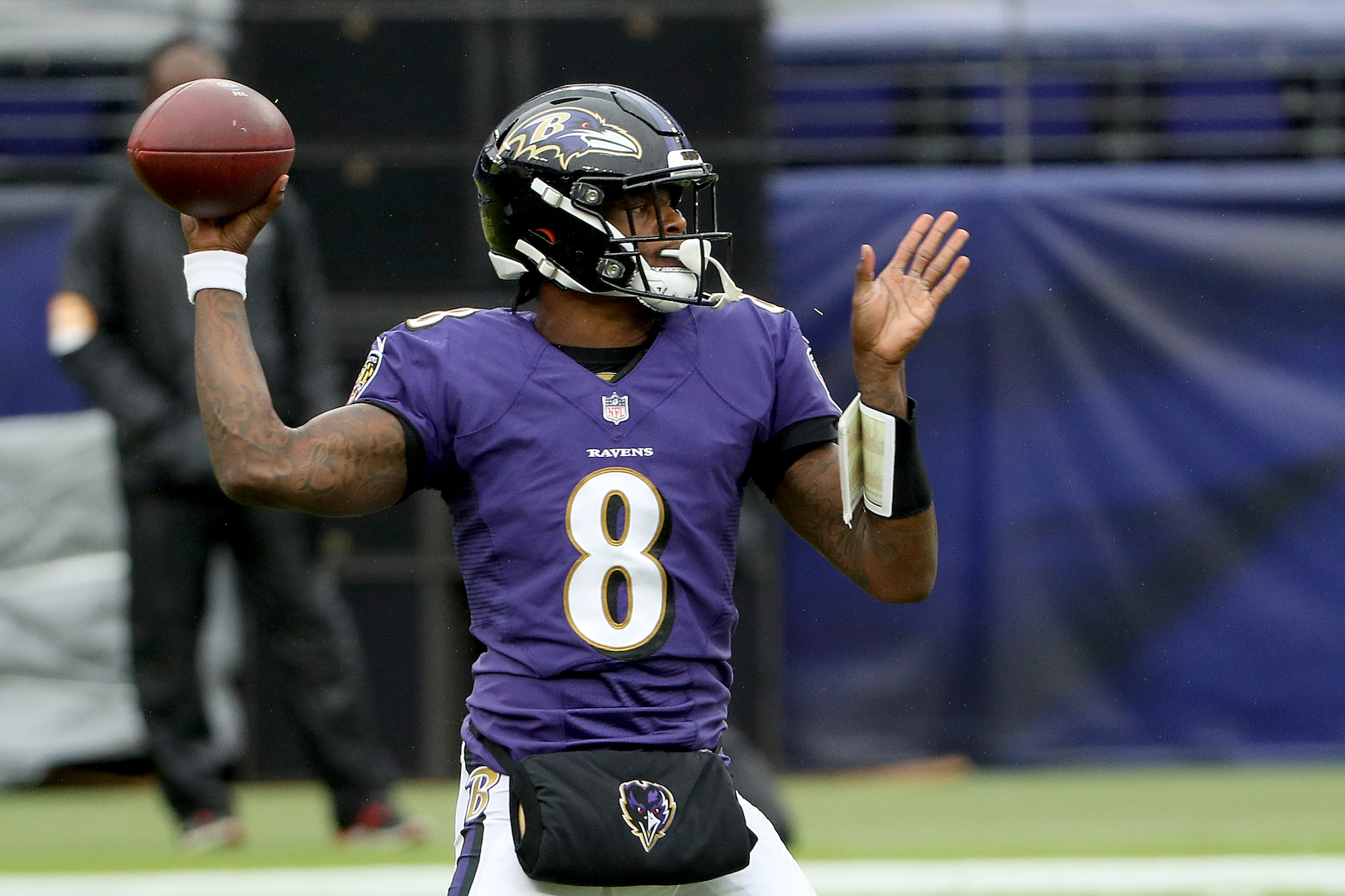 Lamar Jackson's $1.3 Million Base Salary Makes Him 1 of the NFL's Biggest Bargains
While Lamar Jackson has already become a star with the Baltimore Ravens, the quarterback isn't earning a massive salary just yet.
In the world of sports, salary and performance are usually connected; the better you play, the more money you'll make. Baltimore Ravens quarterback Lamar Jackson, however, is currently a major exception to that rule.
During his brief time on the NFL stage, Lamar Jackson has proven himself to be one of the league's most dynamic players, capable of making something happen every time he touches the football. Despite that clear talent, though, the Baltimore Ravens' quarterback is still taking home less than $2 million in salary this season, making him one of the biggest bargains in pro football.
Lamar Jackson has already become an NFL star
If you ask football purists, a quarterback should stand tall in the pocket and throw perfect spirals to his receivers. Lamar Jackson, however, does things his own way and has already become a star.
Although Jackson grew up in Florida, a promise from Bobby Petrino brought the quarterback to the University of Louisville. He showed promise as a freshman but exploded during his second season of NCAA action; Jackson threw for 3,543 yards and 30 touchdowns, rushed for 1,571 yards and 21 additional scores, and captured the Heisman Trophy.
After his junior season with the Cardinals, Jackson entered the 2018 NFL draft. Despite his impressive resume and athleticism, some teams weren't sure if he had what it took to run an offense at the professional level. The Baltimore Ravens, however, weren't concerned.
Jackson joined the Ravens as the 32nd-overall pick and started his career as Joe Flacco's backup. He claimed the top job during his rookie year, however, and, during his first season as the full-time starter, took the league by storm. The dual-threat quarterback threw for 3,127 yards, rushed for 1,206 more, and accounted for 43 total touchdowns; he also was named the unanimous NFL MVP.
Earning less than $2 million in salary
Based on the impact that he's made during his brief time with the Baltimore Ravens, you might think that Lamar Jackson is earning more salary than anyone else on the team. Due to the way NFL contracts work, though, that isn't the case.
Since this is only Jackson's third season in the pros, the Ravens quarterback is still on his rookie contract. And, as you might expect, given that he was the last pick of the first round, he wasn't able to command too large of an initial salary.
When he entered the league, Jackson signed a four-year deal worth a grand total of $9,471,648; roughly half of that money—$4,968,471—came in the form of a signing bonus.
Although Jackson's base salary increases with each year of his contract, it never reaches eye-popping proportions. As a rookie, the quarterback's salary clocked in at $480,000; it rose to $910,529 last year when he claimed NFL MVP honors. This season, Jackson's base salary is $1,341,059, and it will reach $1,771,588 in 2021.
That salary makes Lamar Jackson an incredible bargain
Since Lamar Jackson is still on his rookie contract, neither he nor the Baltimore Ravens have an active say in his salary. Still, that comparatively tiny price tag makes the quarterback an incredible bargain.
Even if you're going by Jackson's overall cap hit of $2,583,176—his base salary and a fourth of his signing bonus—the quarterback is barely making a dent in the Ravens' metaphorical bank account. He's the 36th most expensive signal-caller in the NFL this season; some teams are even paying their backup more than Baltimore pays Jackson.
Based on Spotrac's market value estimations, the quarterback would be able to command roughly $42 million in free agency. While big-money deals don't always work out cleanly—hometown discounts, sacrificing raw cash for term, and other complications can come into play—that baseline number helps underscore just how big of a bargain Jackson's current salary is.
It's only a matter of time, however, until Lamar Jackson's salary goes through the roof. That's why the Baltimore Ravens need to take advantage of the opportunity they have right now; while their window won't close when the quarterback's rookie contract expires, it will get tougher to balance the books.
Stats courtesy of Sports-Reference and Pro-Football-Reference. Financial data courtesy of Spotrac.