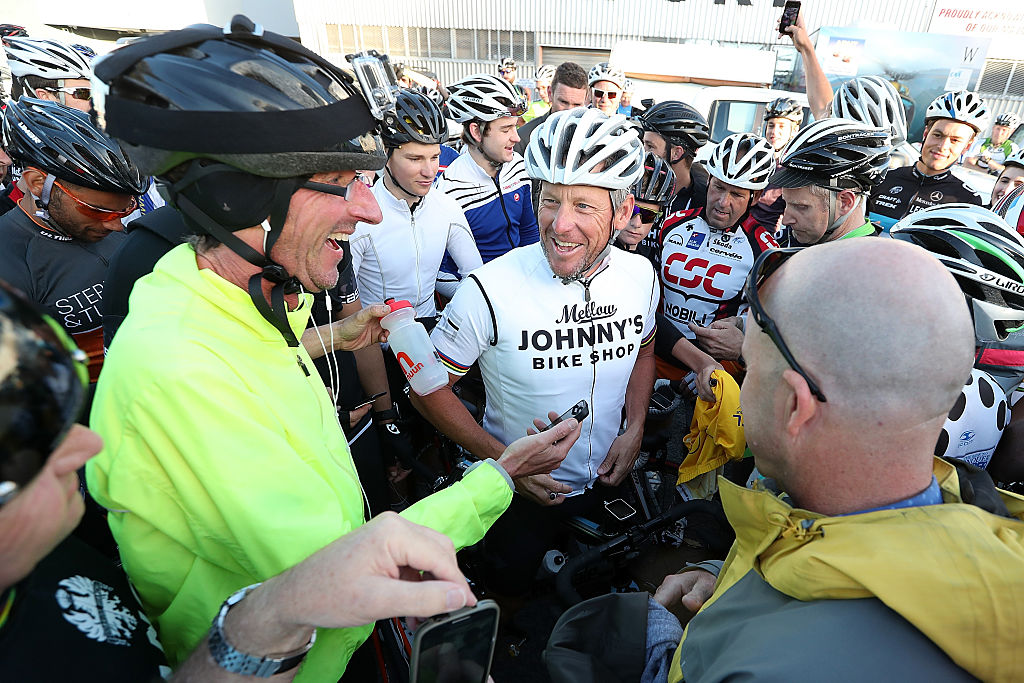 Lance Armstrong's Business Mocks Him Having Only 1 Testicle
Lance Armstrong is known as a cheater to some and a cancer survivor to others. Whatever you choose, there's no denying he has a sense of humor naming one of his businesses that mocks him having one testicle.
Lance Armstrong's life has been a rollercoaster ride. He's been at the top of the sports world, only to come crashing down as one of sport's biggest cheaters. He made millions, and lost most of it. Before Armstrong battled against the top cyclists in the world, he battled to save his life in a fight against testicular cancer. Today, after all the ups and downs, Armstrong still has a sense of humor as evidenced by the naming of one of his popular Austin-based businesses that has a not-so-discreet reference to his cancer. 
Lance Armstrong's career and controversy
Lance Armstrong was a sports legend on top of the world at the turn of the century after capturing seven consecutive Tour de France titles, the most-ever in cycling history. He achieved all of his success and attained worldwide acclaim after overcoming testicular cancer in 1996 at age 25.  
As many suspected then, and we all know now, his cycling achievements were a fraud. Armstrong cheated. After years of denials, in a 2013 interview with Oprah Winfrey, Armstrong admitted to doping. Since that admission, Armstrong has experienced one of the more spectacular falls from grace the world of sports has ever seen.
In that same year, all of Armstrong's sponsors dropped him and he reportedly lost $75 million of sponsorship income in a single day. Nike also cut all ties to Livestrong, his foundation. The U.S. government also filed a $100-million civil lawsuit against Armstrong. He eventually settled paying $5 million. 
Lance Armstrong battles cancer
On October 2, 1996, at age 25, Lance Armstrong was diagnosed with stage three (advanced) testicular cancer. The disease had spread to his lymph nodes, lungs, brain, and abdomen. A day later, Armstrong had the diseased testicle removed. 
Armstrong's doctors personally told him he had a 20-50 percent chance of survival, but that was on the optimistic side. In reality, it was much lower according to his urologist Dr. Jim Reeves, who made the initial diagnosis. 
"Almost none," Reeves told Velo News. "We told Lance initially 20 to 50 percent chance, mainly to give him hope. But with the kind of cancer he had, with the x-rays, the blood tests, almost no hope."
Lance Armstrong received both standard and alternative treatments, all of them a cocktail of medications, designed to aggressively attack the deadly disease. He also had brain lesions surgically removed. The treatments paid off and by February 1997, Armstrong was miraculously declared cancer-free.
Armstrong's business is a humorous reminder of his cancer
While Lance Armstrong no longer competes in cycling, he's still very connected to the sport through business. One of his multiple ventures is the Mellow Johnny's Bike Shop in Austin, which opened in 2008 and serves as a riders' destination as well as a place for social gathering. 
The name Mellow Johnny's is a play on the French words "maillot jaune," which means yellow jersey. Inside Mellow Johnny's, riders, downtown residents, and those visiting the downtown neighborhood can enjoy coffee, smoothies, snacks, or wine and beer, at Juan Pelota, the in-house cafe. Juan is a homophone for the word "one," and pelota is the Spanish word for ball.
Whether you like him or despise him, Lance Armstrong overcame tremendous odds early in his life in beating cancer. Why he decided to take the path he did after staring down death, only Armstrong knows that answer and must live with that decision. The fact he's managed to maintain a sense of humor after enduring a career-ending scandal and defeating a disease doctors thought would kill him, is impressive and a credit to his perseverance.