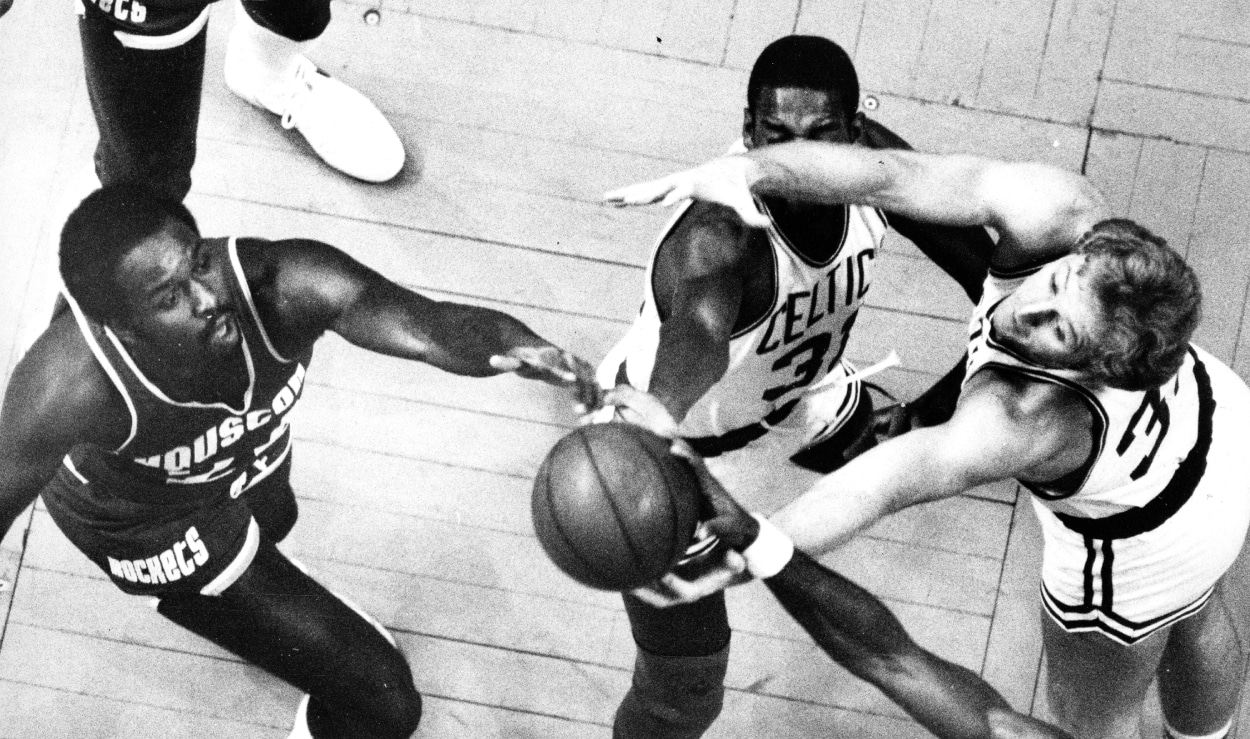 Larry Bird Admitted Cedric Maxwell Had an Odd Way of Firing Up His Boston Celtics Teammates
According to Larry Bird, Cedric Maxwell had a different way of getting his Boston Celtics teammates motivated.
Cedric Maxwell is one of the most underrated players during the dynasty Boston Celtics of the 1980s. The man known as "Cornbread" came up big when needed most. During Boston's first of three championships in the '80s, he was named Finals MVP. In Game 7 of the 1984 NBA Finals, he led the Celtics in scoring after telling his teammates to jump on his back. Celtics legend Larry Bird said Maxwell had a strange way of pumping up his teammates.
Larry Bird and Cedric Maxwell won two championships together with the Boston Celtics
Before Larry Bird came to the Boston Celtics, Cedric Maxwell put up some big numbers. During the 1978-79 season, Maxwell averaged 19.0 points and 9.9 rebounds while leading the NBA in field-goal percentage (58.4%). That was the first of two seasons where Max led the league in shooting percentage.
Bird made his highly anticipated debut during the 1979-80 season and helped turn a 29-win team into one that led the NBA with 61 victories. Bird won Rookie of the Year and received plenty of well-deserved accolades. Maxwell sacrificed some of his stats but still put up 16.9 points and 8.8 rebounds per game. He shot 60.9% from the field.
During the 1980-81 season, the Celtics pulled off a trade with the Golden State Warriors that brought back Robert Parish and Kevin McHale. While Bird, Parish, and McHale eventually went on to become arguably the best frontcourt in history, Maxwell still had plenty to say. He was named the MVP of the 1981 NBA Finals when the Celtics topped the Houston Rockets in six games.
In 1984, Maxwell famously told his Celtics teammates to jump on his back for Game 7 against the Los Angeles Lakers in the championship round. He lived up to his word by delivering a team-high 24 points while pulling down eight rebounds and dishing out eight assists in a 111-102 victory.
Bird admitted Maxwell had a strange way of firing up his teammates
In his book Drive: The Story of My Life, Bird wrote that Maxwell didn't always show up ready to go. He claimed Max was always ready for the big ones but didn't bring that same fire to the games that didn't matter as much.
"He just wouldn't get up to his highest level of play for the lesser teams," Bird wrote of Max. "I'd say, 'C'mon Max, let's just go play a good half, get way ahead, and then you can sit down.'
"'No, not me. Put somebody else in,' he'd reply."
The funny part is that Maxwell, according to Bird, would do things, intentional or not, to fire up his teammates.
"Max was always talking trash," Bird wrote. "Sometimes he'd come into the locker room after doing an interview and say, 'Hey, we've got to get serious tonight. I just said something they're not going to like.' So then, we'd have to play even harder. He'd do it all the time.
"'Hey boys, I opened my mouth again. I shouldn't have said it, but I did.'"