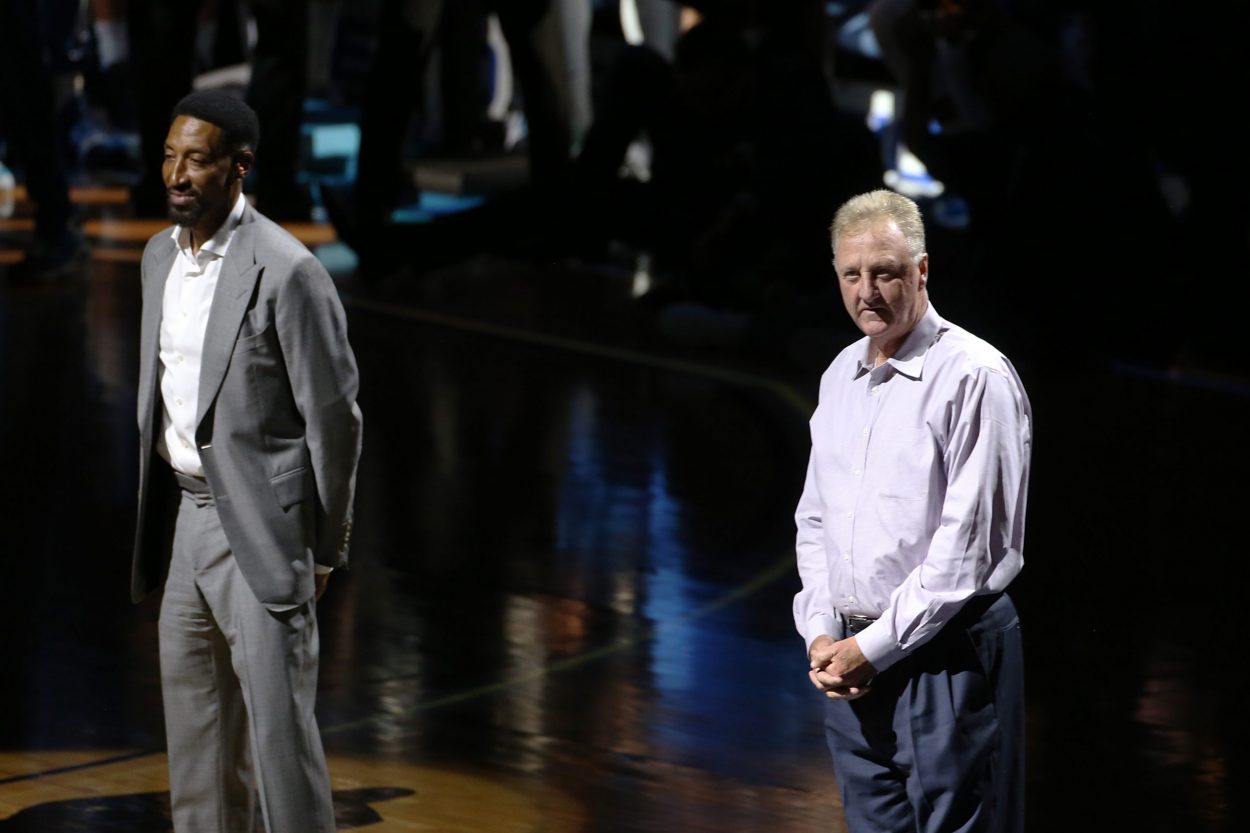 Larry Bird Barely Played Against Scottie Pippen in His Prime but Still Paid Pip the Highest Compliment: 'He and Michael Cooper Gave Me the Most Problems'
Larry Bird's career arc was on a downward trajectory when Scottie Pippen was only just establishing a strong foothold in the NBA. But Pip's defensive abilities were enough to impress Bird, who called Scottie one of his toughest individual matchups. Indeed, Pippen became one of the best defenders in NBA history.
Boston Celtics legend Larry Bird and Chicago Bulls great Scottie Pippen never squared off in their respective primes. Still, Bird, who was in the twilight of his career when Pippen was still ascending to his peak, understood the challenge Pip presented on the defensive end of the floor. In fact, despite their differing career arcs, Bird said that Pippen was one of his toughest defenders.
Larry Bird praised Scottie Pippen's defensive prowess ahead of Pip's induction into the Hall of Fame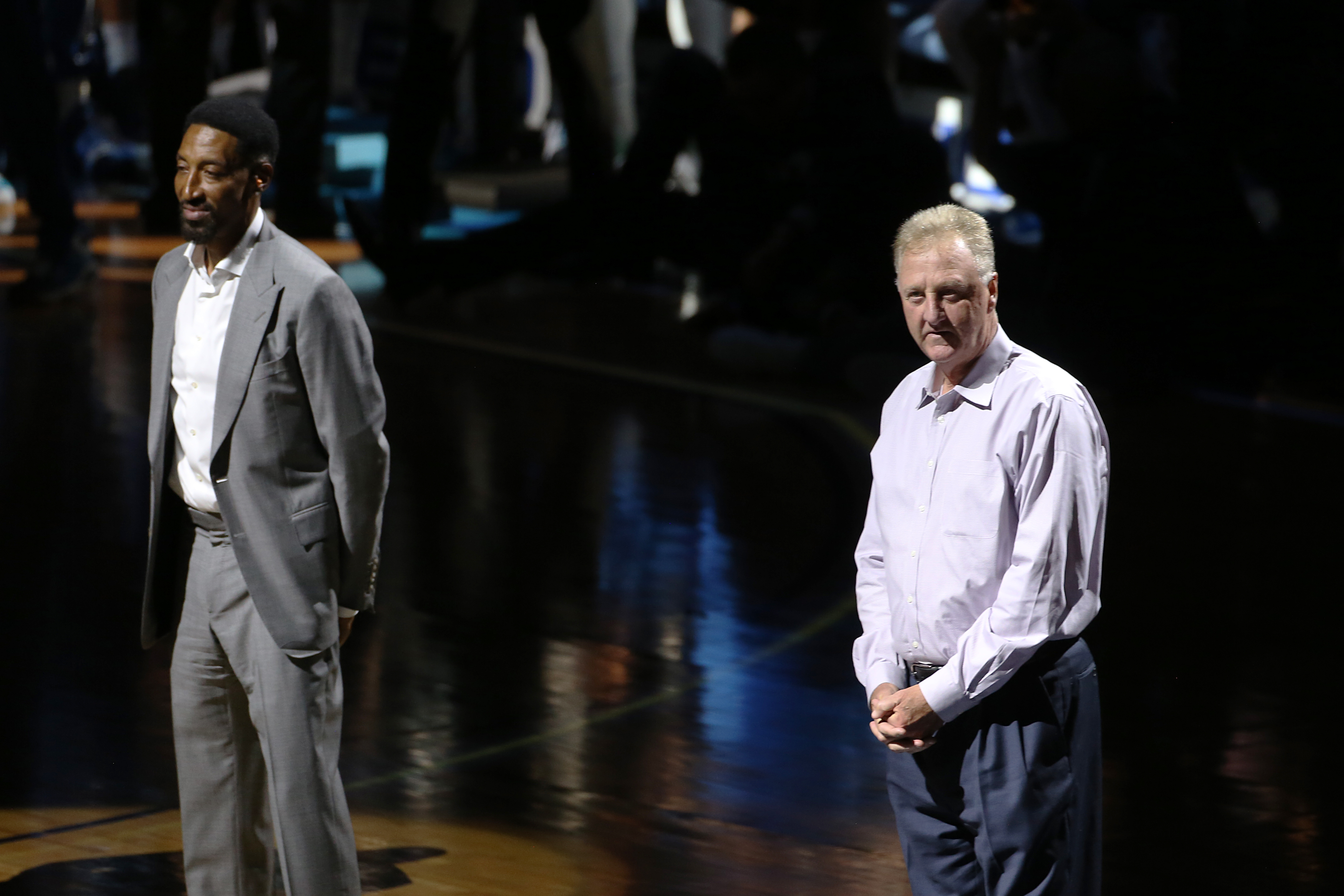 The Chicago Bulls acquired Scottie Pippen from the Seattle SuperSonics via a draft-day trade in 1987, just one summer after Larry Bird made his final NBA Finals appearance with the Boston Celtics. Bird had begun to deteriorate a bit because of chronic back pain stemming from an injury suffered in 1985. Still, he managed to put together All-Star seasons in the final three years of his career.
Larry Legend's last great and healthy season came during the 1989-90 campaign when he averaged 24.3 points, 9.5 rebounds, and 7.5 assists in 75 games. Incidentally, that was the same season Pippen made his first All-Star team.
Though their careers diverged, Bird said before Pippen's induction into the Naismith Memorial Basketball Hall of Fame in 2010 that he understood how good Pippen was going to be from the jump.
"Scottie has been great for a long time," Bird said, via NBA.com. "I remember when he first came into the league. I played against him and as time progressed, he got better and better. The Hall of Fame is a very deserving award for him."
Bird went a step further, calling Pippen one of the two best defenders he ever had to play against.
Bird was one of the more versatile and unguardable players in NBA history. He routinely made a point of letting his opponents know they couldn't stop him.
Alas, the fact that he singled out Pippen as one of his toughest on-ball matchups speaks volumes about Scottie's dogged defensive work ethic. That same work ethic helped pave the way for a Hall of Fame career.
Scottie Pippen is one of the best defenders in NBA history
Scottie Pippen never won a Defensive Player of the Year Award, yet it's indisputable that he is one of the best individual defenders ever.
Pippen earned 10 All-Defensive selections and was named to the All-Defensive First Team eight times. The latter mark ranks behind Michael Jordan, Kobe Bryant, Kevin Garnett, and Gary Payton for the most in NBA history. Pippen led the NBA in steals during the 1994-95 season and ranks seventh on the all-time list in that category. The advanced numbers also like Pippen's defensive body of work. He ranks 20th all-time in defensive win shares.
But numbers only inform so much. Scottie Pippen's ability to harass opposing guards allowed former Bulls assistant Johnny Bach to instill his famed Doberman Defense, which capitalized on Pippen's and Jordan's strengths on the defensive ends and created havoc in the passing lanes.
However, as Bird indicated, Pippen did just fine against opposing wings, as well. His length and agility posed a problem even for a shot-creator and dynamic playmaker like Larry Legend.
Larry Legend and Pip were teammates on the 1992 Dream Team
Larry Bird's Celtics dominated the Eastern Conference in the 1980s, while Scottie Pippen and the Bulls dominated the entire NBA throughout the 1990s. The two were involved in a passing-of-the-torch sort of moment in Barcelona in 1992.
Bird and Pippen were members of the esteemed Dream Team that won the gold medal at the 1992 Olympic Games. The run to the gold came shortly after Bird wrapped up the final season of his career, while Pippen and the Bulls were coming off their second straight NBA championship. It also reinforced Bird's decision to retire, as he saw the young guys show out and was awestruck by Pippen and Jordan famously putting the clamps on Toni Kukoc.
Pip was only starting to reach his pinnacle when the Hick from French Lick hung up his sneakers. Still, Scottie's all-around excellence and defensive acumen resonated with Bird in the brief time they shared the floor.
Stats courtesy of Basketball Reference.
[Correction: An earlier version of this article misstated which team drafted Scottie Pippen.]