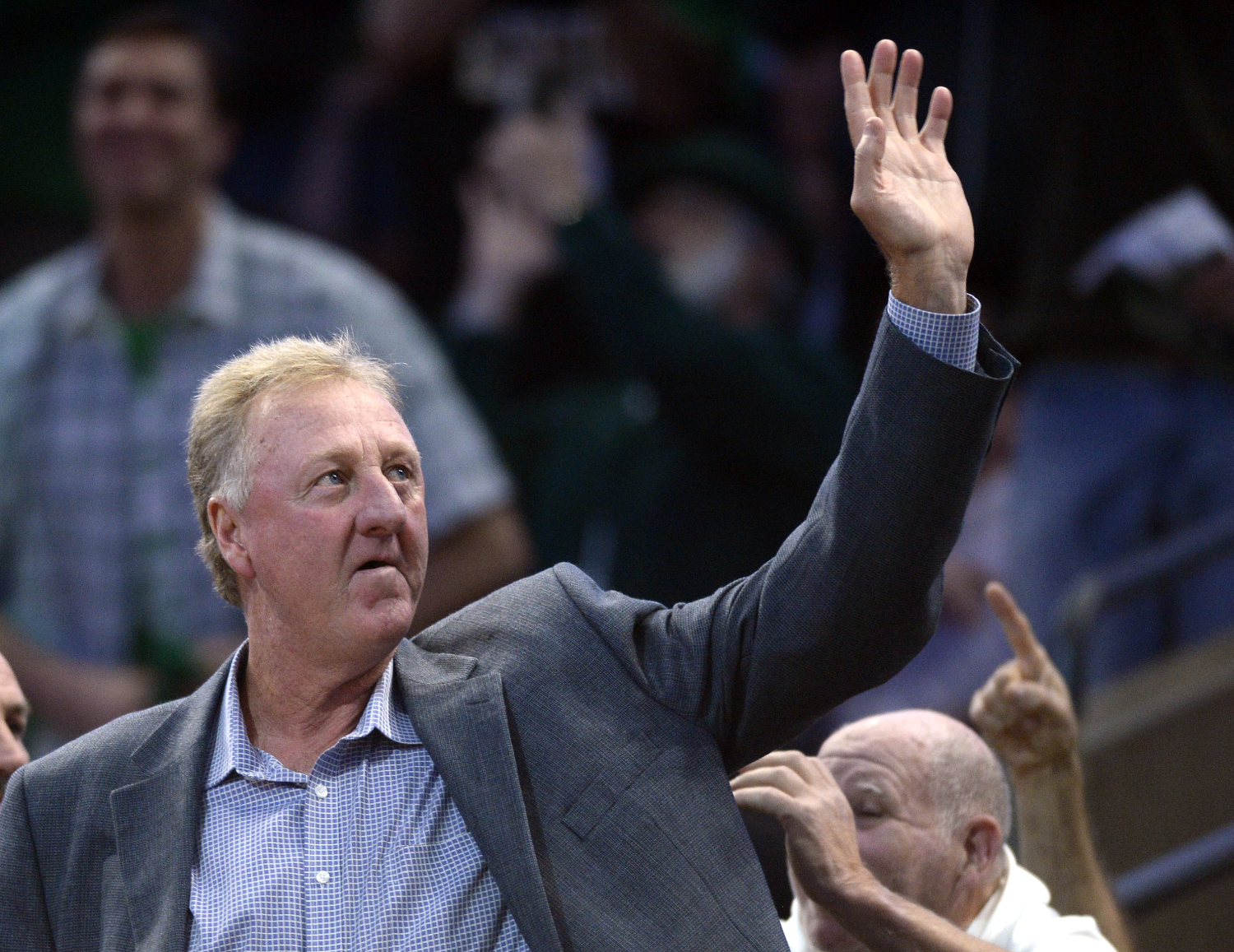 Larry Bird's Mother Was a Huge Fan of Her Son's Rival
Boston Celtics legend Larry Bird's mother was a very big fan of one of her son's biggest rivals on the basketball court.
When Larry Bird was in the NBA, he and the Boston Celtics had several rivalries. Individually, Bird had Magic Johnson, Michael Jordan, Isiah Thomas, Bill Laimbeer, and many more. As a team, the Los Angeles Lakers, Philadelphia 76ers, and Detroit Pistons became the Celtics' biggest foes during the Bird era.
The Bird era in Boston
Larry Bird began his career with the Boston Celtics during the 1979-80 NBA season. Bird had just come off a season at Indiana State where his Sycamores fell to Magic Johnson and Michigan State in the NCAA tourney finals. As a rookie with the Celtics, Bird took charge right away, playing in all 82 games and being named the league's Rookie of the Year.
In his first seven seasons with the Celtics, the durable Bird missed just 13 regular-season games. Bird became the leader of a strong group that included future Hall of Famers Kevin McHale, Dennis Johnson, and Robert Parish. Bird helped guide the Celtics to three NBA championships during his time in Boston.
Individually, Bird was named an NBA All-Star in 12 of his 13 seasons. He was named the league's MVP for three straight seasons from 1984-1986. He averaged a double-double for his career, scoring 24.3 points per game and adding 10 rebounds.
The Boston Celtics' rivalries
The Boston Celtics' biggest postseason rivalries were the Detroit Pistons and the Los Angeles Lakers during Bird's time in Boston. The Pistons were known as the Bad Boys for their physical play that bordered on dirty. Dennis Rodman, Isiah Thomas, and Bill Laimbeer were all part of that group.
Bird wasn't, and still isn't, a fan of Laimbeer. "It's because he was a dirty player," Bird said in an interview with Bill Simmons. "He had to do what he had to do and I understand that, but you take like (former Piston) Ricky Mahorn, he'd hit you and you knew you were going to get hit. He didn't try to maim you. Bill tried to hurt you. He was one of them guys when you tried to shoot a jumper, he would try to slide his foot underneath your ankle so you'd twist your ankle."
Bird's rivalry with Magic Johnson carried over from college. The two battled it out in 1979 in the NCAA title game that saw Magic's Michigan State team defeat Indiana State. The two later went at it in the NBA and the rivalry continued. The Celtics and Lakers met three times (1984, 1985, and 1987) in the NBA Finals when Bird and Magic were in the NBA together.
Bird's mother was a huge fan of Magic Johnson
During an interview in a video posted by The Universe Galaxy, Magic Johnson admitted he hated Larry Bird on the basketball court. He later toned it down to a strong dislike, but he admitted the two were extremely competitive and were fighting for the same goal. Johnson said that Bird's mother, Georgia, who died in 1996 at the age of 66, was a fan of his.
"I shot a commercial at (Bird's) house – a Converse commercial," Johnson said. "At the lunch break, I thought I was going to my trailer to have lunch and he said, 'No, my mom has prepared this great lunch for us and you have to go up to the house.' I'm sitting there like, wait, I have to go to his house now?
"So I get up there and as soon as I walk through the door, his mom just hugged me. That was it. That disarmed me. That just made me relax and then she was telling me how she loved me. Then (he and Larry) sat there and started talking like two little boys and we found out we were much alike – two midwest boys who grew up the same way."