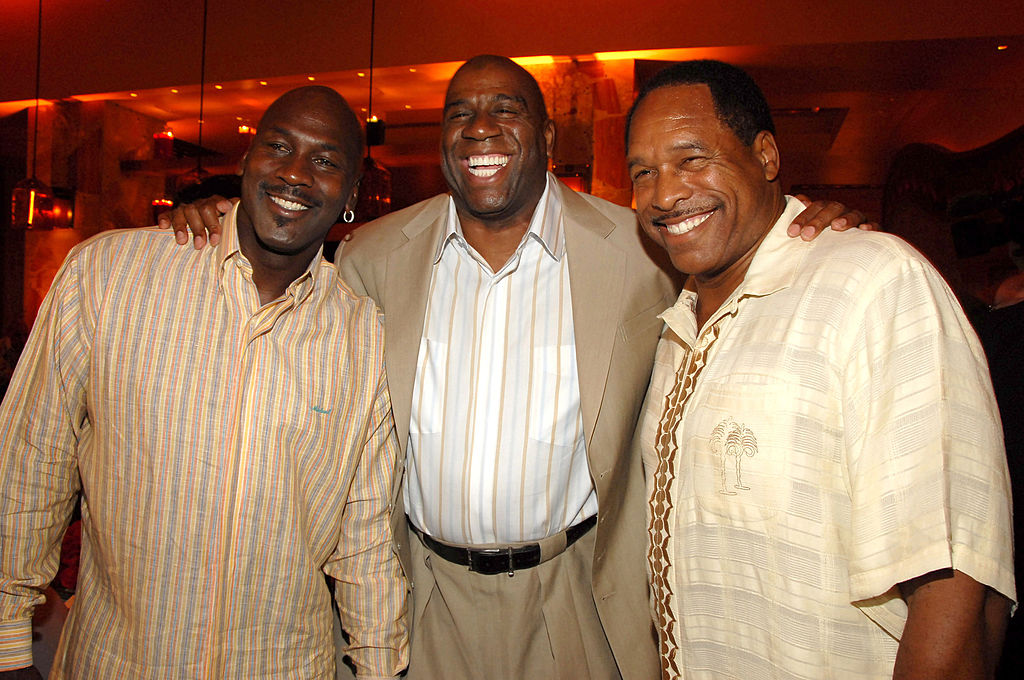 Magic Johnson Can Top Michael Jordan and 'The Last Dance' With His Incredible Life Story
Magic Johnson can top Michael Jordan and 'The Last Dance' with his upcoming documentary that will showcase the Lakers legend's inspiring life.
Magic Johnson and Michael Jordan easily rank as two of the most popular stars in NBA history. Johnson became a dynamic force for the Los Angeles Lakers during the '80s. Jordan, of course, took over the reins and became the face of the league during the '90s with the Chicago Bulls. Recently, The Last Dance gave viewers an intimate view of MJ's life.
Next year, Magic Johnson will join his friend in documentary glory. And based on some of the more interesting aspects of his life, Magic may top Michael once and for all.
The Last Dance put Michael Jordan on full display
Bulls fans got a chance to relive the glory years with The Last Dance. The 10-part documentary series provided hours of entertainment and insight. Michael Jordan obviously took center stage. We got to learn about his problems with Scottie Pippen. We also learned about how he blew away Nike's first-year sales expectations.
Along the way, The Last Dance showed some of the sad moments of MJ's life. We learned more about the death of his father. Viewers also got a deep look at Jordan's decision to retire.
The documentary series focused primarily on the NBA's GOAT, but it also gave plenty of airtime to other relevant figures. Dennis Rodman got a chance to show viewers a side of him that most people never knew. Role players like Steve Kerr and Toni Kukoc figured prominently into the series.
At the end of the day, though, The Last Dance really served as a long tribute to Michael Jordan. No matter what critics say, the series shed him in the best light and showed why he became the greatest player in NBA history. Of course, it also included his relationship with Magic Johnson, who will join MJ in the documentary game next year.
Magic Johnson will get his own documentary in 2021
Magic Johnson boasts immeasurable star power. Even though he last played in the NBA 30 years ago, even young basketball fans recognize his name. He'll have a chance to gain an even bigger following sooner than later.
On June 11, the LA Times reported that Magic Johnson will be the subject of a feature film documentary that will air in 2021. The film will be developed and produced by XTR, H.wood Media, NSV, and Delirio Films.
"In these unprecedented times we need films that celebrate heroes more than ever," said Bryn Mooser, chief executive of XTR, a documentary film and television studio headquartered in Echo Park. "As one of the most legendary, hard-working and resilient public figures of our time, Magic Johnson's accomplishments both on and off the court are something worth spotlighting to the world, and we're excited to tell that story and work closely with him and NSV to take viewers inside his remarkable journey."

With The Last Dance becoming ESPN's highest-rated documentary, it makes sense for Magic Johnson to get his shot at the big screen. And there certainly shouldn't be a shortage of entertaining stories.
The NBA legend has quite an interesting life story
Like Michael Jordan, you can't tell Magic Johnson's story without focusing primarily on his basketball career. The Lakers legend captured five NBA titles and three NBA MVP awards before he abruptly retired.
Of course, Johnson retired after testing positive for HIV. His announcement and subsequent fallout from the diagnosis should get plenty of airtime.
In addition, the Hall of Famer enjoyed a historic rivalry with Larry Bird. As the leaders of two of the most successful NBA franchises, they had some unforgettable games even dating back to college. You can bet that the Boston Celtics legend will make an appearance or two on the documentary to talk about his relationship with his Lakers adversary.
We'll have to wait until next year to find out what makes the cut. But given his accomplishments on and off the court, Magic Johnson stands a good chance of topping Michael Jordan and The Last Dance when his documentary gets released in 2021.