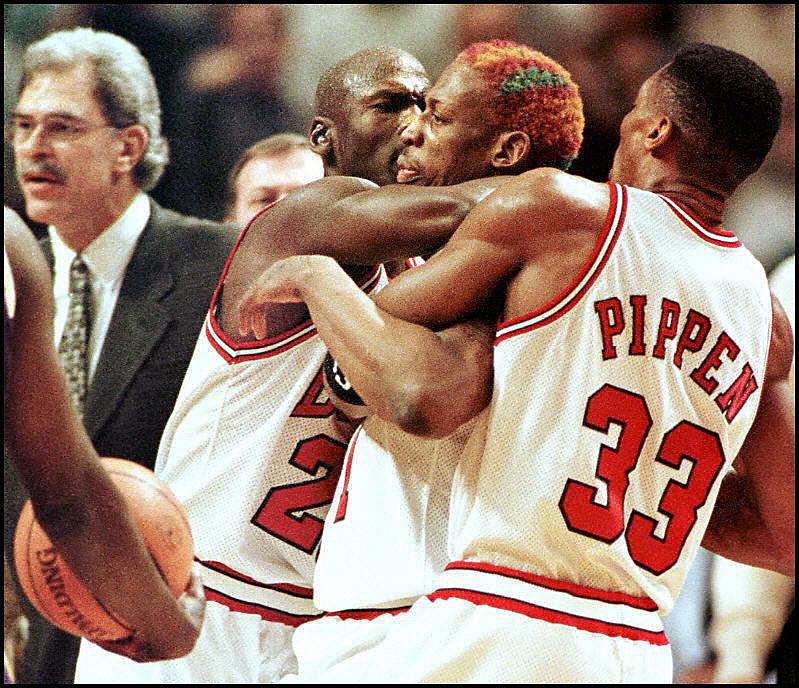 Scottie Pippen Has a Good Reason to Be Furious at Michael Jordan
Scottie Pippen has a valid reason to be furious at Michael Jordan even though they were once a terrific tandem with the Chicago Bulls.
Scottie Pippen and Michael Jordan used to be a dynamic duo. Together, they led the Chicago Bulls to six NBA titles while earning millions of dollars. Without each other, there's little doubt the Bulls would have experienced the same historic success. Yet, the Robin to Jordan's Batman isn't exactly thrilled with his legendary teammate. In fact, Scottie Pippen is downright furious at Michael Jordan for a very good reason.
Scottie Pippen and Michael Jordan were a terrific tandem
On the court, Michael Jordan and Scottie Pippen formed one of the most dominant duos in NBA history. While MJ dominated as a prolific scorer and mega trash-talker, Pippen opted to let his smooth play do the talking. He may not have had as much sizzle as his more popular teammate, but Pippen's crafty combination of scoring, rebounding, ball-handling and defense proved invaluable to Chicago's dynasty.
Both Jordan and Pippen shined in the biggest moments. In 178 postseason games with the Bulls, Scottie Pippen averaged 18.1 points, 7.7 rebounds and 6.2 assists. His ability to contribute on both ends of the floor while defending top opposing scorers helped alleviate some of the pressure on MJ's shoulders. Meanwhile, that let Jordan do what he did best: score the basketball.
Incredibly, Michael Jordan actually averaged more points per game in the playoffs (33.4) than he did during the regular season (30.1). Stylistically different but with the same competitive mindset, the two NBA Hall of Famers made magic in their time together with the Bulls.
The Last Dance highlighted the ups and downs of the Bulls' dynasty
Speaking of the Bulls, their incredible dynasty has become one of the trending topics in the sports world thanks to The Last Dance. The 10-part documentary series concluded recently, but not after delivering some truly eye-opening moments. Michael Jordan obviously was the star, but his teammates, opponents, coaches, friends and family all got plenty of air time.
Viewers got a deep dive into the Bulls and the prominent figures who contributed to their six NBA titles. That included both highs and lows depending on the person involved. On one hand, The Last Dance highlighted the underrated contributions of Steve Kerr and Toni Kukoc. On the other hand, the popular docuseries exposed some less-than-positive stories.
We all got a closer look at how Jerry Krause essentially prevented the Bulls from extending their dynasty. The oft-criticized general manager certainly didn't gain many fans from The Last Dance. However, it turns out that one of the players with which he feuded ended up getting the shorter end of the stick.
Jordan's former sidekick is livid about his portrayal in The Last Dance
Scottie Pippen's impact on the floor can't be understated. Yet, his portrayal on The Last Dance didn't paint him in the most glamorous light. And let's just say the NBA legend is far from pleased with how his former teammate made him look. In fact, disappointed would be a huge understatement, according to The Guardian.
"He is so angry at Michael and how he was portrayed, called selfish, called this, called that, that he's furious that he participated and did not realize what he was getting himself into," ESPN 1000's David Kaplan said on the Kap and Co radio show.

In the documentary, Jordan called Pippen selfish for delaying his ankle surgery until the start of the 1997-98 season. It's not like Pippen didn't have a legitimate reason to act that way. Krause refused to give his star a pay raise after Pippen far outplayed his five-year, $18 million deal. Despite ascending to top-five status, Jordan's sidekick was vastly underpaid, which even led him to seek a trade out of Chicago.
Overall, The Last Dance made Scottie Pippen seem self-centered despite the fact that he didn't garner the respect or paycheck he deserved from Bulls management. Who knows if he'll be able to forgive Michael Jordan for his portrayal. But for now, it seems like MJ won't be getting a Christmas card from the Pippen family this year.