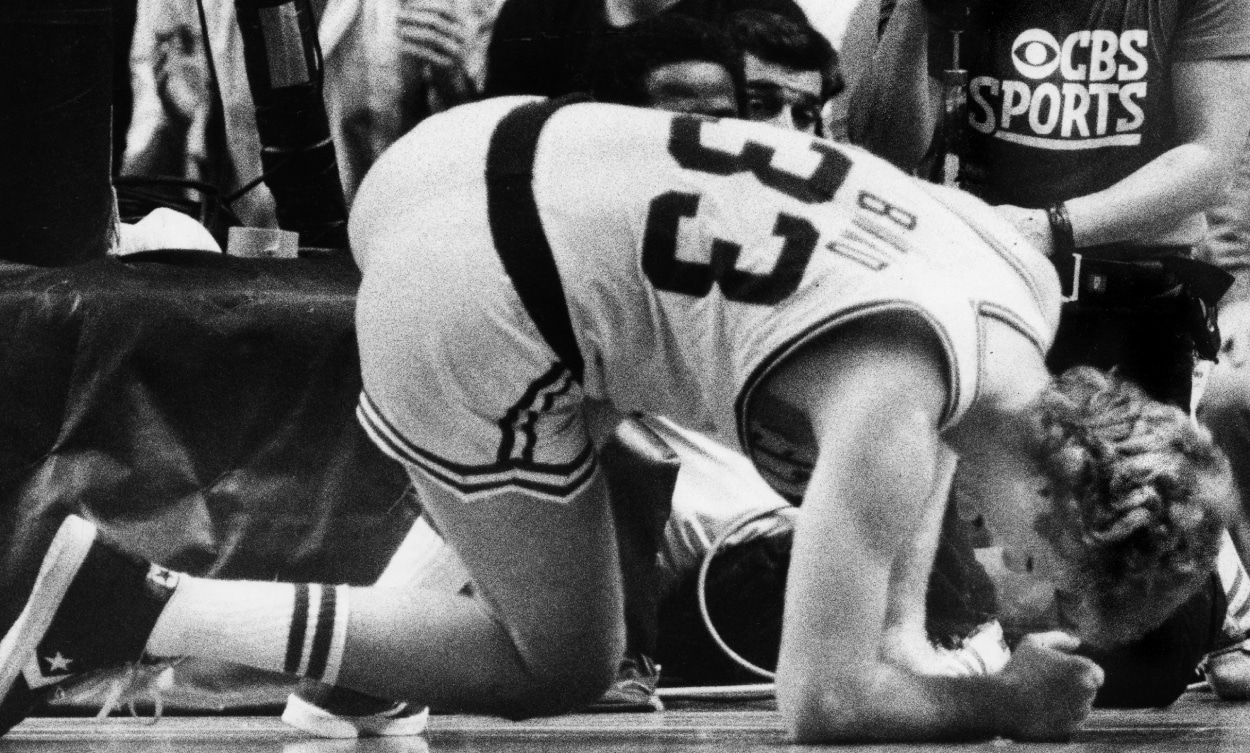 Larry Bird's Toughness Came Simply From Watching His Father
You aren't going to find many NBA players who were tougher than Larry Bird.
M.L. Carr called his former Boston Celtics teammate Larry Bird the "toughest guy I've ever seen." For Bird, there were no "load management" days like there are today. He never missed a game in his first two seasons in the NBA. Through his first seven seasons, he missed 13 regular season games.
Injuries eventually caught up with the 12-time All-Star. Bird battled through back pain, elbow injuries, and foot problems during the latter part of his career. Through it all, he gave everything, diving for loose balls and muscling his way in the paint. Bird's toughness came from watching his father Joe while growing up.
Larry Bird didn't let a bad back get in the way of an MVP honor
After playing every game through the first two seasons of his NBA career, Bird took an inadvertent elbow to the face by Milwaukee Bucks forward Harvey Catchings. He stayed in the game but missed the next five games after having surgery. Doctors advised him to stay out until the stitches were removed, but he returned to the team in a reserve role until the playoffs started.
In the summer of 1985, Bird injured his back while putting in a driveway at his mother's house. He played a good portion of the season in pain but never missed a game. In fact, that may have been the best year of his career.
After coming up short to the Los Angeles Lakers in the NBA Finals the previous season, the Celtics went to work. They beefed up their bench, adding future Hall of Fame center Bill Walton to the mix. They also added shooter Jerry Sichting.
The Celtics won a league-best 67 games that season. They lost one game at home all year. Bird won the final of his three straight MVPs after averaging 25.8 points and 9.8 rebounds. The Celtics also won their thing championship of the decade, defeating the Houston Rockets in the 1986 NBA Finals.
Bird's toughness came from his father
According to Jackie MacMullan's book When the Game Was Ours, Bird vividly recalls his father coming home from work one night with an injury suffered at work. His ankle was swollen, and he hobbled throughout the night.
In the morning, Joe Bird's ankle was twice the normal size. Larry watched as his dad squeezed his enlarged foot into his boot and took off for work. That moment left a lasting impression on Larry.
In 1985, Larry Bird felt pain in his toe, a pain he dealt with for three weeks.
"You've got a serious infection between your two toes," team physician Dr. Thomas Silva told Bird, per MacMullan. "This could lead to a dangerous situation. We'll give you a shot of Novocain for that because I'm going to have to cut you."
Not only was Bird tough, but he had a sense of humor.
"Nah, just give me one of those beers over there," he said.
Dr. Silva sliced up Bird's foot to allow the infection to drain. He played that night.
"I swear to God, they carved him up like he was John Wayne," Carr said. "Toughest guy I've ever seen. But what Larry doesn't understand (is that) other people don't have the same threshold for pain that he has."
Joe Bird can be credited for that.