Luka Doncic and Jason Kidd Are Talking Like the Dallas Mavericks' Season Is Already Over
Jason Kidd says Luka Doncic and the Dallas Mavericks have only just begun their journey.
Luka Doncic and the Dallas Mavericks are going to lose the 2022 Western Conference Finals to the Golden State Warriors. And with all due respect to Mavs fans, that's not a prediction, ladies and gentlemen. That's a fact.
Now, I'm aware that Dallas came back from a 2-0 deficit against the top-seeded Phoenix Suns in the semis, winning four of the last five to reach the conference finals for the first time since head coach Jason Kidd was a player and helped the team to its only title in history in 2011.
But the Suns ain't the Warriors, folks. Sure, they had a better regular-season record. In fact, they were 11 games better. But they didn't have the championship pedigree that Golden State possesses. Stephen Curry, Klay Thompson, and Draymond Green have won three NBA championships together and have been to the NBA Finals four times.
Yes, Luka is killing it in this series. But do you really think he can lead the Mavericks to four straight victories over those guys? That answer is no.
And, yes, I'm aware that the Warriors coughed up a 3-1 lead to the Cleveland Cavaliers in the 2016 NBA Finals. But while Doncic is putting up LeBron James-like numbers, he's not LeBron James. Not yet anyway.
Now, when I say all of that, it really doesn't matter to the Mavericks or their fans, right? Nor should it. Yes, I do genuinely believe every word of it. But every Dallas player, every Dallas fan, and every Dallas coach should 100% believe the Mavs can win four straight and head back to the NBA Finals for the first time in 11 years, right?
So was it just me who thought it sounded like Jason Kidd and kinda even Luka Doncic himself don't believe their team can pull off this miracle?
Luka Doncic has been fantastic for the Mavericks in the Western Conference Finals, but the Warriors are just better
Luka Doncic has been nothing short of phenomenal in these Western Conference Finals. In the first three games against Golden State, he's averaging 34 points, 7.7 rebounds, five assists, 1.7 steals, and one block per game. But it obviously hasn't been enough.
Simply put, he just doesn't have enough help. Yes, Jalen Brunson is having a fantastic series, averaging 21.7 points, which is more than a 33% increase from the regular season. And Spencer Dinwiddie has played solidly as well. But from top to bottom, the Warriors are just better.
Curry, as usual, is leading the way for Golden State, averaging 28 points, 8.3 rebounds, and 6.7 assists. He's one of five Warriors averaging double digits in points for the series. Andrew Wiggins (20.7), Jordan Poole (17.3), Klay Thompson (16.3), and Kevon Looney (13.3) are the other four.
Through the first three games, the Warriors have won by an average of 14.3 points. However, that number is a bit skewed as the Dubs took the series opener by 25. But again, the fact remains the Mavericks simply can't keep up. Also again, Luka Doncic & Co. shouldn't be listening to that kind of chatter.
But it really seems that they are.
Have Luka Doncic and Jason Kidd already thrown in the towel for the Mavericks in the Western Conference Finals?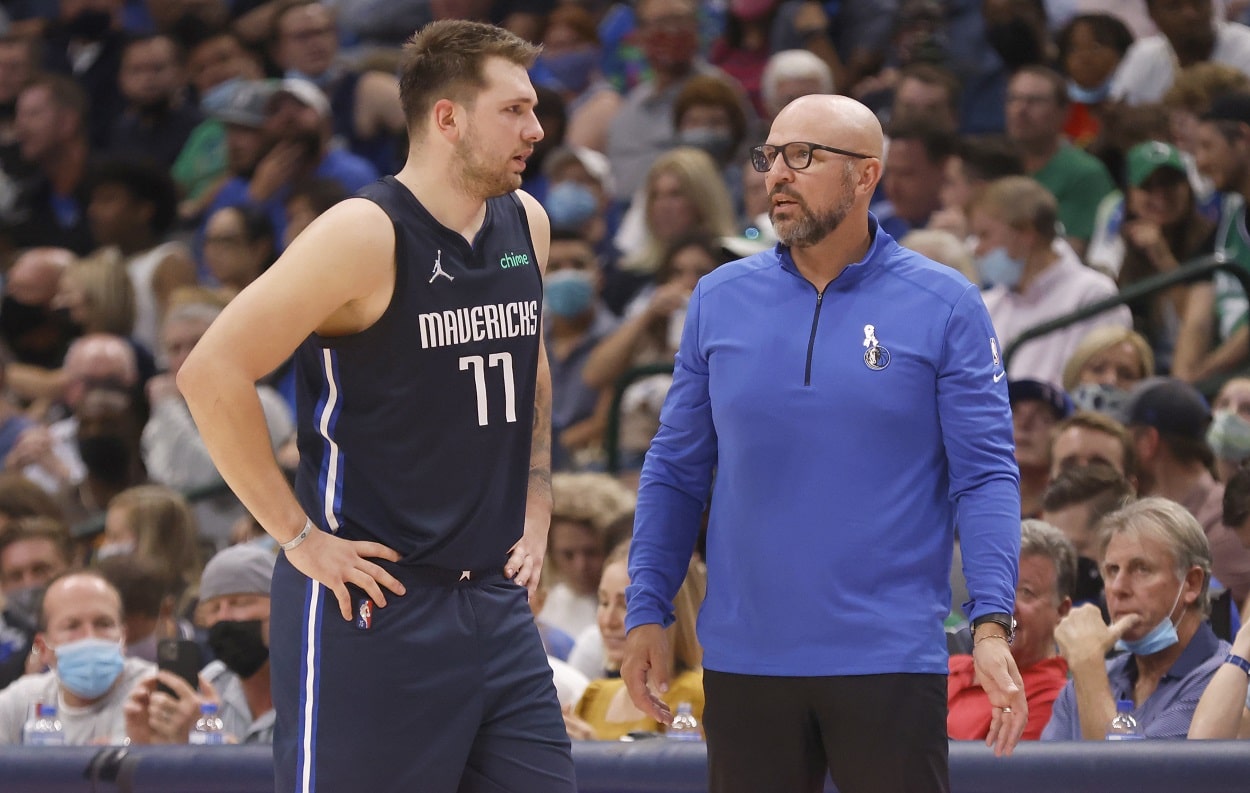 Following the Mavericks' nine-point loss in Game 3, Jason Kidd was asked about Luka and had this to say:
"This is just the beginning of our journey.

"It's cool to go through this. This isn't the end, this is just the beginning."

Dallas Mavericks head coach Jason Kidd
Perhaps Kidd meant that they were just getting started in this series and that he and the Mavs are ready to win four straight. But he sounds like a defeated man, and that's not what you want to see from your head coach. That's a statement you make after you've been eliminated from the postseason, not when there are still more games to play. Kind of a "Well, we fought hard and just didn't have enough, but we'll be back" type of thing. And, seriously, what's cool about going down 0-3?
And Luka's statement wasn't much better:
"The first three quarters, I played very bad. That's on me. I'm still learning. I think after this season is done, whenever we are, I'm going to look back and learn a lot of things. This is my first conference finals in NBA. I'm 23, man. I'm still learning a lot."

Dallas Mavericks star Luka Doncic
Man, Doncic even threw his age in there, almost as if to say, "Yeah, we're just a young team, but I'll learn from this, and we'll come back next year better and stronger."
So, yeah, it seems Luka and Kidd have both essentially thrown in the proverbial towel on the Mavericks' chances of winning this series. The problem is that they still have to show up for the knockout blow, which likely comes Wednesday night in Game 4.
Tip-off in Dallas is set for 9:00 p.m. Eastern.
Stats courtesy of Basketball Reference
Like Sportscasting on Facebook. Follow us on Twitter @sportscasting19 and subscribe to our YouTube channel.