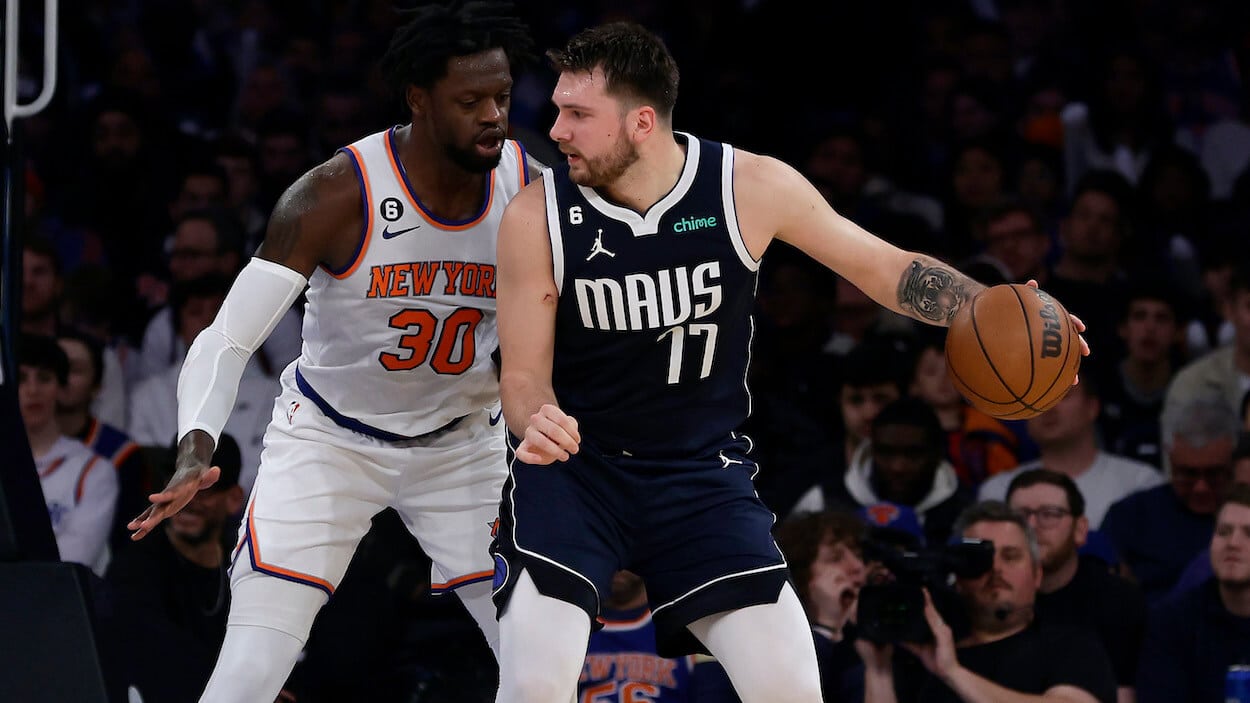 The Luka Doncic Trade Knicks Must Make This NBA Offseason
If a Luka Doncic trade is an option for the Mavericks this offseason, here is the Knicks trade package they should offer for the superstar.
The Dallas Mavericks are an absolute disaster. Despite the individual brilliance of superstar Luka Doncic, the team has lost six of their last seven games and are now on the verge of missing the playoffs entirely, even after trading for Kyrie Irving at the NBA trade deadline. While Doncic seems like a loyal player, maybe the team has sunk so low that he will want out this offseason. If that's the case (or even if it's not), the New York Knicks should make a Luka Doncic trade offer this offseason. Here's the Mavs-Knicks trade New York should propose.
Knicks trade their young core to the Mavericks in a Luka Doncic trade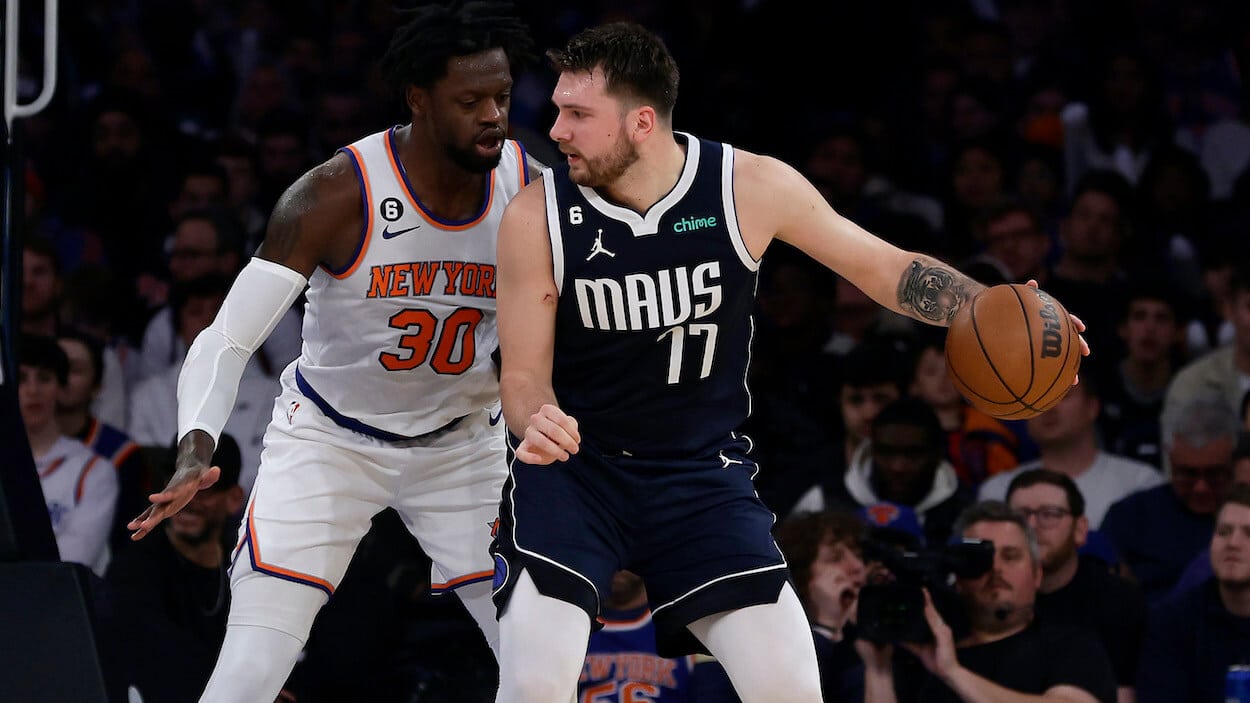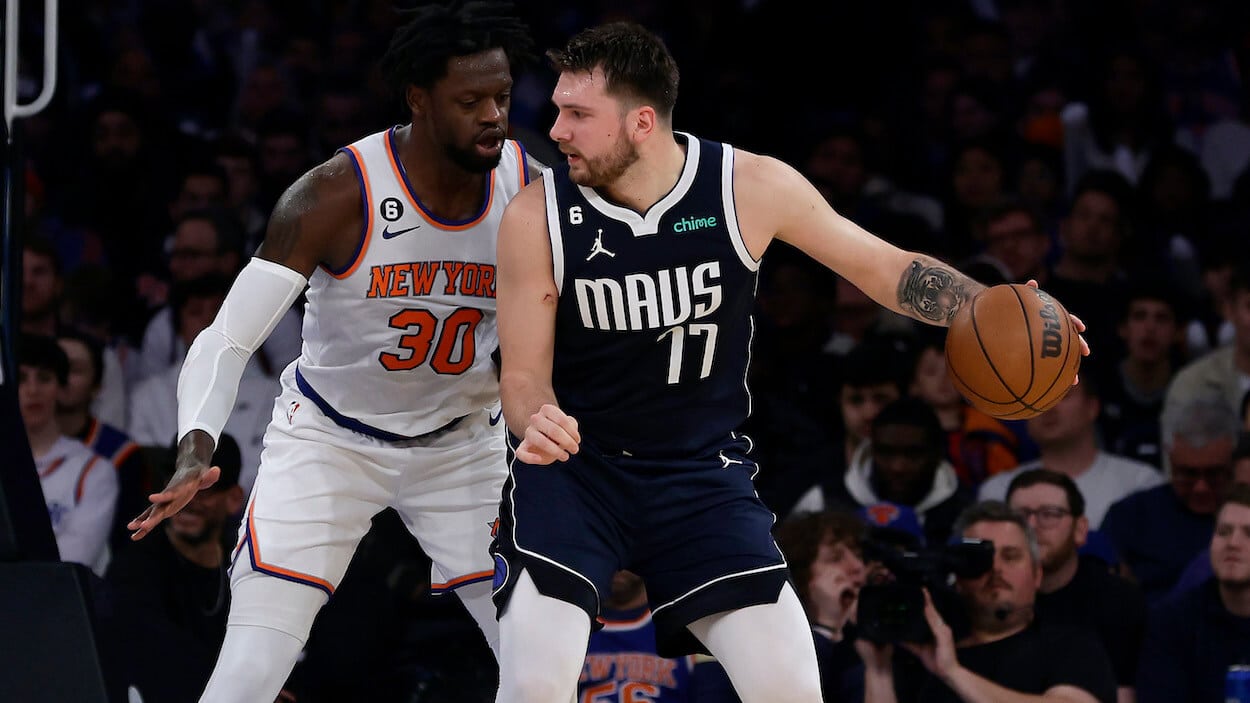 In a must-win game against the Miami Heat on Saturday with just four to play, Luka Doncic put up 42 Points, shot 68% from the floor, and had 10 rebounds, eight assists, and two steals. Despite this Herculean effort, the Mavericks still lost 129-122 to drop a full game out of the No. 10 seed and the play-in tournament.
You can blame this incredibly disappointing season on Kyrie Irving, Doncic's mysterious personal issues he admits he's going through, or the Mavs' organization continued failure to put a championship-level supporting cast around Luka.
Either way, it wouldn't be a complete shock if a Luka Doncic trade was in the offing this NBA offseason.
If this happens, the Knicks need to pounce and offer the best and biggest trade package they can. New York has gotten better in recent years, but adding a true superstar continues to elude the proud franchise.
The Knicks trade offer for Doncic this offseason should be RJ Barrett, Immanuel Quickley, Obi Toppin, and Isaiah Hartenstein, along with 2023 first-round picks from the Mavericks, Detroit Pistons, and Washington Wizards, and the Knicks 2025, 2027, and 2029 first-rounders.  
For the Mavericks, this is an excellent package, all things considered. The team gets its 2023 first-rounder back, as well as protected picks from the Pistons and Wizards that will convey down the line. They also get four players 25 and under to start their rebuild with.
This Luka Doncic trade isn't commensurate value at all for one of the best five players in the NBA. But it is in line with recent blockbuster deals for players like Kevin Durant, Donovan Mitchell, and Rudy Gobert.
For the Knicks, getting a top player like Doncic is what the team has been trying to do since it acquired Carmelo Anthony in 2011. And, really, since the Knicks last won a championship back in 1973.
Teaming up Doncic after this Knicks trade with his old running mate, Jalen Brunson, Julius Randle, Josh Hart, Mitchell Robinson, and Quentin Grimes would create a real championship contender.
So, if this was the Knicks-Mavericks offseason Luka Doncic trade, who says no?