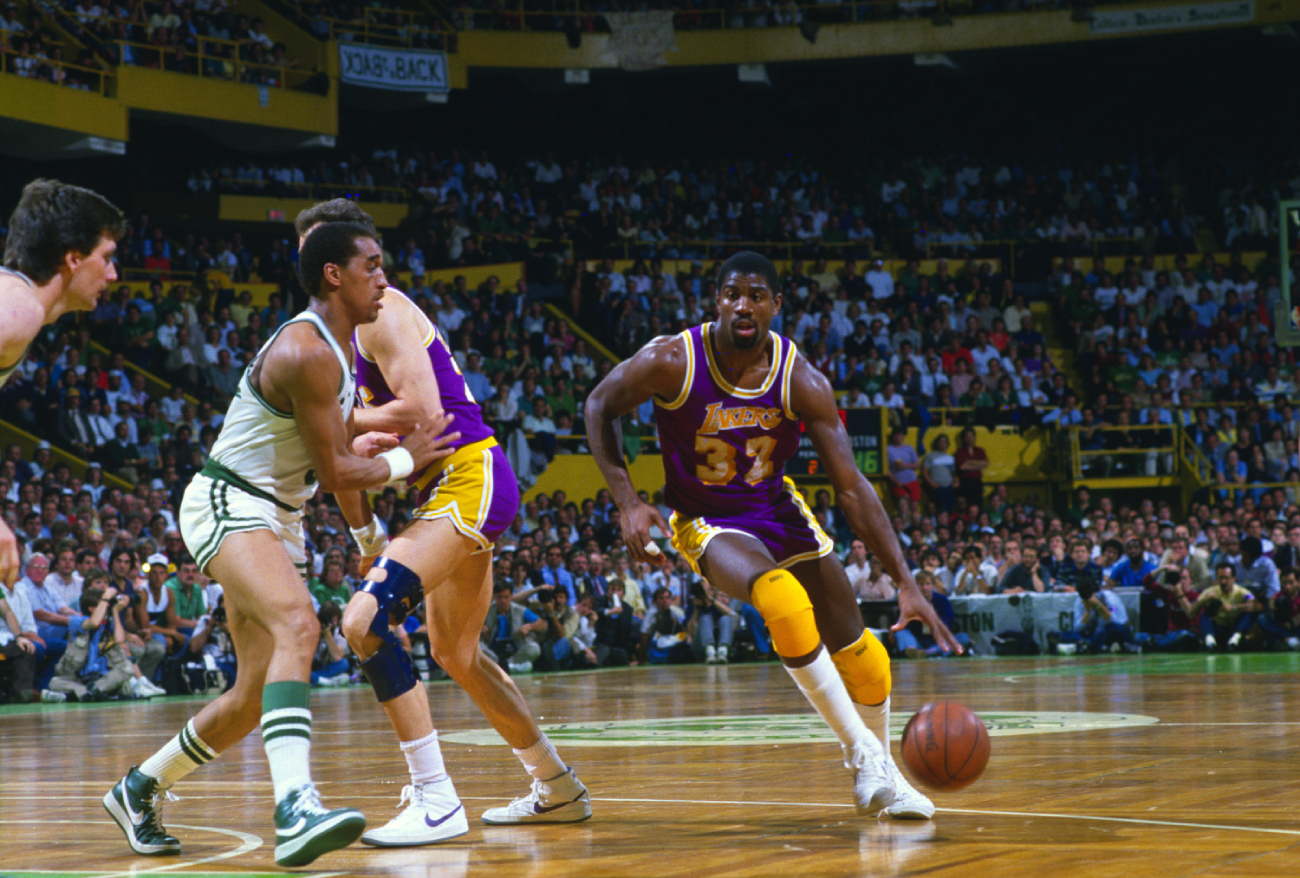 Magic Johnson Weighs in With His NBA Draft Steals
Former Los Angeles Lakers star and NBA Hall of Famer Magic Johnson weighs in with his 2020 NBA draft steals.
Earvin 'Magic' Johnson knows a thing or two about basketball. While Wednesday's 2020 NBA draft doesn't have a dominant, clear-cut No. 1 pick, it's a draft that's likely to produce some hidden gems. Johnson, the Los Angeles Lakers Hall of Famer, dug deep to help determine just who those draft-day sleepers might be.
Magic Johnson was picked No. 1 in a deep 1979 NBA draft
Magic Johnson played his college basketball at Michigan State and was part of one of the most iconic NCAA title games in history. Johnson's Spartans battled Larry Bird's Indiana State Sycamores. Michigan State wound up winning the championship and Johnson was the first pick in the 1979 NBA draft by the Los Angeles Lakers.
Bird was actually drafted No. 6 overall by the Boston Celtics in 1978. He never signed with the team and elected to play his final year of college in the 1978-79 season. The Celtics held his rights until the 1979 draft and Bird agreed to a deal before the draft took place.
In the 1979 NBA draft, Johnson was selected first, followed by 12-year NBA veteran David Greenwood and then Bill Cartwright, who spent 15 years in the league. Sidney Moncrief, Vinnie Johnson, and Calvin Natt all were picked in the top eight. Bill Laimbeer was a third-round selection, while Mark Eaton was taken in Round 5.
Previous NBA draft steals
With every draft, there are the busts and there are the steals. Most of the time, the focus is on the busts. NBA draft busts that immediately come to mind are Greg Oden, Darko Milicic, and Anthony Bennett. Oden and Bennett were the first picks in their respective drafts, while Milicic was taken second, sandwiched between LeBron James and Carmelo Anthony.
With every bust, there is a draft steal. For argument's sake, we'll say a steal is a player drafted outside the top 10 who went on to have a lengthy and very successful NBA career. Kobe Bryant, drafted 13th overall in 1996, is one of the biggest draft-day steals. Giannis Antetokounmpo, picked 15th in 2013, is another. Throughout the years there have been many steals.
Manu Ginobili may be one of the biggest draft-day steals of all-time. Ginobili is a four-time NBA champion taken in the second round (57th overall) in the 1999 NBA draft. Ginobili is a two-time all-star and spent most of his career as a very valuable sixth man. Other draft steals include Dennis Rodman (27th overall in 1986) and John Stockton (16th overall in 1984).
Johnson offers his thoughts on the NBA draft
Even though Magic Johnson stepped down from his front-office position with the Los Angeles Lakers, he's still has his finger on the pulse of the NBA. This year's NBA draft is an odd one with no clear-cut superstar leading the way. On Twitter, Johnson weighed in on the draft and gave his opinion on some of the players who might not be on everyone's radar.
Johnson said the best leader in the draft is Cassius Winston, a point guard from Michigan State. "In this year's NBA Draft, the best leader at any position is MSU's point guard @cassiuswinston," Johnson tweeted. "With 18 points per game, 6 assists, and a basketball IQ off the charts, he's an ultimate winner!!"
Johnson also said on Twitter that another Cassius – Cassius Stanley of Duke – will be better a better player in the NBA than he was in college. "@cassius_stanley with his 44″ vertical is one of the best athletes in the NBA Draft," Johnson wrote. "A gym rat and a competitor, he will be a better NBA player than college player!" Johnson also praised another Michigan State player, Xavier Tillman. Johnson said Tillman is the best defensive big man in the draft.