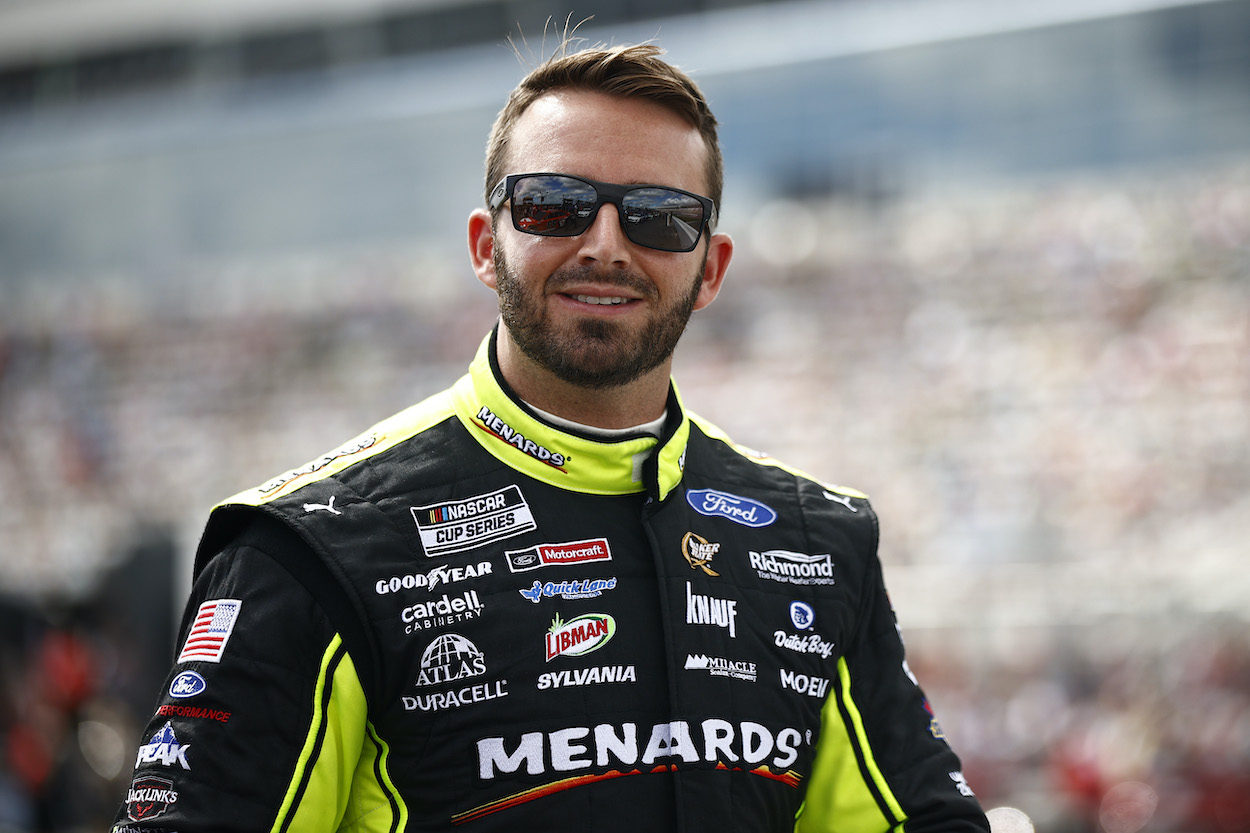 Matt DiBenedetto Addresses His Future and Oddly Suggests a Desire to Race for a Team in 2022 Where His Faith and Patriotism Won't Be Censored
Matt DiBenedetto addressed his future and oddly suggested a desire to race for a team in 2022 where his faith and patriotism won't be censored.
Matt DiBenedetto never hesitates to talk about his faith when he gets a chance. He also regularly speaks about his support of the military. So this week, when the Cup Series driver made his regular appearance on SiriusXM NASCAR Radio, some listeners were understandably confused by his comments when he suggested that he wanted to race for a team in 2022 that wouldn't censor his faith and patriotism. 
Matt DiBenedetto recently said prospects for 2022 look grim 
Matt DiBenedetto recently made one of his weekly appearances on SiriusXM NASCAR Radio when show co-host and fellow driver Cup Series Corey LaJoie addressed the "elephant in the room," DiBenedetto's plan for racing in 2022.
"You know me very well, Corey. I'm pretty straightforward and honest about it all," DiBenedetto said. "There's two answers here, but one is not very good. People are like, 'What have you got working?' And I'm like, 'Nothing.' I am working on everything. 
"It's just crazy because the performance of our team is obvious and the things we've done to make some great improvements and be fast and performing very consistently, but still, as far as pertaining to next year, man, it's odd. Any door that kind of seems to crack open closes. And I'm trying to figure out what God's plan is and what that means because at this moment, I've got zero. Absolutely nothing. It's a very weird landscape. But I'm also thankful that I'm at peace with it going through this process, trying to figure it out, just working as hard as I can because I know it's going to work out as it is supposed to, but it doesn't make it easy as you know."
Lajoie pressed on and asked if nothing materializes for 2022, what does he do?
"I don't know. Let me ask you. No. It's a good question. I think about that a lot. It's hard man," DiBenedetto admitted.
"Am I blessed to have made a great living and had a great time and been fortunate to gain a lot of success and be in a better financial position than I would doing any other things? Absolutely. For sure that's put me in a spot where I'll always be thankful for. I'm going to give you two sides to this answer. My wife and I were talking about this last night.
"Through my journey, everything has been want a win in Cup. Win a Cup race. That's going to complete my life. Or win a championship or whatever it is. And I gained a win, as you know Corey, that's far, far greater and makes winning a Cup race seem like absolutely nothing, and that is my faith and that is my relationship I have with the Lord. It changed my entire life and every single day of my life moving forward and I'm not afraid to openly talk about it and say it. That's where I will always be thankful no matter what happens." 
DiBenedetto suggests he wants to avoid censorship of his faith and patriotism with new team
Matt DiBenedetto is undeniably a man of faith. He's also big on supporting the military. In September, he tweeted a photo of his house with a flagpole surrounded by 13 small flags in honor of the soldiers killed in Afghanistan. 
This week, DiBenedetto provided the weekly update on his future, which sounded encouraging. However, the 30-year-old driver, who has 31 top-10 finishes in seven Cup Series seasons, also ventured into some strange territory, oddly suggesting that wherever he landed in 2022, he didn't want to be censored from being "authentic," and talking about the things he cares about — specifically, his faith and patriotism.  
"I've had some folks, some different teams, reaching out kind of on all different fronts across the three series. So that's good and encouraging," he told show hosts Danielle Trotta and Larry McReynolds. "But again, there is that balance, too, of working on the partnership side of it because that's huge. And then, I've been, I don't know how to word it, I'm an all-in very passionate personality.
"And there's a lot of things that I care about in the world, and I share my faith, and people know that about me, but I also have to tread pretty carefully in today's day and age. You know, we represent a lot of people and such. So I'm actually trying to work on where that could sit where I can be me, be fully authentic, be myself, talk about the things I care about, like my brothers in the military and freedom, my patriotism, all those things."
Faith and patriotism are part of NASCAR's fabric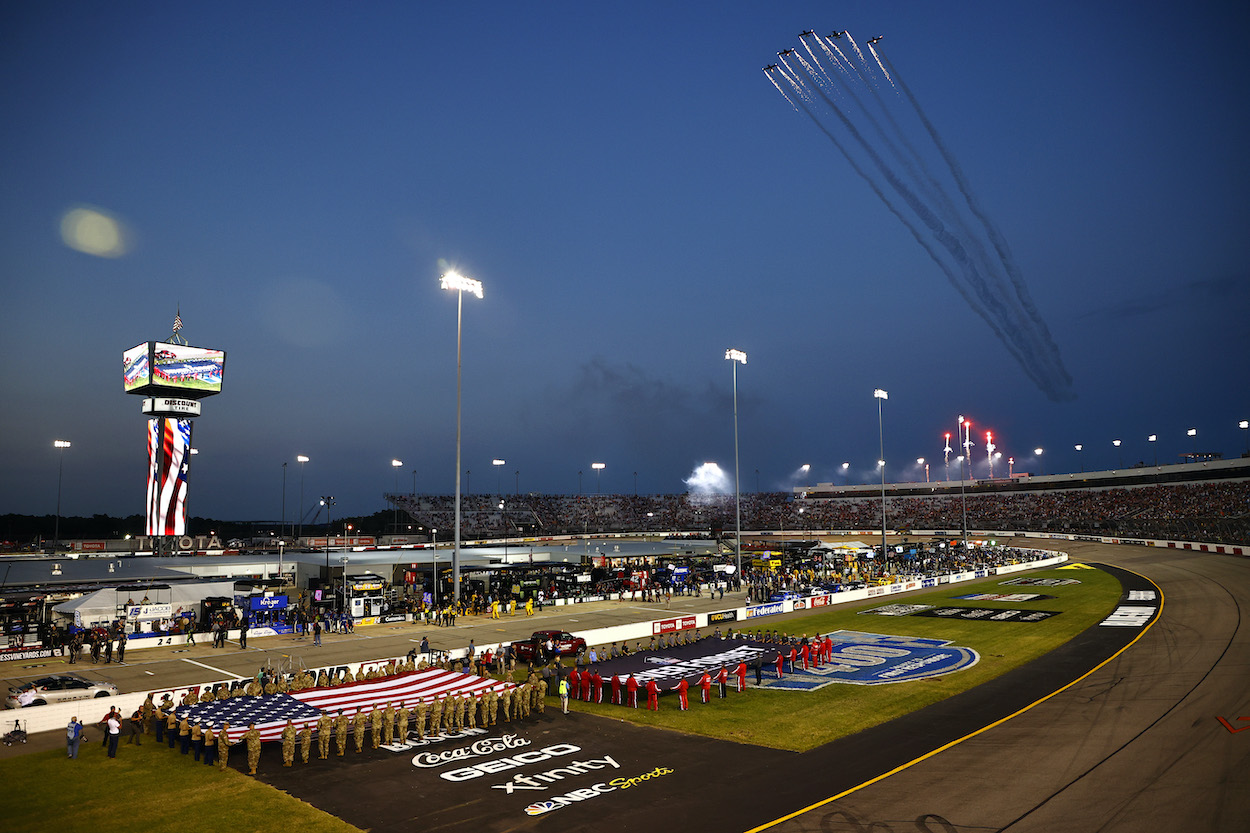 Trotta later tweeted about Matt DiBenedetto's comments, pointing out how he didn't want to be censored. Many responded on social media asking questions. And justifiably so. His remarks are confusing. After talking about sharing his faith, he indicated that he has to "tread pretty carefully in today's day and age."
He does? Why?
Of all the major professional sports in America, NASCAR is the only one in which there is a prayer before each event. DiBenedetto's suggestion that he might in some way be censored for his religious beliefs certainly isn't happening in the sport that pays his bills.
He also stated how he wanted to be able to discuss "the things I care about, like my brothers in the military and freedom, my patriotism."
Again, if you compared NASCAR to all of the other major sports, you'd be hard-pressed to find a sport that's more supportive of the military, including the playing of the national anthem and flyovers before each event. That doesn't even include the special ceremonies at races where NASCAR honors servicemen and women on national holidays, like Veterans Day or Fourth of July.
DiBenedetto replied to Trotta's original tweet, suggesting that it was taken out of context. But were the words from his own mouth taken out of context? The ones where he explicitly said how he had to "tread carefully" and wanted to "be authentic" when talking about his faith and patriotism? 
Maybe he's referring to some of the negative responses he receives on social media when he posts about those two subjects. But that's certainly not an accurate reflection of the way people as a whole are treated in this country — and definitely not in the world of NASCAR.
Like Sportscasting on Facebook. Follow us on Twitter @sportscasting19.