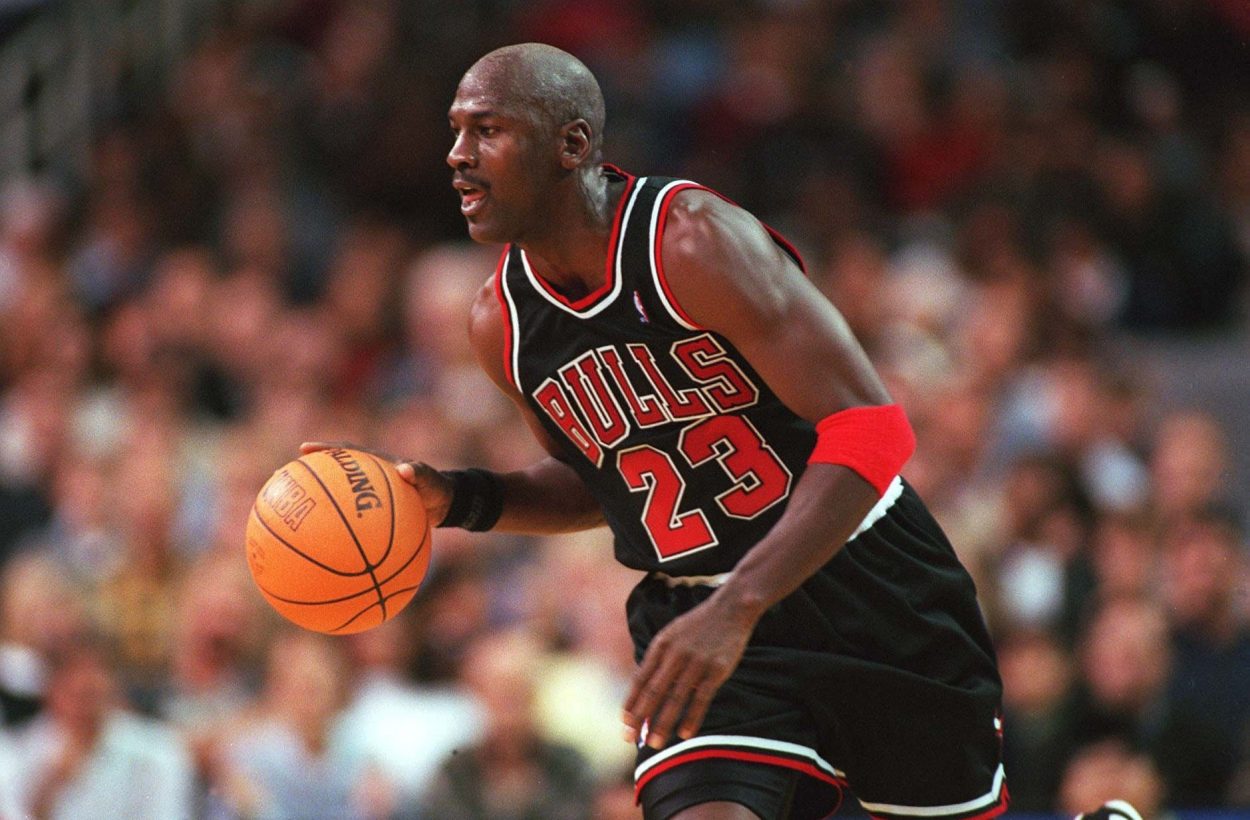 Michael Jordan Dropped 55 Points in a Playoff Game but Still Apologized to a Legendary Coach Afterward: 'I Kinda Forgot About the Triangle'
Michael Jordan had one of the finest scoring performances of his career in a first-round series against the Washington Bullets in the 1997 playoffs. He also hilariously said during his postgame press conference that he felt obligated to apologize for abandoning the triangle offense.
Michael Jordan never won an NBA championship until former Chicago Bulls head coach Phil Jackson instilled the triangle offense devised by his assistant, Tex Winter. Even after Chicago implemented the triangle, however, Jordan found a way to take matters into his own hands.
The Bulls legend wasn't shy about looking for his shot when in rhythm. Such was the case during a first-round series against a young Washington Bullets team in 1997, when MJ put on one of his finest scoring performances.
Still, Jordan felt obliged to make a humorous apology to Winter after the game.
Michael Jordan torched the Bullets for 55 points during the 1997 NBA Playoffs
Michael Jordan and the Bulls weren't expected to have trouble defeating an upstart Bullets team in the first round of the 1997 playoffs. But Jordan still felt compelled to send a message to Washington.
Chicago took Game 1 fairly handily, with Jordan scoring 29 points with eight assists and eight rebounds. The Bulls' scoring was slightly more varied in that contest than it would be in Game 2.
Money ensured the Bulls would not slip up on their home floor. The Bullets took a seven-point lead into the break, but MJ scored 29 points in the second half en route to a 55-point performance. Chicago would go on to win by five and establish a stronghold on the series.
Jordan got just about whatever he wanted. He peppered Washington with a slew of midrange jumpers, using a series of up fakes to get defenders into the air and free himself up for open looks. Mike also made plenty of contested looks, including a late jumper where he double-clutched and fell toward the baseline before miraculously putting the ball in the hoop.
Jordan was the Chicago Bulls' offense in that contest. However, he still made sure to make a humorous apology to Tex Winter after the game.
Jordan joked during his postgame press conference that he apologized to Tex Winter after putting on a scoring clinic
Michael Jordan successfully led the Bulls past the Bullets in Game 2. He kept the ball rolling with a humorous quip in his postgame press conference.
Jordan explained he gained energy and confidence with every made basket and continued to hunt offensive opportunities, even at the expense of the triangle. The five-time MVP hilariously stated (h/t NBA Entertainment via YouTube) he made a personal apology to Tex Winter after the game (around 11:00 mark).
Jordan would do whatever it took to win. If he felt being a scorer was the best way to lead the Bulls to victory, then he'd do just that.
But while MJ might not always have abided by the triangle, Winter's offensive system might have the single biggest impact on his career.
The triangle offense unlocked the Bulls' full potential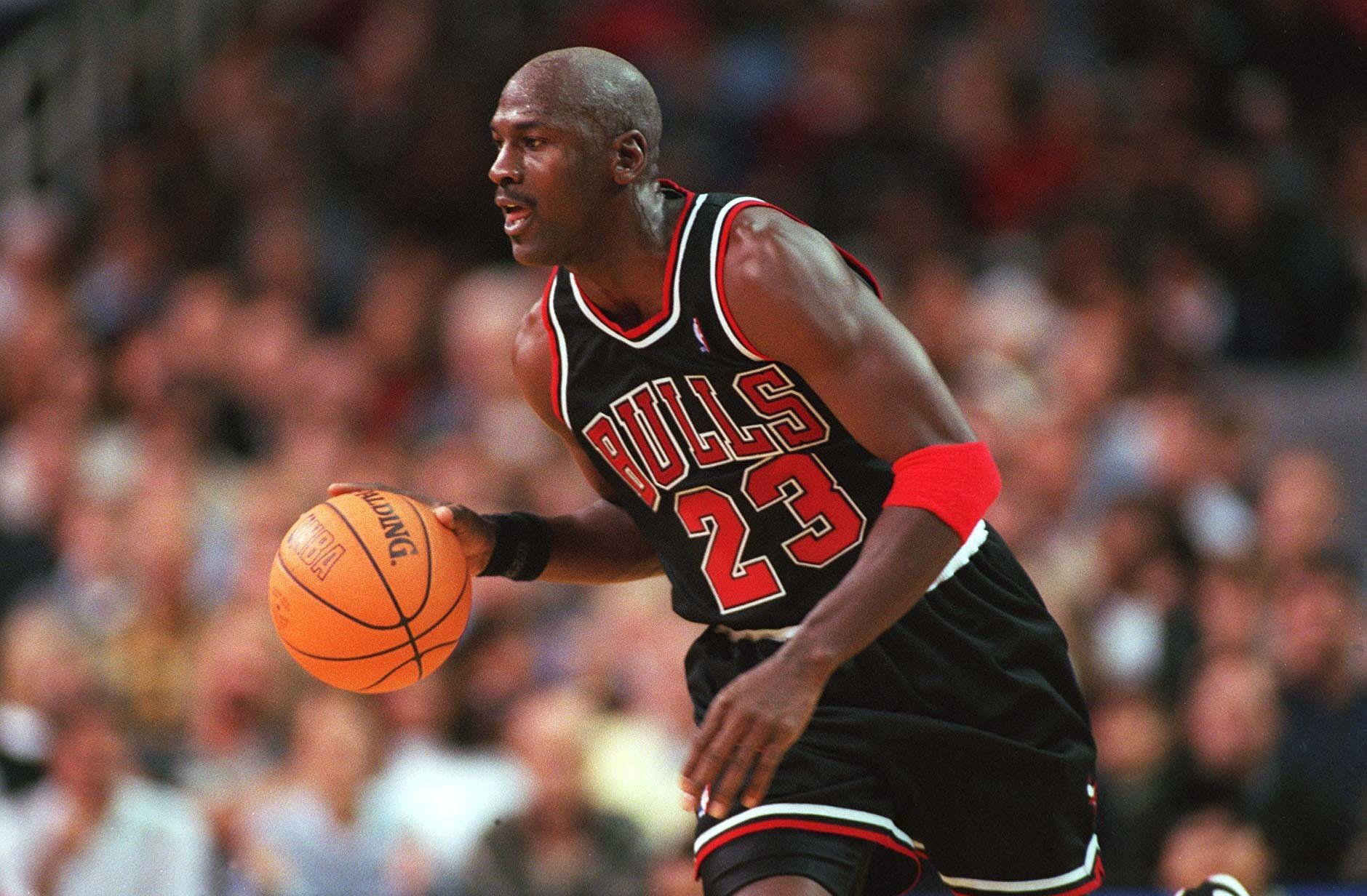 For years, the Chicago Bulls relied on Michael Jordan hero ball. Former head coach Doug Collins even seemed content to let MJ dominate the ball and call all the shots. But years of playoff failures and anguish — especially at the Detroit Pistons' hands — necessitated a change.
Phil Jackson instilled the triangle after being hired by the Bulls before the 1989-90 season. Though skeptical at first, Jordan ultimately bought into the system. He still had equal responsibilities as a scorer and playmaker, with the liberty to take over when needed.
The symbolic importance of the triangle was evident during Game 5 of the 1991 NBA Finals, when Jordan fed Bulls guard John Paxson for numerous open jumpers in the fourth quarter. That same system also benefited MJ later in his career, as Chicago routinely ran post sets through him and allowed him to exploit his patented fadeaway.
Tex Winter likely didn't mind that Jordan went outside the triangle, considering Money helped him get six rings. Simultaneously, Jordan had the respect for Winter to apologize, even if it were slightly in jest.
Stats courtesy of Basketball Reference.