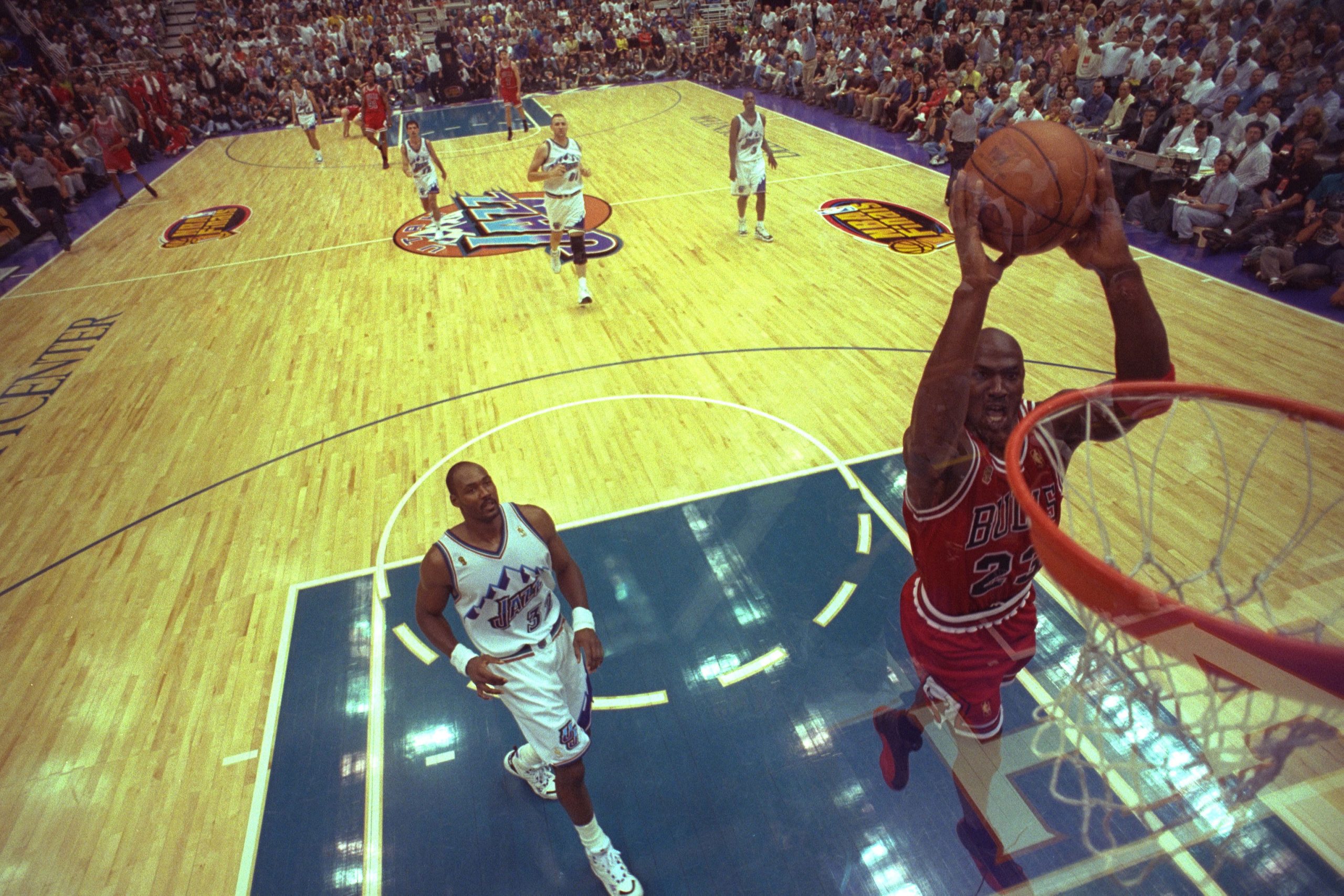 Michael Jordan Was the King of Dunks, but 1 of His Jams Pumped Him up Like No Other: 'I Get Chills When I See It'
Michael Jordan was impressed by his own dunks early in his career.
Don't be fooled by Michael Jordan. When he was a young stud in the NBA, even he impressed himself with his Airness. Early in his Hall of Fame career, the Chicago Bulls legend overcame a broken foot after a spectacular rookie season in which he averaged 28.2 points and was the talk of the league.
His broken right foot limited him to seven regular-season starts in his second season. By Season 3, he was back to Air Jordan. In the beginning of the 1986-87 season, Jordan talked about his high-flying ability. He was still in awe of one of his most famous dunks that took place during his rookie year.
Michael Jordan impressed himself with his leaping ability early in his career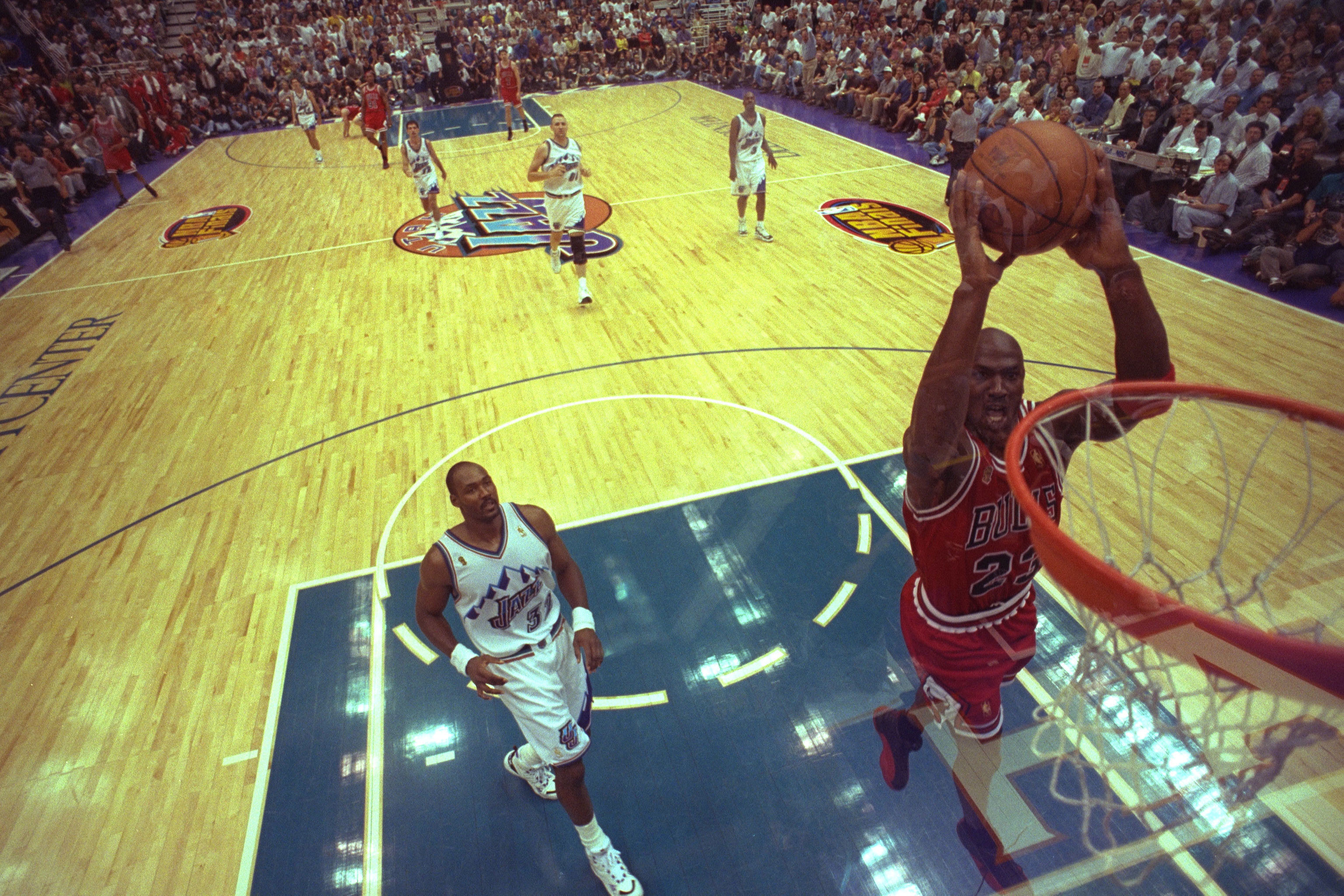 Even before Jordan won back-to-back NBA Slam Dunk Contest titles in 1987 and 1988, Jordan was wowing fans with his hang time and creative dunks. He entered the league as the third pick in the 1984 NBA Draft and one of the most athletic players in the game.
Early in the 1986-87 season, Jordan spoke about his dunking ability. He said there were times when he thought about how high in the air he gets.
"I've never had my vertical leap measured," he told Sports Illustrated in 1986, "but sometimes I think about how high I get up. I always spread my legs when I jump high, like on my Rock-a-baby, and it seems like I've opened a parachute, like, that slowly brings me back to the floor.
 "I was really up against New York in our first game. On my last dunk, I think I was close to eye level with the rim. Sometimes you just hit your wrists on the rim, but this time it was my elbows and everything. I almost overdunked the whole rim."
Michael Jordan said he got chills thinking about one of his dunks
Jordan remained on the topic of dunking for quite some time. He flashed back to one of his most famous dunks, one that happened during his rookie season, the second game of his professional career, in fact. Two years later, he was still amazed by it.
"I wish I could show you a film of a dunk I had in Milwaukee. It's in slow motion, and it looks like I'm taking off – like somebody put wings on me. I get chills when I see it."

Michael Jordan, to Sports Illustrated in 1986
Yes, he impressed himself. Michael Jordan actually wowed Michael Jordan.
He continued.
"I think, when does 'jump' become 'flying'?" he asked. "I don't have the answer yet."
Although Jordan was high-flying, he remained grounded as a young NBA player
While Jordan surprised himself with his leaping ability and his success on the basketball court, it never went to his head. He showed flashes of brilliance in his rookie season and had a blast playing the game he loved. Back then, he was in the middle of a five-year deal worth $4 million total. He made far less than the other stars in the game then, but it didn't matter to him.
"Money is nothing to me," he said. "People say I'm underpaid, but that's not a big issue. I'm playing."
He was a kid playing basketball for a living. He said he never wanted to grow up.
"I may never grow up, huh?" he said. 'Well, I do hate it when people call me 'Sir,' or 'Mr. Jordan.' And I want to stay young as long as I can. That's why I have a little boy haircut. And there's no hair on my face, just a little peach fuzz. But that took 23 years."