Michael Jordan's Unsigned Note in 1984 Did Not Fool Bobby Knight
Bobby Knight was one tough coach. The former Indiana basketball coach and skipper of the 1984 U.S. Olympic men's basketball team was hard to please. Even while the U.S. team was 8-0 and well ahead at halftime of its gold-medal game against Spain, Knight still wasn't satisfied. He was tough to play for, and Michel Jordan tried to let him know anonymously. That didn't work out.
The 1984 U.S. team was unstoppable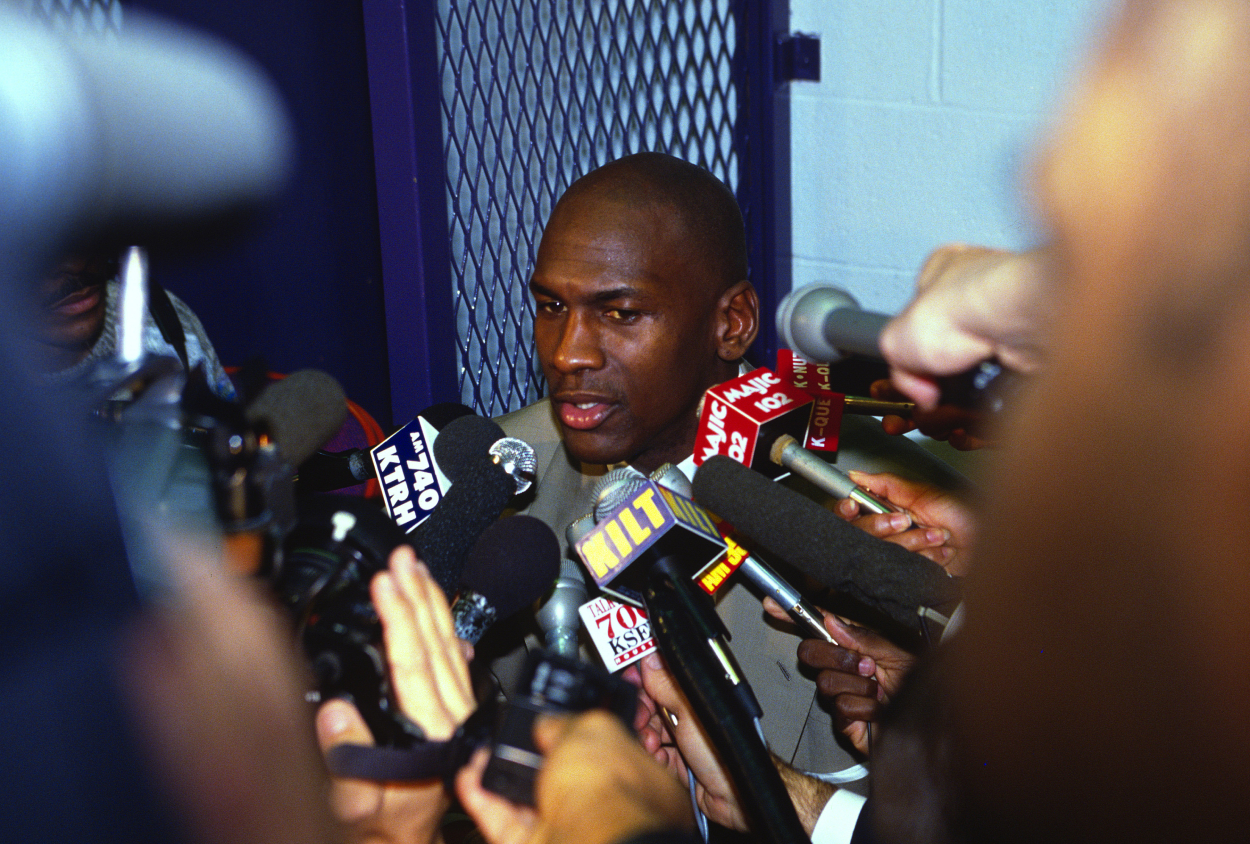 The '84 Olympics team played nine uneventful games before walking away with the gold medal. All nine were decided by double figures. The team dominated from its first game against China, winning 97-49, through its 96-65 win over Spain.
The 1984 team was the last amateur-level U.S. team to win a gold medal in men's basketball. Although there were no professional players on that team, it was still stacked with young stars. The team was led by Michael Jordan, and also had future NBA stars Patrick Ewing and Chris Mullin.
Jordan was the team's scoring leader, averaging better than 17 points per game despite sitting out much of the second halves as the team consistently rested the starters. Three other players averaged double figures in scoring. Mullin was next at 11.6 points per game, followed by Ewing (11), and Steve Alford (10.3).
Boby Knight was always heated
RELATED: Why Did Former Indiana Head Coach Bobby Knight Throw a Chair on the Court in 1985?
Bobby Knight could never be satisfied. His 1984 team was perfect, yet he was still yelling and screaming. It also wasn't just his players that had to deal with his antics. Those poor referees were usually a major target of his tantrums. Sometimes it was the reporters asking basic questions who felt the wrath of Knight. Sometimes it was a combination of both.
Knight earned three technical fouls through a seven-game stretch. Maybe it was all a ploy to take the pressure off his players and turn the focus on him. Knight appeared to love the attention. Case in point was a heat exchange with reporters after a game when he publicly ripped those officials.
"What do you want me to do, sit on my butt and let some kid get hurt that has a million dollar contract a month from now, knocked out of a basketball career because of some idiot with a whistle that doesn't know how to blow it?" he said, according to The Sporting News. "Don't be ridiculous." 
Michael Jordan's unsigned note didn't fool Bobby Knight
Knight knew Jordan was one heck of a player. He praised him publicly but was always on his case during games and practices. Jordan appeared to have gotten fed up with his antics. Prior to the gold-medal game against Spain, Knight found an unsigned note on the blackboard as he as prepping the team for the game.
According to "Knight: My Story," the coach's autobiography, that note was on a yellow piece of paper ripped from a legal pad. The note read: Coach: Don't worry. We've put up with too much sh*t to lose now."
"I still have the paper," Knight wrote in his book. "And I don't have any doubt about its author. By then, I knew what Michael Jordan's handwriting looked like. I looked at that note, and everybody was watching. Michael had his head down, but he couldn't resist looking to see what I was going to do. All I said was, 'Okay, let's go play.'"