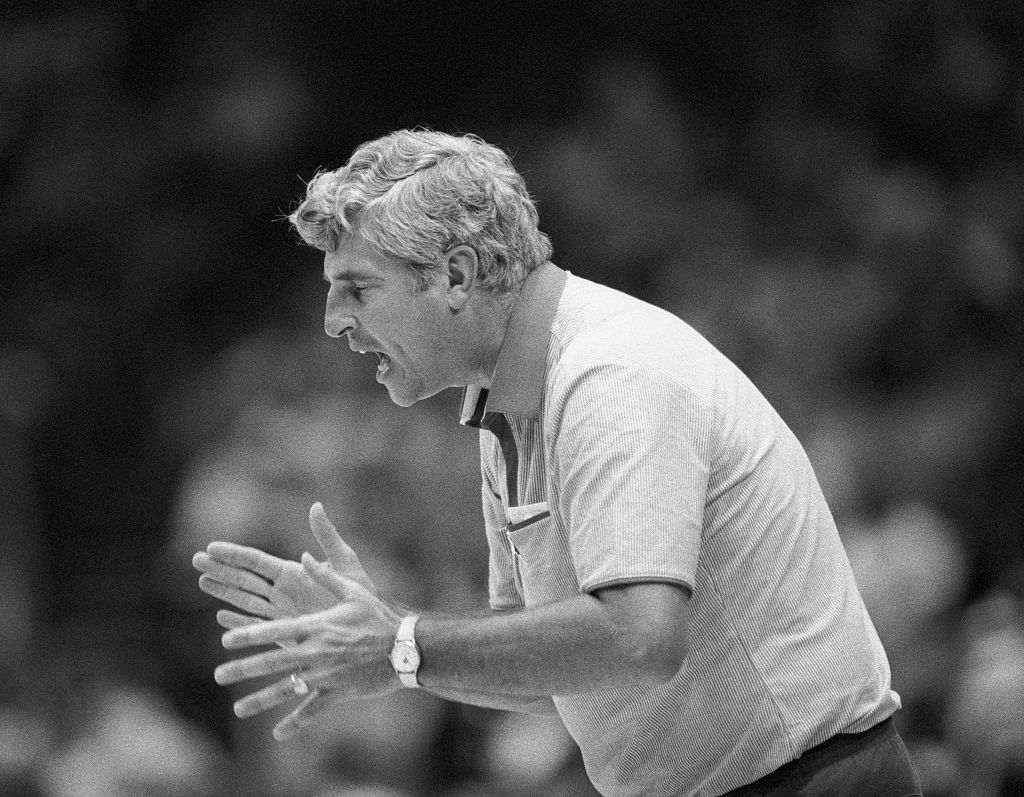 Bobby Knight Once Did the Unthinkable and Made Michael Jordan Cry
Long before crying Michael Jordan became a meme, Bobby Knight reportedly reduced His Airness to tears during the 1984 summer Olympics.
In the world of professional sports, few men could be as intimidating as Michael Jordan. While His Airness was never the biggest guy on the floor, he was a fierce competitor; that famous will to win gave way to punches, brutal trash-talk, and the singular impression that MJ wasn't going to be stopped. Bobby Knight, however, wasn't going to be intimidated by anyone, let alone an upstart player.
During the 1984 Olympics, Bobby Knight coached a college-aged Jordan and did the unthinkable. According to Sam Perkins, the veteran coach reduced His Airness to tears.
Bobby Knight's coaching career
During his time in college, Bobby Knight was a member of the Ohio State Basketball team. After graduation, however, he would find a home on the sidelines.
Knight took a job as an assistant high school coach and, after a season on the job, enlisted in the United States Army. He joined the Black Knights' basketball team as an assistant coach; within two seasons, he claimed the head coaching job.
Knight spent six seasons as Army's head coach, leading the team some solid showings in the National Invitational Tournament, before moving on to greener pastures at the University of Indiana. With the Hoosiers, Knight's star continued to rise.
While there were some incredible highs in Bloomington—Indiana would win three national titles during Knight's tenure, including an undefeated 1975-76 campaign—things eventually went sour. In 2000, the coach was fired for breaching the school's zero-tolerance behavior policy; Knight would coach six and a half more seasons at Texas Tech, but things weren't the same.
How Bobby Knight made Michael Jordan cry
While the 1984 Olympics were the last summer games without NBA players, the United States didn't have any shortage of talent. The team was stocked with young stars like Michael Jordan and Patrick Ewing, with Bobby Knight calling the shots as head coach.
The team cruised to the gold medal, but Knight wasn't entirely pleased with his players' performances. After the quarterfinal game—the USA topped Germany, 78-67—the head coach apparently entered the locker room looking to send a message.
"Bobby Knight, he got after us. He told Michael that's the worst he ever played," Sam Perkins remembered on SiriusXM's Above the Rim in 2016, according to SLAM. "Now Michael's going to deny this, but he cried. He cried after the game, because of the fact that Bobby Knight told him, You should apologize to everybody in here.' I waited for my apology because I thought he was going to actually do it. But he actually cried."
His Airness probably didn't deserve the tongue-lashing—according to Bleacher Report, he finished that game with 14 points, four rebounds, three assists, a steal, and six turnover—but Knight wanted to keep the team on its collective toes.
"We didn't play that bad. It's the fact that [Knight] just wanted us to wake up for the next game because anything could happen," Perkins continued. "That's the way Bobby Knight coached."
Tears or not, Michael Jordan turned out just fine
While Michael Jordan had won a national title during his time at North Carolina, he wasn't an international icon in 1984. Even if Bobby Knight reduced him to tears, His Jordan wouldn't be broken.
After those Olympics, Jordan would join the Chicago Bulls; he promptly cruised to the Rookie of the Year title. While the Detroit Pistons would prove to be a bit of a roadblock, His Airness went on to win six NBA titles, score over 30,000 points, and become one of the greatest athletes of all time in any sport.
Although we can't be sure if Michael Jordan actually cried during the 1984 Olympics, there is one unquestionable reality: if Bobby Knight made an effort to push his buttons, His Airness definitely used it as motivation moving forward.