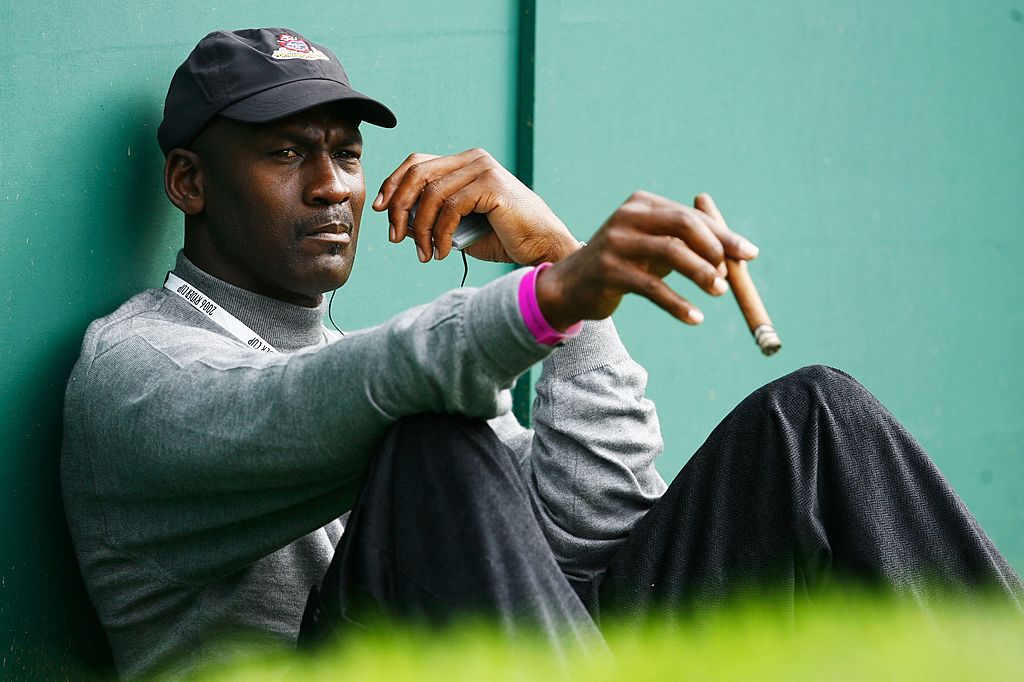 Michael Jordan's Cigar Habit Played a Surprising Role in His NBA Success
Some professional athletes rely on a pregame meal or routine to get ready for action. During his time with the Chicago Bulls, Michael Jordan smoked a pregame cigar.
Every basketball fan pictures Michael Jordan in their own preferred way. Some remember His Airness leading the Chicago Bulls to six NBA titles; others imagine his iconic 'Air Jordan' dunk or even the movie, Space Jam. After The Last Dance, we also have the image of an older MJ, drinking tequila, smoking a cigar, and looking back on his career.
Those cigars, however, aren't a recent addition to Jordan's life. While he's taken the habit to a new level in retirement, cigars actually played a surprising role in His Airness' NBA success.
Michael Jordan's iconic NBA career
Even if The Last Dance lost its objectivity by giving Michael Jordan editorial control, one thing is still clear: on the court, His Airness was one of a kind.
Jordan's basketball career, of course, got off to a famously rough start when he failed to make the cut for his high school basketball team. That setback, however, only proved to be the start of something greater; after playing a season with the JV squad, he made varsity, grew into an All-American, and headed to the University of North Carolina.
MJ spent three seasons with the Tar Heels, hitting the game-winning shot to clinch the NCCA title as a freshman. He then entered the 1984 NBA draft, where he fell to the Chicago Bulls at third overall.
While he showed plenty of potential in college, Jordan took things to the next level in the NBA. He proved to be a potent scorer from the first time he stepped on the floor; once the Bulls overcame the Detroit Pistons, he also became a serial winner. In all, His Airness spent 15 seasons in the pros, averaging more than 30 points per game. He also won six titles, six MVP awards, and did just about everything possible on the hardwood.
Cigars became a surprising part of NBA success
During his NBA career, Michael Jordan did more than his fair share of winning. One specific victory, however, started his cigar habit.
"I smoked my first cigar in 1991, when we won the championship," Jordan explained in a 2005 Cigar Afficiando interview. "Up to that point, I had never smoked a cigar, never smoked anything. We won the championship, and Jerry Reinsdorf gave me one of his cigars. He's a big cigar smoker."
Before long, smoking cigars became more than just a celebratory indulgence; they became a key part of Jordan's gameday routine.
"In Chicago, I tell people this, and they have to understand the context of what happened," he explained. "We had to be to the stadium at 6 o'clock for home games, and traffic was so bad it would take us an hour and 15 or an hour and 30 minutes to drive. So now I'm sitting in a car for almost an hour and a half, and I'm very tense. I'm worried about the traffic. So I started smoking a cigar going to the games. In 1993. It became a ritual for every home game."
While smoking a cigar might not be the ideal way to prepare for a night of physical activity, they did the job for MJ. By the time he arrived at the arena, he was feeling relaxed, successful, and, most importantly, ready to go.
"Taking my time. I never rushed," His Airness continued. "It became such a relaxing thing to do. Not many people know about it. When they read this, they'll know that each and every day for a home game, I smoked a cigar. I wanted that feeling of success, and relaxation. It's the most relaxing thing."
Michael Jordan is still smoking an impressive amount of cigars
Obviously, it's been quite a few years since Michael Jordan joined the Washington Wizards and hit the hardwood for the last time. The lack of a gameday routine, however, hasn't stopped the NBA legend from indulging in quite a few cigars.
As we saw during The Last Dance, Jordan is no stranger to smoking sizable cigars. MJ, however, doesn't limit himself. In a follow-up interview with Cigar Aficionado in 2017, His Airness said he smokes "six cigars a day maybe." If you need some help putting that in perspective, Marvin Shanken, the editor-in-chief of the magazine who interviewed Jordan, told GQ, his smoking habit is the cigar equivalent of "averaging 45 points a game."
Say what you will about Michael Jordan, but one thing is clear: he doesn't do anything in half-measures.
All stats courtesy of Basketball-Reference.