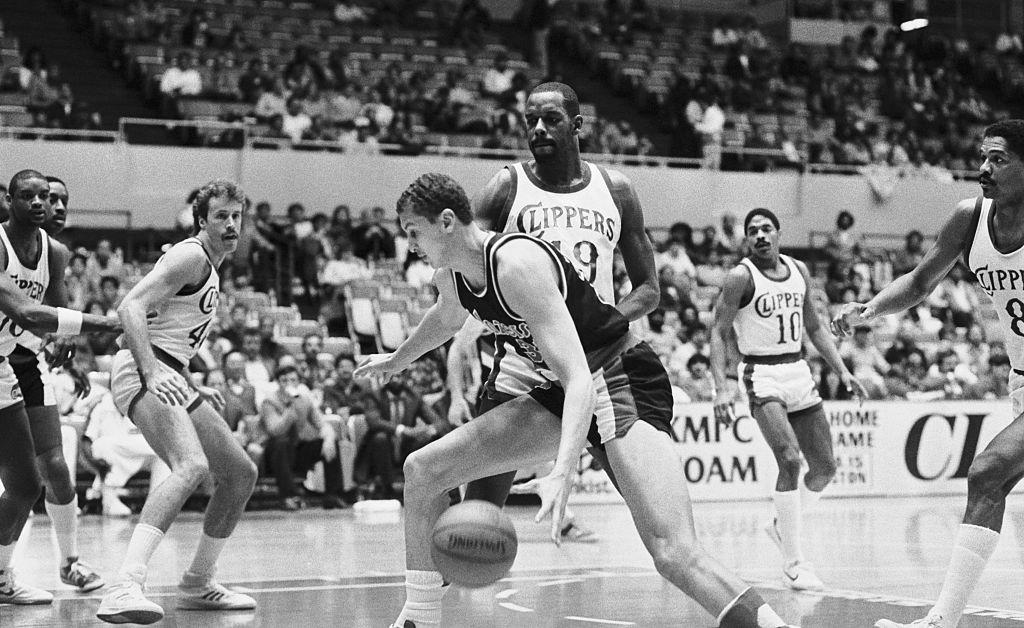 What Happened to Sam Bowie, the Man Who Was Infamously Drafted Before Michael Jordan?
In 1984, Sam Bowie was infamously drafted ahead of Michael Jordan. What happened to the big man after that, though?
In sports, certain moments will always live in infamy. Bill Buckner's career, for example, has been distilled to one crucial error at first base. Atlanta Falcons fans will never forget their fateful 28-3 lead in Super Bowl LI. The Portland Trail Blazers will always be the team that drafted Sam Bowie ahead of Michael Jordan.
That fateful selection happened in June 1984, and Michael Jordan, of course, went on to become an NBA legend. But whatever happened to Sam Bowie?
Sam Bowie's road to the NBA
During his high school career, Sam Bowie garnered national attention. Already standing over seven feet tall, college coaches hoped that they could convince the center to join their program.
The University of Kentucky ultimately won the sweepstakes, and Bowie joined the Wildcats. He posted a solid freshman season and improved as a sophomore, but started to suffer physically; injury issues would plague the big man for the rest of his career.
At the end of his sophomore year, Bowie developed a stress fracture in his left tibia. Despite spending time in a cast, the center's leg didn't properly heal; he ended up missing two seasons of action.
Thanks to a medical redshirt, however, Bowie was able to play one final season with the Wildcats. While the team made it to the Final Four, the center's college career never lived up to its potential. Over five years in Lexington, he only 96 games and averaged 13.4 points and 8.8 rebounds per outing.
Being picked ahead of Michael Jordan
When it comes to drafting, you can either pick the best available player or aim to fill a specific need. While there are merits to both schools of thought, the Portland Trail Blazers made the wrong choice.
Heading into the 1984 NBA draft, the franchise felt they needed a big man to fill the void left when Bill Walton joined the Clippers. The club had also selected a guard—Clyde Drexler—in the previous draft, meaning they viewed Jordan as surplus to requirements. When the Houston Rockets won a coin toss, giving them the right to select Hakeem Olajuwon first overall, the Blazers settled for Bowie.
While the center showed great potential and earned a spot on the NBA's All-Rookie team, things quickly came crashing down. Bowie broke his left tibia during his sophomore campaign; after that, he was never the same.
Bowie would spend 10 seasons in the NBA but only appeared in 511 games. The center averaged 10.9 points and 7.9 rebounds per game for his career; while he managed to put up a few solid seasons in New Jersey, his career pales in comparison to the rest of his draft class.
Where is Sam Bowie now?
It goes without saying that Sam Bowie's NBA career didn't go as he or the Portland Trail Blazers imagined. The big man, however, has found a new way to occupy his time.
These days, Bowie calls Lexington, Kentucky home. He spends most of his time being a father, but he also owns harness racing horses; one of them, "Before He Cheats," won hundreds of thousands of dollars in prize money. The former center also does some public speaking.
"I want to give back to the community," Bowie told Jeff Falk of Lebanon Sports Buzz in 2018. "I enjoy meeting the new kids at Kentucky. I don't do anything physically with the kids on the court, it's more just getting in their ears. I'm real flexible. I don't have a concrete job. I've had opportunities, but I've been kind of content not committing to those positions. It's nice to do as you please."