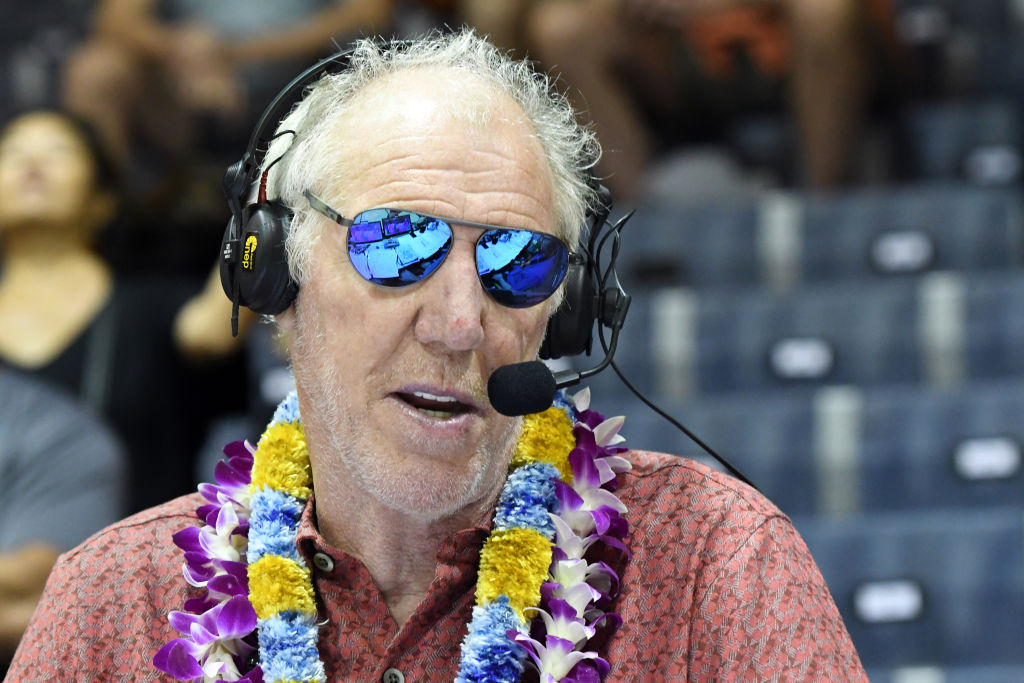 Bill Walton Was Nearly Perfect for UCLA in an NCAA Tournament Final
Bill Walton's 44 points set an NCAA Tournament final record. How he scored those points was one of the most amazing feats in college basketball history.
Bill Walton can talk a good game when it comes to doing color commentary on college basketball telecasts, but he played a nearly perfect one as UCLA's star center in the 1973 NCAA Tournament final.
Walton's performance during an 87-66 victory over Memphis gave the Bruins seven consecutive NCAA championships and ran their winning streak to 75 games. What he did on the court was a performance for the ages.
Memphis couldn't stop Bill Walton
UCLA broke open a game that was tied at 39-39 at halftime by relying upon a dominating performance from Bill Walton, who foiled every defense Memphis could employ on March 26, 1973, in St. Louis.
Walton scored 44 points to set a record for the NCAA Tournament championship game, breaking the mark of 42 by fellow Bruin Gail Goodrich in 1965. The most impressive aspect of the scoring outburst was that Walton finished 21-for-22 from the field. The Bruins junior followed up on his only miss and put the rebound back for one of his baskets.
Despite being hindered by foul trouble, Walton added 13 rebounds and two assists on the way to what would be coach John Wooden's next-to-last national title. He picked up three personals in the first half and his fourth midway through the second.
It was the culmination of a season in which Walton averaged 20.4 points and 16.9 rebounds for the Pac-8 conference champions.
Bill Walton's scoring record still stands
Bill Walton's 44-point performance against Memphis still ranks as the No. 1 scoring output in NCAA Tournament final history. Interestingly, the damage could have been 52 points, but Walton had four baskets waived off for offensive goaltending under college rules at the time that prohibited dunking.
The decade-long ban on dunks, often suggested as having been inspired by the dominance in the paint by UCLA's Lew Alcindor, began before the 1967-68 season.
Another interesting note for the game is what transpired afterward. UCLA coach John Wooden sought out Walton in the victors' locker room and encouraged him to meet with visiting executives from the American Basketball Association, who were eager to entice Walton to turn pro and play in the NBA's rival league. Walton turned down the opportunity and returned to UCLA for his senior season.
Walton's college career was stellar
Bill Walton was one of the greats in college basketball history. He averaged 21.1, 20.4, and 19.3 points per game in his three seasons and was also a superb rebounder in the era before the implementation of the 3-point shot marginalized the value of 7-footers.
Walton was drafted by the Portland Trail Blazers in 1974 and played portions of 10 seasons over 13 years but was largely limited by injuries. He finished with averages of 13.3 points and 10.5 rebounds a game in stints with Portland, the San Diego/Los Angeles Clippers, and the Boston Celtics.
Walton has had a successful career as a basketball color commentator with CBS, ABC, and ESPN, currently doing primarily Pac-12 conference telecasts. His pop-culture references and humorous observations have made him popular with the audience and he's won an Emmy Award for the best live sports television broadcast.