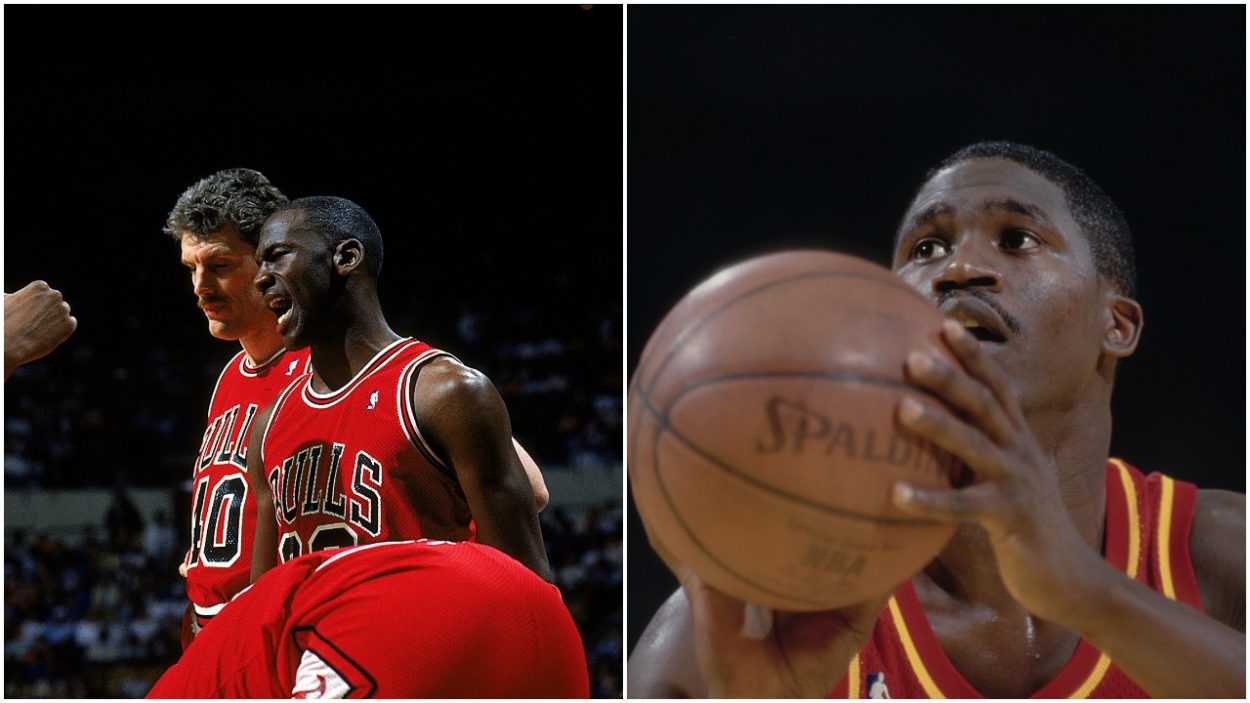 Michael Jordan Famously Scored 61 Points After a Pregame Visit to the Hawks Locker Room, but Dominique Wilkins Still Reminds MJ Who Got the Last Laugh
Michael Jordan's 61-point outing against the Atlanta Hawks is one of his most famous trash-talking moments ever, but Dominique Wilkins ruined it all.
Michael Jordan's 61-point thrashing of the Atlanta Hawks in 1987 is one of his most famous trash-talking stories. But many people choose to overlook the ending to that contest. Not Dominique Wilkins.
The story of Jordan's infamous pregame warning and subsequent destruction of the Hawks has been told numerous times. However, the Human Highlight Film loves to remind MJ who came out on top.
Michael Jordan went into the Hawks locker room before hanging 61 points on Atlanta
Michael Jordan decided he had something special in store for the Hawks when the Chicago Bulls hosted Atlanta on April 16, 1987.
Just as soon as the Hawks walked into the visiting locker room, in came MJ. He walked up to former Hawks swingman Randy Wittman and said, "Lace 'em up. It's going to be a long f*****g night."
Indeed, Wittman did experience a long night. Jordan went nuts, scoring 61 points on 22-of-38 shooting and 17-of-21 from the free-throw line. Mike also had 10 rebounds and four steals.
Aside from the pregame banter, MJ's performance looked all the more impressive because it came on the heels of back-to-back 50-point outings against the Indiana Pacers and Milwaukee Bucks, respectively.
So, surely such a legendary story had a happy ending for Jordan and the Bulls, right? Nope. His Airness' 61 points came in vain, thanks mainly to Dominique Wilkins.
Dominique Wilkins loves to remind Jordan who made the two biggest plays of the game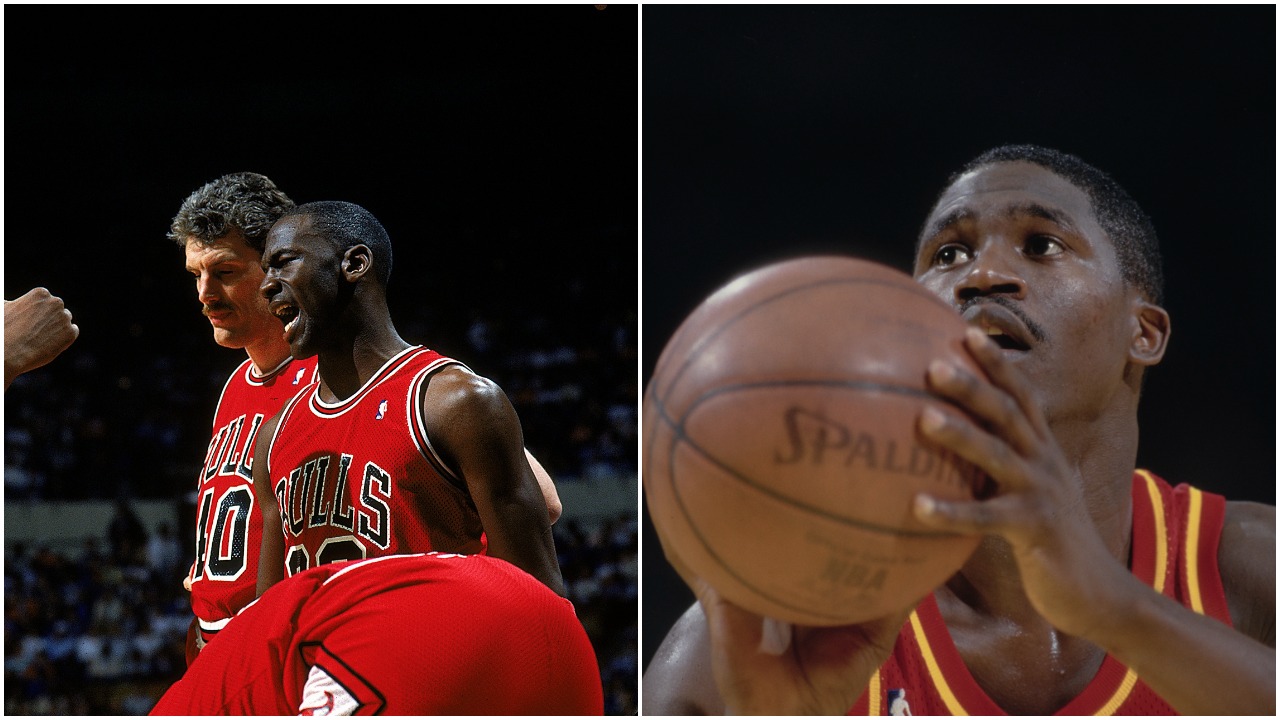 Jordan hit a pair of free throws to tie the game at 114-apiece with just over 20 seconds to play. That's when Dominique Wilkins took center stage.
'Nique already had 31 points in the contest when he received the ball on the left wing. He rose up over MJ and knocked down a midrange jumper to give the Hawks the lead with 11 seconds to play.
Wilkins' heroics didn't end there, however. The Bulls inbounded the ball to Charles Oakley, who immediately fed Jordan. Mike took his defender off the dribble but promptly found himself swarmed by Hawks defenders, including 'Nique. Jordan's jumper came up short, and Wilkins grabbed the rebound to essentially seal the deal.
The Hawks legend told The Athletic that he still loves to remind MJ about the final seconds, though Jordan (predictably) acts clueless.
"Last time I saw Mike I said, 'Do you remember that happening?' He goes, 'I don't recall it happening.' I said, 'Bulls**t. Bulls**t.'"

–Dominique Wilkins, via The Athletic
Jordan can afford to act casual about that particular game. His career panned out pretty darn well. Still, Wilkins likely knows how much even a regular-season loss still eats away at MJ, especially considering Mike loved competing against the Human Highlight Film.
Jordan and Wilkins had plenty of battles
Michael Jordan and Dominique Wilkins had mutual respect for one another, but their fiercely competitive rivalry spanned over a decade and even included an infamous showdown in the dunk contest.
Jordan typically got the better of Wilkins, going 27-18 in head-to-head action against 'Nique and winning the 1988 Slam Dunk Contest in a somewhat controversial fashion. Money and the Bulls swept the Hawks in the first round of the 1993 playoffs, and Jordan made it his mission to humiliate Wilkins' brother, Gerald, in those same playoffs.
Still, Wilkins got his numbers against MJ and the Bulls. He averaged 29.8 points and 6.8 rebounds during the 45 regular-season showdowns and, as he loves to remind Mike, ruined one of the best trash-talking moments of Jordan's career.
Stats courtesy of Basketball Reference.