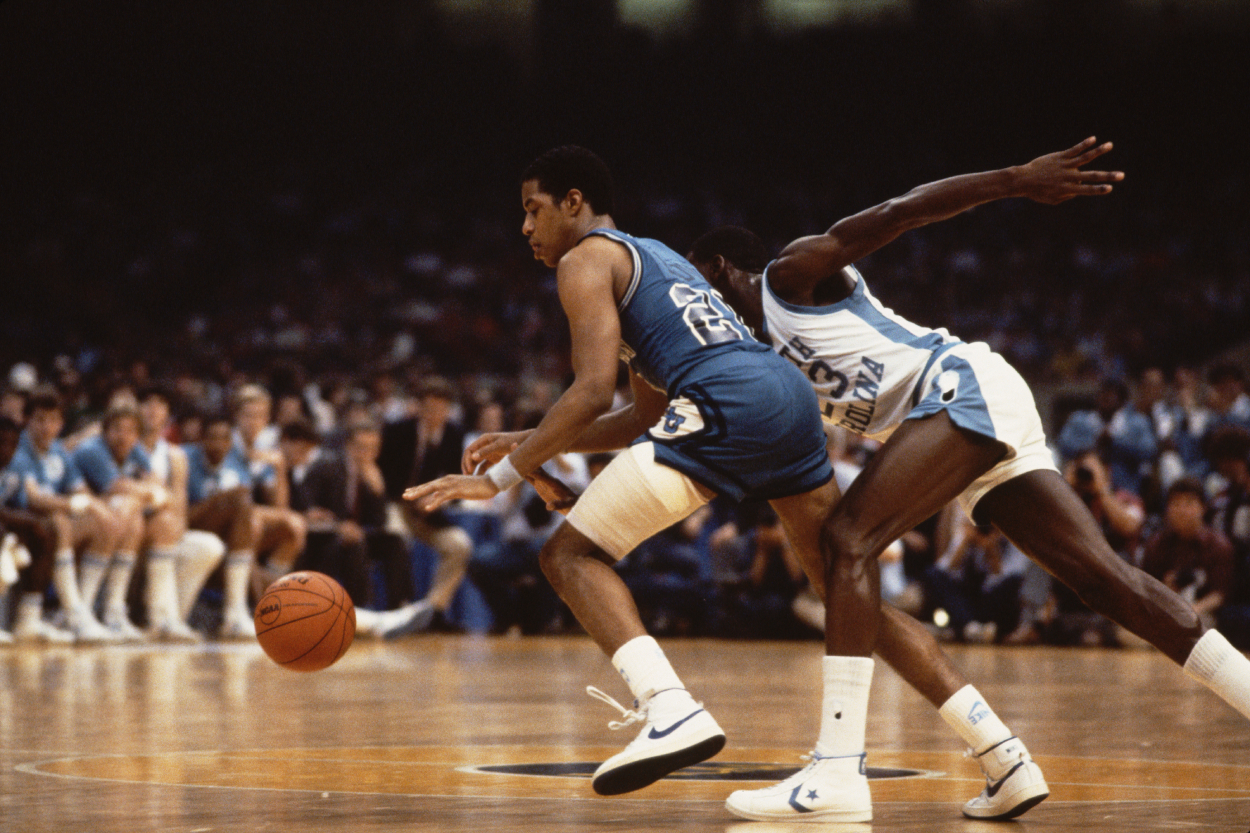 Michael Jordan Didn't Like What He Heard About His College Roommate at UNC
Michael Jordan put a target on his college roommate's back from the day they first met at UNC.
Michael Jordan didn't have a personal problem with his roommate at the University of North Carolina. He wasn't all too familiar with him yet, but the things he did hear about Buzz Peterson didn't sit well with him. From the get-go, Jordan put a target on Peterson's back and kept a close eye on him.
Michael Jordan's college career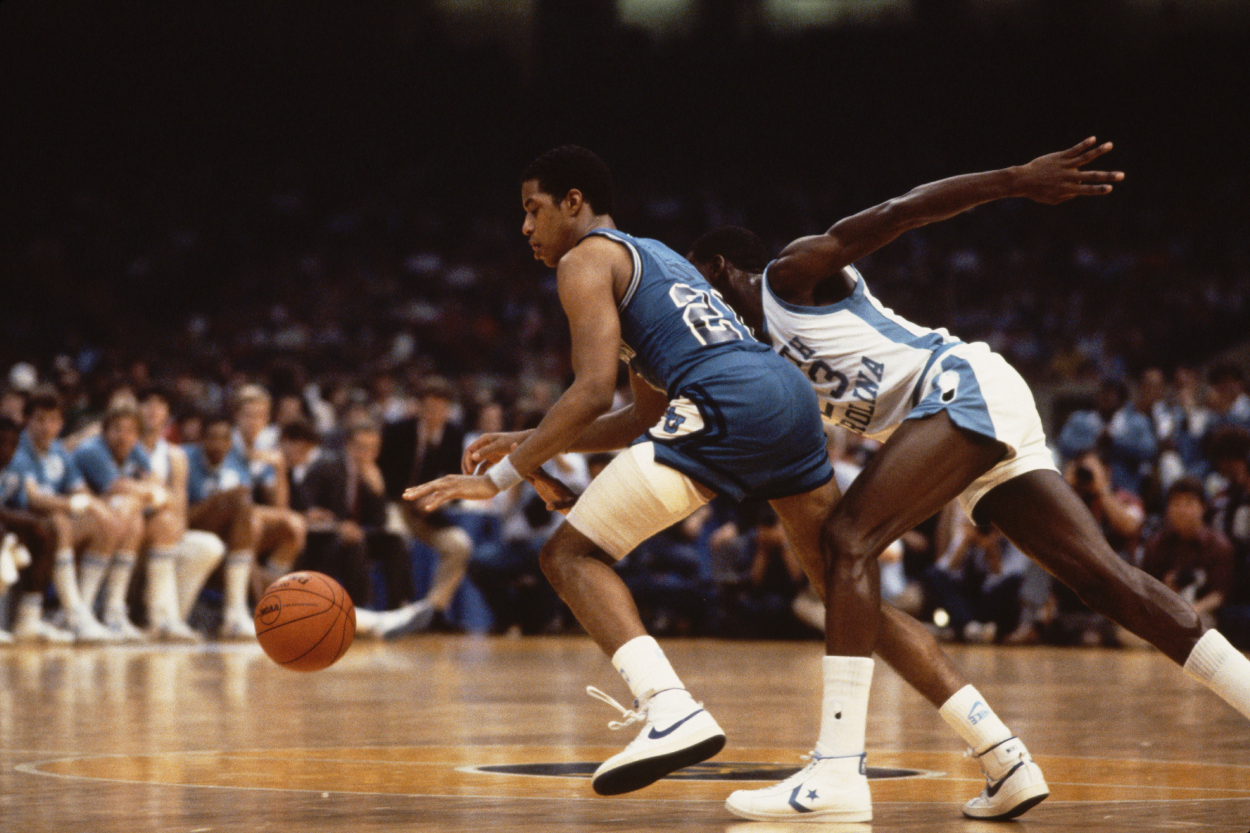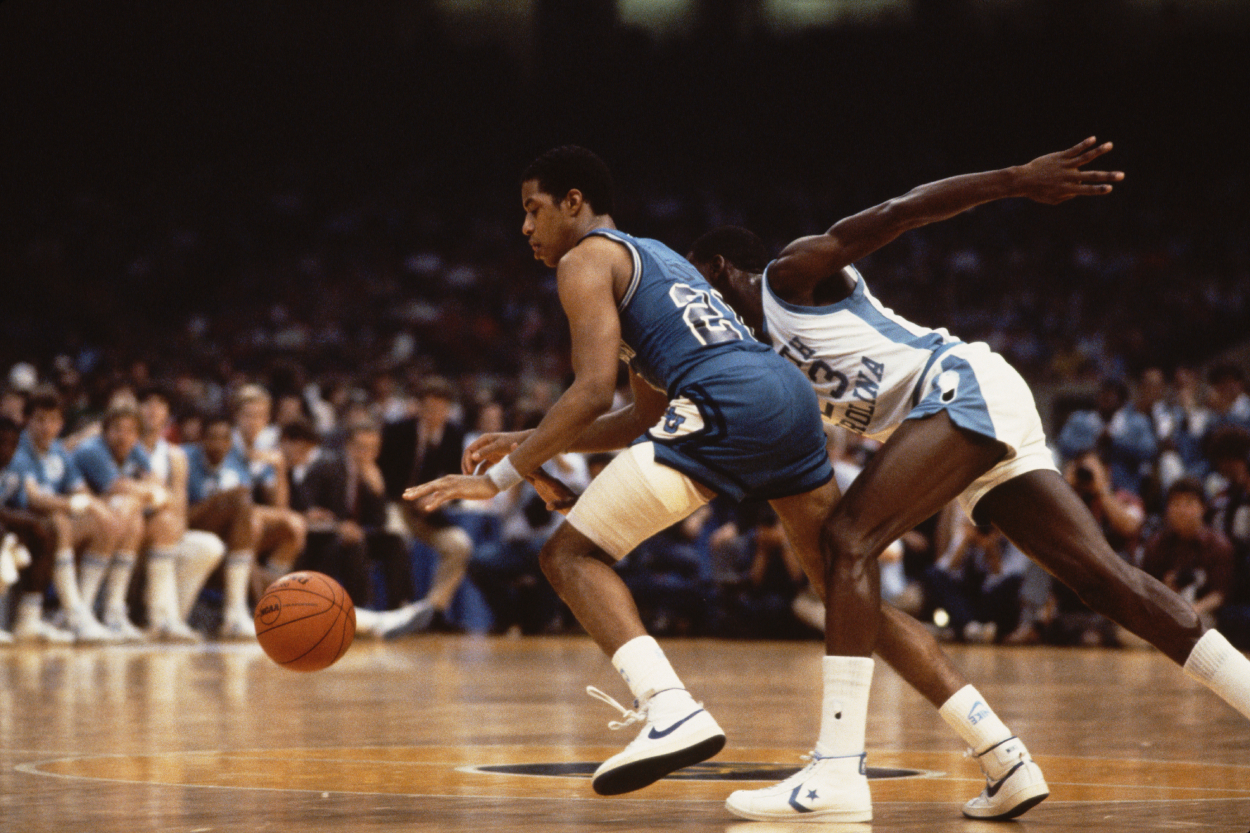 RELATED: Michael Jordan Was Once Rejected by His Childhood Hero
Michael Jordan grew up a big fan of North Carolina State. He wound up playing for its rival, North Carolina. Now Jordan bleeds Carolina blue after playing three seasons with the Tar Heels and making a name for himself as a freshman under Dean Smith.
According to ESPN, from 1972, the year the NCAA first allowed freshmen eligibility, until Smith retired in 1997, only 11 freshmen started their first game for UNC. Although Jordan had a very strong first season, he made his freshman impact on the last game of his freshman year. Jordan hit a game-winning jumper in the 1982 NCAA tourney finals to lift UNC to a 63-62 victory over Patrick Ewing and Georgetown.
Jordan averaged 13.5 points and 4.4 rebounds in 34 games as a UNC freshman. He turned it up a notch as a sophomore, scoring 20 points and hauling down 5.5 rebounds in 36 games. He had similar numbers in his final season (19.6 points, 5.3 rebounds). Jordan left after his junior year and was the third pick overall in the 1984 NBA draft, selected by the Chicago Bulls.
Michael Jordan targeted Buzz Peterson right away at UNC
RELATED: Michael Jordan Had 1 Small Problem With UNC Coach Dean Smith
Buzz Peterson was a standout basketball player at Asheville (North Carolina) High School. He was a McDonald's and Parade All-American and was named North Carolina Player of the Year in 1981. Peterson and Michael Jordan were both freshmen together at UNC. In fact, they were college roommates.
"When I first met Buzz, all I heard about was this kid from Asheville, North Carolina, who was player of the year," Jordan recalled during his Hall-of-Fame speech in 2009. "I'm thinking, 'well, he ain't ever played against me yet, so how did he become player of the year?'
"Buzz Peterson became a dot on my board. When I got a chance to meet Buzz Peterson, on the basketball or in-person… Buzz was a great person. It wasn't the fault of his. It was just in my competitive nature that I didn't think he could beat me or he was better than me as a basketball player. He became my roommate, and from that point on, he became a focal point, not knowingly. He didn't know it."
Jordan and Peterson became great friends
Although their playing careers took vastly different turns after graduating from North Carolina, Michael Jordan and Buzz Peterson became great friends. While Jordan was the third overall pick in the 1984 NBA draft, Peterson was a seventh-round pick by the Cleveland Cavaliers in 1985. He decided to play professionally overseas.
Peterson's relationship with Jordan continued well after college. Jordan was the best man at Peterson's wedding. Peterson went on to coach college basketball from 1996-2014. He began his coaching career at Appalachian State and was the head man at Tennessee for four years.
Peterson now works for Jordan. Jordan is the owner of the Charlotte Hornets, and Peterson is the assistant GM, working with GM Mitch Kupchak.
All stats courtesy of Sports Reference.