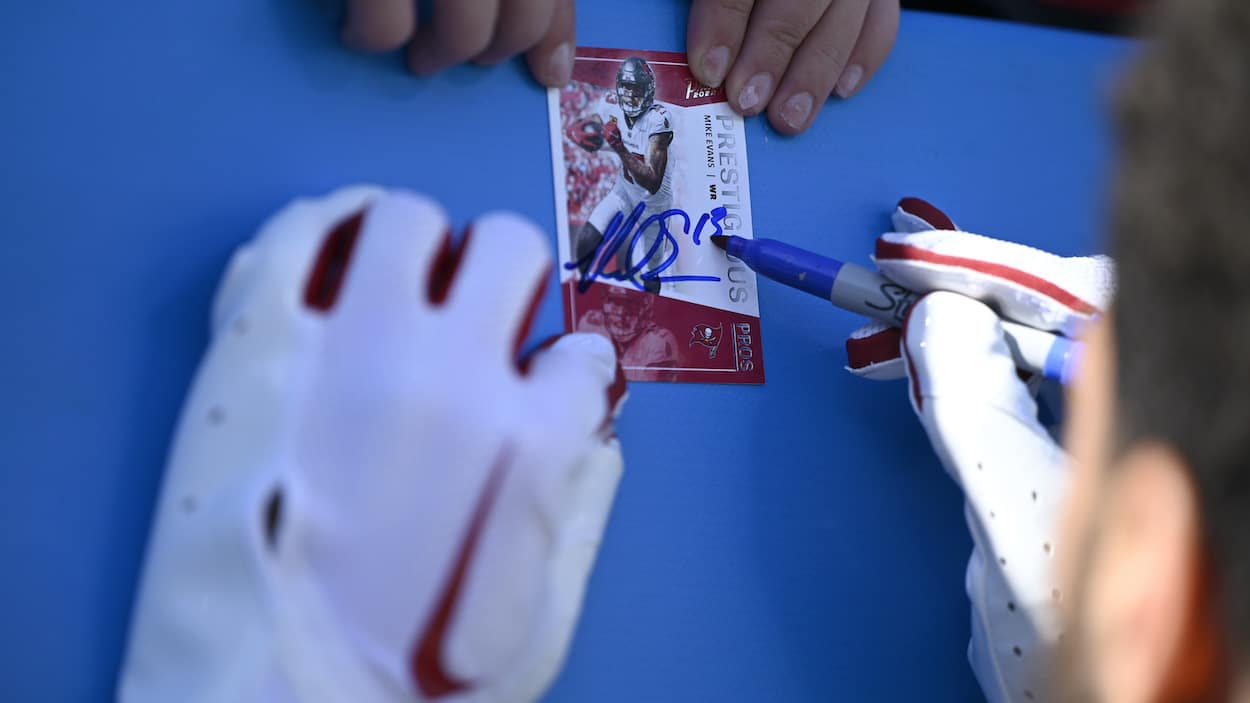 NFL Referees Looking for Golf Lessons, Not Autographs From Buccaneers WR Mike Evans
After the Buccaneers Week 7 loss, it looked like Mike Evans signed an autograph for NFL referees, but the interaction was about golf lessons.
One of the most controversial moments of Week 7 came after the Tampa Bay Buccaneers lost 21-3 to the Christian McCaffrey-less Carolina Panthers. In the tunnel after the game, cameras caught two NFL referees stopping Bucs wide receiver Mike Evans and handing him a pen and paper to write something. It looked to the world like the side judge Jeff Lamberth and line judge Tripp Sutter were trying to get the star's autograph. However, after an NFL investigation, it turns out the whole interaction was actually about golf lessons. 
Mike Evans autograph-gate was about golf lessons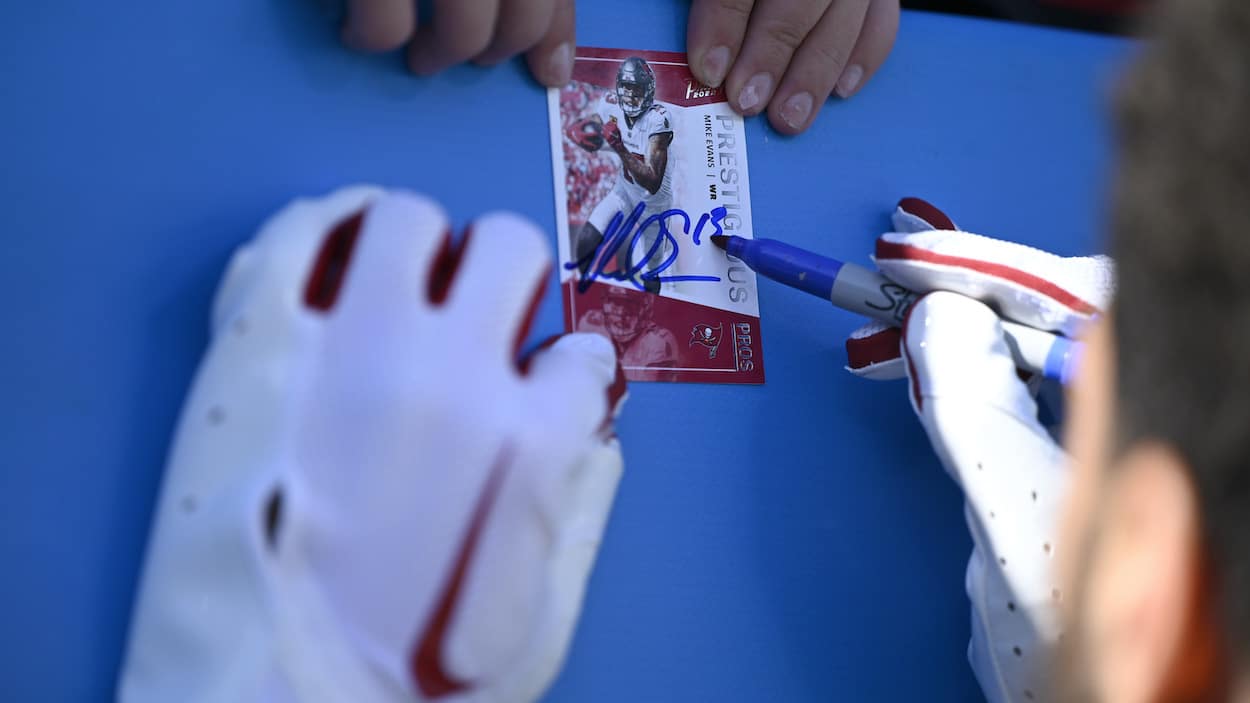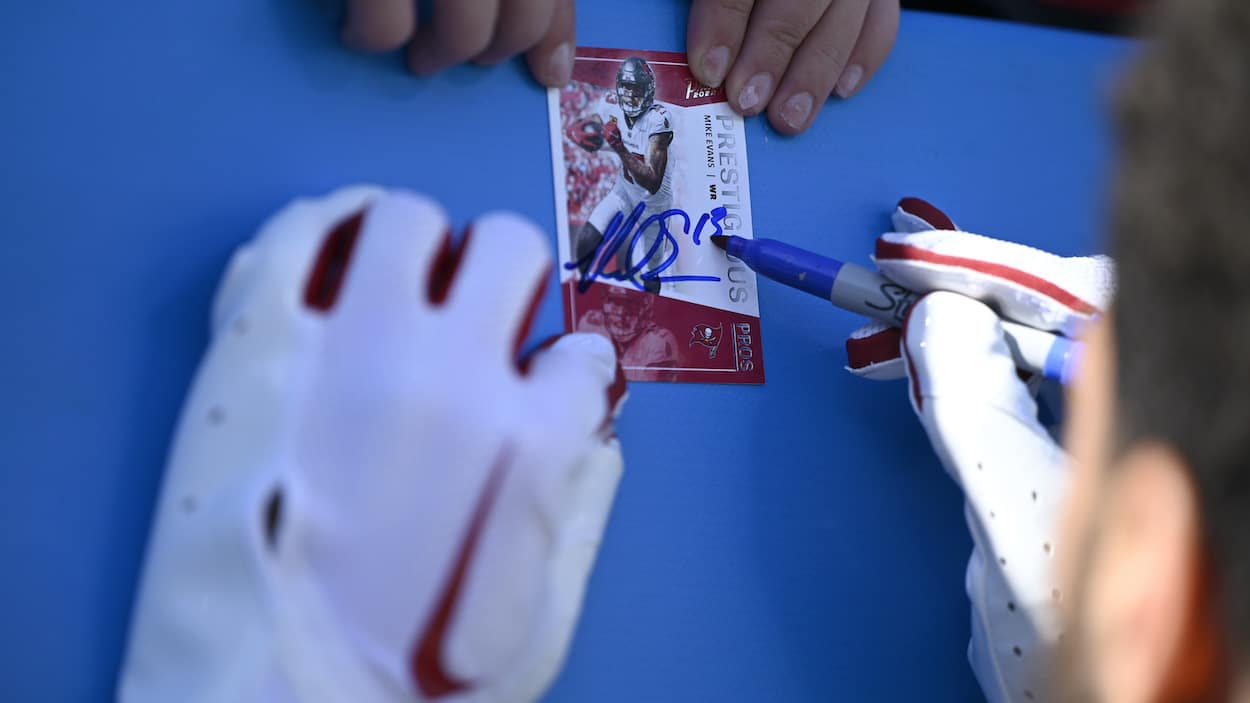 As Buccaneers WR Mike Evans walked off the field in Week 7, local Fox Sports Panthers beat reporter Sheena Quick was there with her phone turned to video. 
What she caught was NFL official Jeff Lamberth calling for Evans to stop and Lamberth and line judge Tripp Sutter handing the wideout a pen and paper, pointing to where to write something. When Quick tweeted out the video, she wrote, "I didn't know refs get autographs after the game."
The video quickly went viral, and the NFL launched an investigation into what would clearly be a conflict of interest and a violation of NFL referee protocol if Lamberth and Sutter truly were getting an autograph. 
After digging into the details and, presumably, talking with the parties involved, the league concluded that there was no wrongdoing by the officials, per a Tom Pelissero tweet. However, the statement did say that "Lamberth and Sutter have been reminded of the importance of avoiding even the appearance of impropriety when interacting with players, coaches, and club staff on gameday — including during the pregame and postgame time periods."
The NFL felt that the statement was enough to assuage NFL fans' and media's worry about the incident. However, many still questioned exactly what happened between the refs and the player, as it certainly looked like an autograph-seeking situation. 
That's when the NFL Network insider, Pelissero, followed up with another tweet that fully explained the "full story."
"Mike Evans and side judge Jeff Lamberth both went to Texas A&M, and Lamberth was getting Evans' phone number to pass it along to a golf pro to give Evans lessons, per sources," Pelissero explained. "Lamberth didn't have paper, so he borrowed it from another official."
The insider concluded by writing, "In other words: Bad look. No discipline." 
This explanation is a little better than two NFL referees getting an autograph from Evans, and it basically clears Sutter of any wrongdoing. However, it still seems like an issue that Lamberth was so eagerly chasing a player off the field to get his phone number to hook him up with a golf buddy. 
While there will be no explicit discipline for Lamberth, there is no way he should officiate any Buccaneers games, at least for the rest of the season. 
Have thoughts on this topic? Keep the conversation rolling in our comments section below.