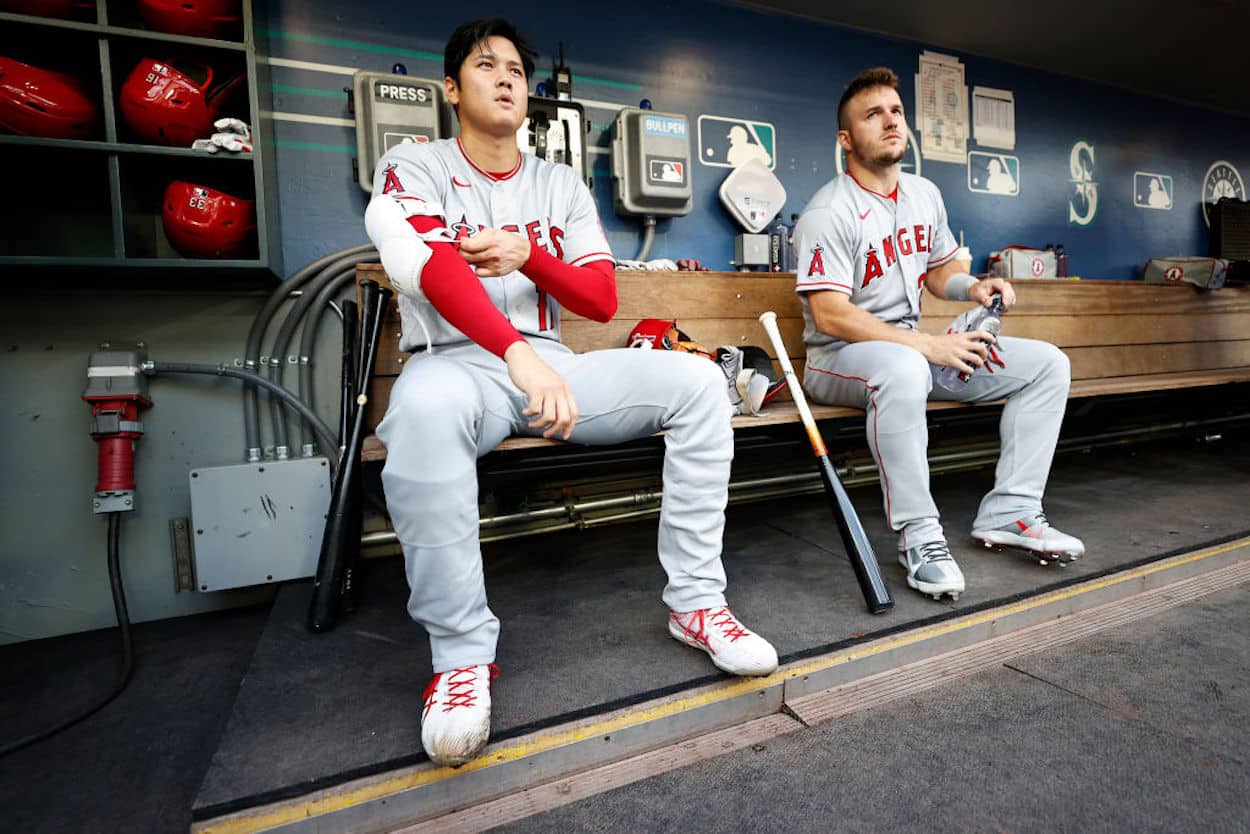 Mike Trout and Shohei Ohtani Prove The Angels Can't Have Nice Things
Mike Trout and Shohei Ohtani are two of baseball's best players, but they're being wasted on a struggling Los Angeles Angels team.
Los Angeles Angels outfielder Mike Trout is a generational MLB talent. Although he hasn't even
turned 31 years old yet (he'll be doing that in August), his performance is among inner-circle
Hall of Famers. He's a tremendous player, but he can't do it all.
In the last eight seasons, the two-way Japanese star and Trout have combined to win four American League MVP Awards (three for Trout, one for Ohtani). However, the team success still isn't there – the
Angels have played in just three postseason games since 2014.
With Ohtani's free agency looming in 2024, time might be starting to run out for the Angels to
put a successful team around these two. We've quickly gone from having sky-high expectations
to them becoming part of possibly MLB's most viral joke on social media.
Early comparisons for Trout and Ohtani were bold
Since Ohtani is the first big leaguer to pitch and hit successfully in more than 100 years, comparing him to Babe Ruth is pretty much the only thing that makes sense. But what happens when you pair the modern-day Bambino with someone who has been the game's best player, such as Trout?
As you can imagine, the expectations got a little out of hand. You know, like an old FanSided post calling the pair the 21st-century version of Ruth and Lou Gehrig. It must've been hard not to feel pressure when hearing those kinds of comparisons. The two stars have risen to the occasion from the standpoint of individual performance since becoming teammates, though. 
Trout has racked up three Silver Sluggers and three top-five finishes in AL MVP Award voting (including a win in 2018). Ohtani has collected the 2021 AL MVP Award, one Silver Slugger, and AL Rookie of the Year honors in 2018.
But as we've seen, the Angels haven't capitalized. Not only have they failed to reach the postseason in nearly 10 years, but they also haven't posted a winning record since Trout and Ohtani joined forces. The closest they came was in 2018, finishing 80-82. 
Mike Trout and Shohei Ohtani can't stop the social media jokes
There's this saying that the internet is undefeated. Social media can be quite ruthless, depending on the situation, too. That's certainly the case when it comes to MLB Twitter. There's a running joke that no matter how much Ohtani and/or Trout accomplish in a single game, the sentence always seems to end with "and the Angels lose." 
Just consider this example from June 2022.
On June 21, Los Angeles and the Kansas City Royals engaged in a classic back-and-forth battle that lasted 11 innings. KC ended up winning 12-11 despite a career night as a hitter for Ohtani, as FOX Sports' Ben Verlander pointed out:
A week later, on June 28, a similar observation hit Twitter while the Angels played the Chicago White Sox, noting that, despite some offensive heroics from Ohtani and Trout, LA sat in a 10-4 hole. You might be thinking, "Well, the game wasn't over … maybe they came back and won?"
They didn't. Los Angeles lost 11-4.
These are just a couple of recent examples. This joke has gone on for quite a while. There's even a tweet from May 2021 expressing disbelief at the Angels' ability to fall short despite the talent on the roster.
You could fire off that same post today, and no one would bat an eye.
What Does the Future Hold for Trout, Ohtani, and the Angels?
Exactly how much longer can the travesty of not seeing these guys in the postseason last? It's already been way too long. Things got off to a solid start in 2022 — as recently as May 24, LA was near the top of the American League West with a 27-17 record. But then came a 14-game losing streak, which also cost manager Joe Maddon his job.
While it remains to be seen whether the Angels can turn things back around, this is an uphill battle to fight. What about beyond this year, though? 
Trout is as locked in with this franchise as one can be. He's amid a 12-year, $426.5 million contract that's theoretically keeping him in Los Angeles through the 2030 season. He'll also be making north of $35 million per season for the remainder of his contract. There's always a chance he could waive his no-trade clause to facilitate a change of scenery, but that doesn't seem to be in the cards now. 
Ohtani, on the other hand, could be testing the market imminently. He's in the final season of a two-year, $8.5 million contract before hitting his final year of arbitration eligibility for 2023.
He's projected to be a free agent after that, and his entrance into the open market would undoubtedly start the most intriguing free-agent pursuit we've ever seen. 
Would he also end up sticking around in LA with Trout for the foreseeable future? That remains to be seen. It'd be hard for the Angels to convince him to re-sign if he did reach free agency because of the number of contending teams who'd likely have legitimate interest in signing him (with the money to back it up). 
If that were to happen, the 21st-century Babe Ruth would be leaving his lineup mate behind for greener pastures. Unfortunately for Trout, he wouldn't have the benefit of being on the 1930s Yankees like Gehrig did. And we'd all be left wondering how the Angels would then try to put a winning club around their outfielder and get him to October before it's too late. 
That'll be hard to envision if Los Angeles is indeed unable to reach the postseason without two of the game's generational talents in its lineup card each night.  
As with many jokes, there's a nugget of truth behind the "and the Angels lose" tweets.
All stats and award information courtesy of Baseball Reference. All contract figures courtesy of Spotrac.