Mike Trout Reveals How Far He Can Hit a Golf Ball When Announcing He's Building a Course With Tiger Woods
Mike Trout has announced plans to build a golf course designed by Tiger Woods.
It's no secret that Mike Trout can crush a baseball — well, unless he's facing Angels teammate Shohei Ohtani anyway. What, too soon? But that's not the only white ball the three-time American League MVP can mash, as Trout can apparently hit a golf ball quite a long way as well. And he'll soon be able to do that on his very own course, which will be designed by none other than Tiger Woods.
Because if you're Mike Trout and want to build your own golf course in your hometown, you just call up Tiger Woods and get that done.
Mike Trout reveals how long he can drive a golf ball when announcing partnership with Tiger Woods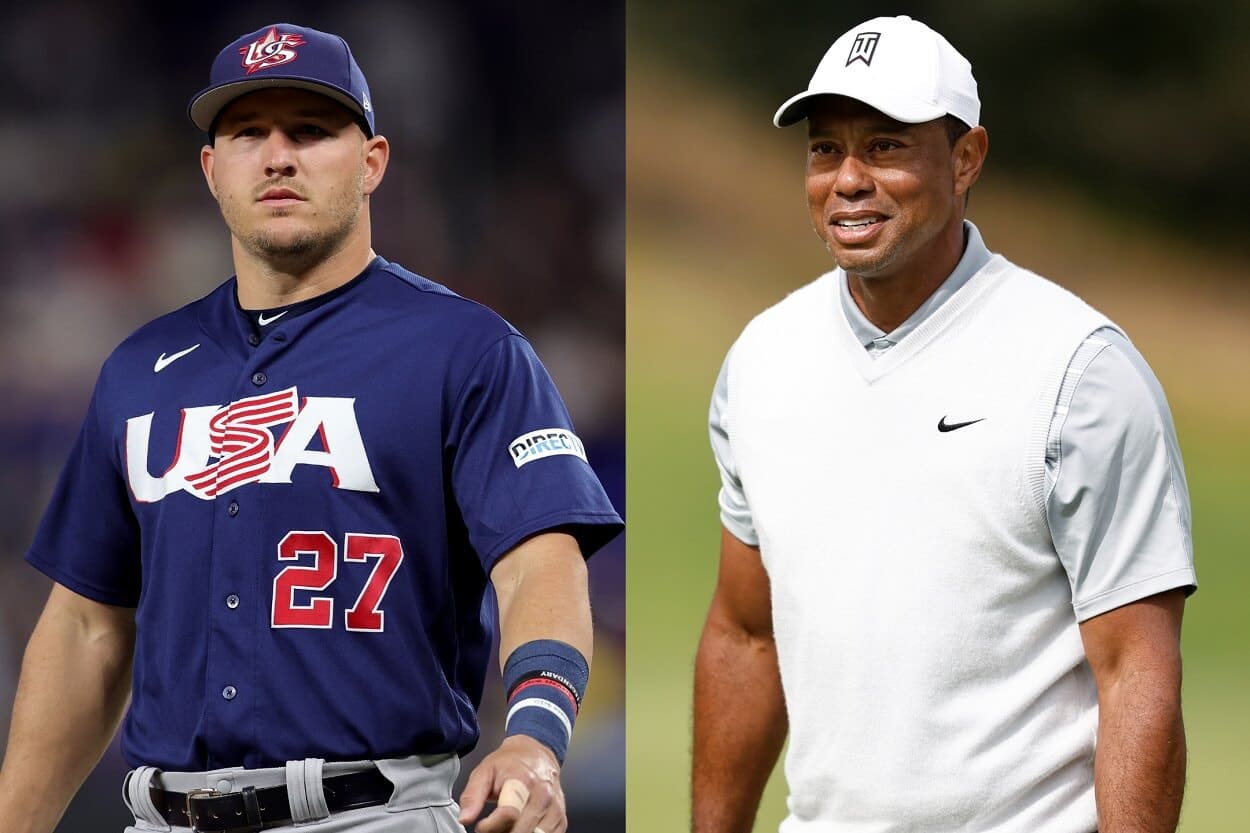 Ask most modern athletes who their favorite golfer was growing up, and the vast majority would say Tiger Woods. And Trout is certainly no different.
While baseball has always been his primary focus, Trout took up golf in high school, often tagging along with his father to the course, and has loved the game ever since. And the 10-time MLB All-Star, who's playing on a $426.5 million contract, is in position to take that love to a level most would never dream of as he's announced plans to build an 18-hole championship golf course in Vineland, New Jersey, the city where he was born.
Tiger Woods' golf course architecture firm, TGR Design, is handling the design of Trout National – The Reserve, and Trout couldn't be more thrilled (h/t Sports Illustrated).
"My favorite golfer growing up obviously was Tiger. I thought it would be pretty cool to reach out. We reached out, got a positive vibe when we mentioned it, and got his team down to the site. Once Tiger's team came down to the site, they loved it. It's surreal. I mean, it's friggin' Tiger!

"We talk now. I'm starting to get to know him. I talk to him over the telephone. It's pretty crazy."

Mike Trout on Tiger Woods
What's also pretty crazy is how far the nine-time Silver Slugger Award winner says he can hit a golf ball. Trout, who says he plays to a "seven or eight" handicap, claims to hit his driver between 330 and 360 yards "when I'm not letting it go." He says he attempts to "dial it down to keep it a little straighter." So what does "letting it go" mean? 400?
Trout National is scheduled to open in 2025.