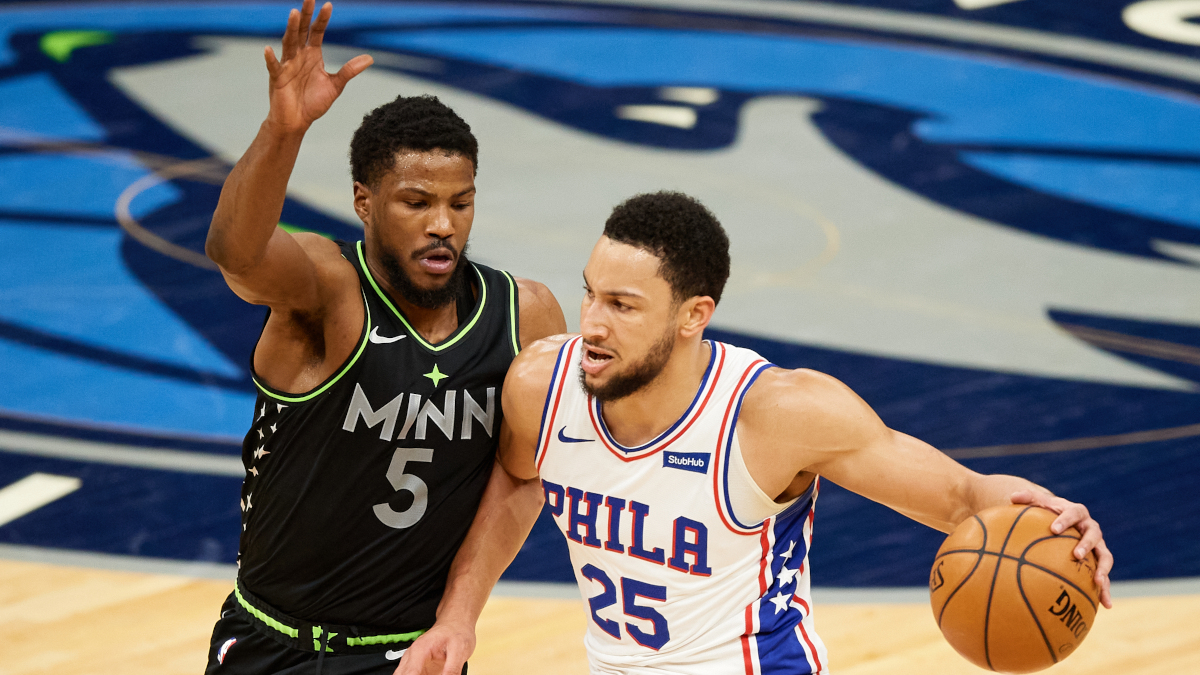 Minnesota Timberwolves Reportedly Want Ben Simmons 'Badly'
The NBA Finals haven't started, but the Ben Simmons trade rumors are on full boil. A terrible playoff run by the three-time All-Star has led to speculation the Philadelphia 76ers might move him. The Minnesota Timberwolves reportedly would love to be Simmons' destination.
It was never going to be a quiet offseason for Ben Simmons. Quiet was off the table after his free-throw shooting went from bad to horrific in the playoffs. A serene summer was out a window after he became allergic to attempting shots late in games.
While the pundit crowd continues to eat up half the bandwidth on the Internet crafting trade machine proposals for the Philadelphia 76ers, however, there may be a team with a legitimate interest in acquiring the enigmatic All-Star. One team interested in a Simmons trade is something. We've spent the two weeks since the Sixers were bounced from the playoffs trying to find meaning in anything. Simmons has reportedly committed to fixing what's broken with his game
Since no one in the NBA has an active no-trade clause, anything can happen. NBA offseasons are notoriously random when it comes to trading players. It's the nature of franchises built on four- or sometimes five-year contracts. The windows of opportunity are tiny. Before looking at a potential Simmons trade, however, it's best to see what value is there.
Even with shortcomings, Ben Simmons has huge upside
While it feels like Ben Simmons has been in the NBA forever, he just finished his fourth season on the floor. He missed what would have been his rookie season in 2016–17 with a broken foot. But upon his return, he was ready to launch. Simmons was Rookie of the Year the following season and has been an All-Star each of the last three seasons.
Simmons is also a terrific defender. Already an All-Defensive selection twice in just four NBA seasons, his toolbox on that end is nearly limitless. At 6-foot-11 and 240 pounds, Simmons is the rare defender who can guard all five positions on the court. (Even though the game is much less position-based than it once was.)
However, Simmons regressed offensively in 2020–21. His shooting percentage fell to 55.7% from a career-high 58.0% the previous season. He took fewer shots at the rim, which left him reliant on runners and floaters. Simmons also made a lower percentage of his rim attempts, so there was a doubling downward trend. In 2019-20, Simmons took 63.8% of his shots at the rim and converted 71.9% of those. This season, those numbers dropped to 52.7% and 68.7%, respectively.
A power forward with point-guard skills, however, is still a valuable commodity. That's what has other NBA teams so intrigued.
The Minnesota Timberwolves are very interested, according to a report
According to Darren Wolfson of SKOR North, the Minnesota Timberwolves "badly" want to add Ben Simmons to their roster.
"I texted with somebody that knows Ben Simmons incredibly well (and) has working knowledge of all things NBA. My text the other day said, 'How badly do the Wolves want to trade for Ben Simmons?' This individual sent me a text back, it was one word: 'Badly.'

"Make no mistake; the Wolves have trade interest in Ben Simmons."

Darren Wolfson
Wanting Ben Simmons, however, is one thing. Being able to give something of value back to the 76ers is another.
What could the Timberwolves offer for Ben Simmons?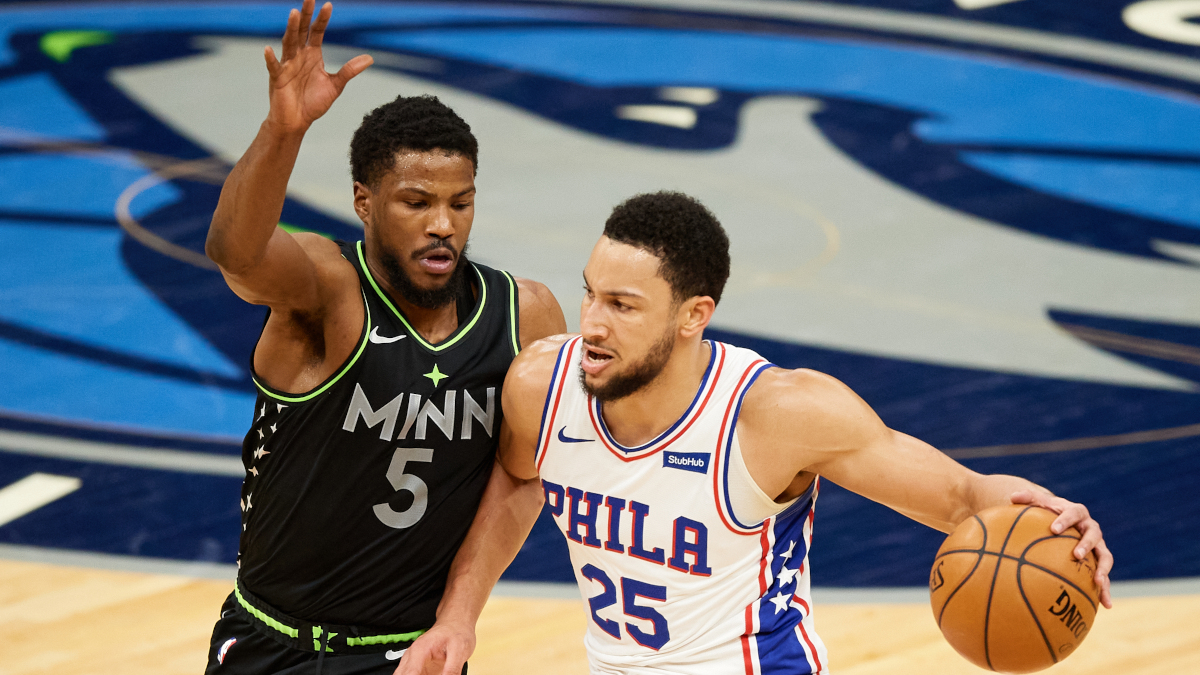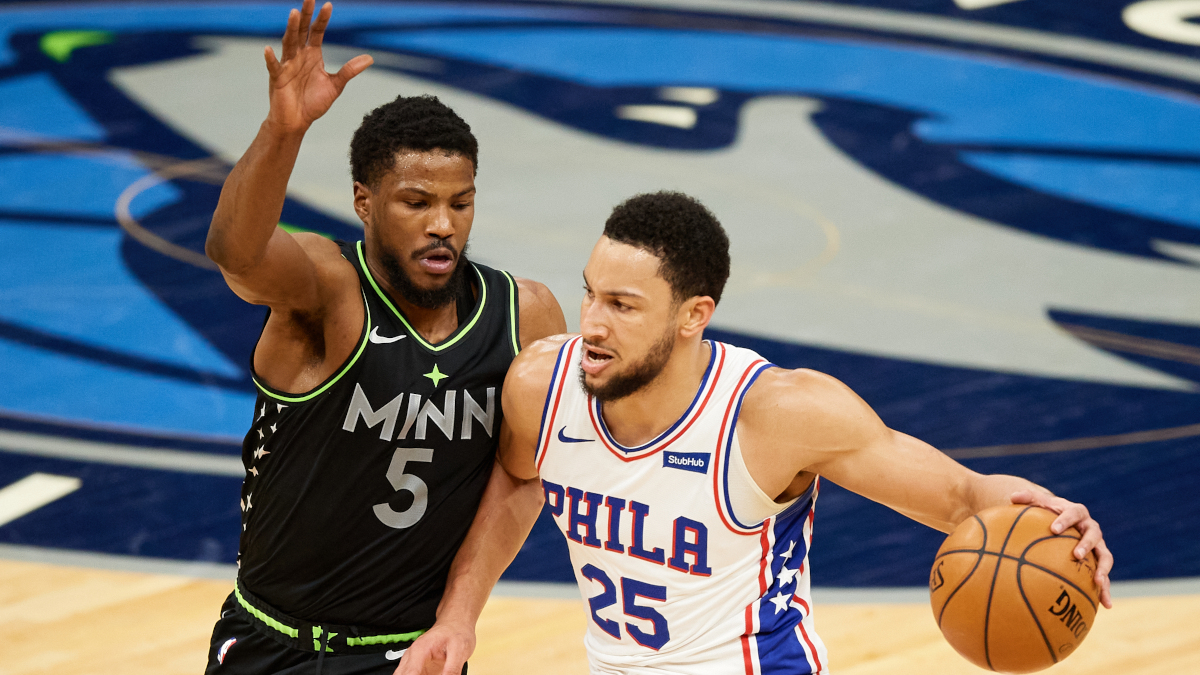 According to Kurt Helin of Pro Basketball Talk, you can scratch Karl-Anthony Towns off the list of players the Minnesota Timberwolves might trade for Ben Simmons. One, the Philadelphia 76ers already have a franchise center in Joel Embiid. Two, Towns is Minnesota's franchise guy. You don't send that player out for less than a franchise player in return.
The Timberwolves have a player that checks the boxes in terms of skills Philadelphia needs and a comparable price tag to make a trade work. But there are questions about a possible D'Angelo Russell-for-Ben Simmons trade.
Since Towns reportedly lobbied to bring his friend Russell to Minnesota, does Timberwolves president of basketball operations Gersson Rosas risk alienating his best player by dealing D-Lo for Simmons?
While the 76ers would likely want a point guard coming back in a Simmons deal, is Daryl Morey going to buy that Russell is that point guard? Is Philadelphia in a position where they want draft capital in a Simmons deal? Or would they want pieces that fit better with a win-now mindset?
Is D'Angelo Russell, with two healthy seasons in six years in the NBA and already with his fourth franchise, worth jeopardizing your championship window?
Looking at the Minnesota roster, it's hard to find anything the 76ers would value that the Timberwolves would also be willing to give up. Maybe a Russell-Malik Beasley package could get it done. Or perhaps Morey is more interested in fixing the 24-year-old Simmons instead of throwing his cards to the center of the table.
Statistics courtesy of Basketball Reference.