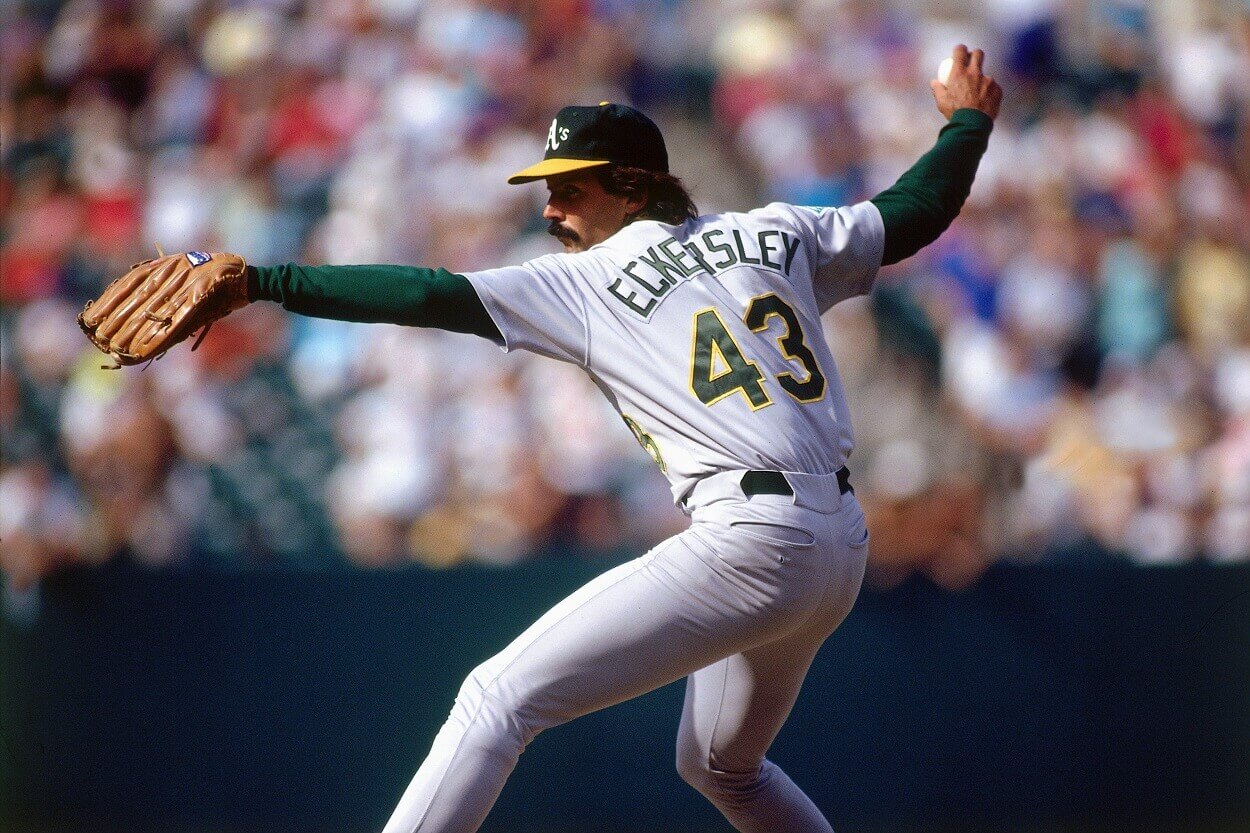 How Many Relief Pitchers Have Won the Cy Young Award?
A look at every MLB relief pitcher to win the Cy Young Award.
First introduced in Major League Baseball in 1956, the year following its namesake's death, the Cy Young Award isn't often won by a relief pitcher, especially in recent years.
Between 1974 (the first year in which a relief pitcher won it) and 1992, a total of eight relievers across both leagues won the Cy Young. But since then, there's been only one. Using simple math, that tells us that a total of nine relief pitchers have won the coveted prize.
And here's a quick look at those lucky nine.
Mike Marshall, Los Angeles Dodgers, 1974
Mike Marshall was the first relief pitcher to win the Cy Young, doing so in 1974 with the Los Angeles Dodgers.
The Michigan native was an absolute machine that year for LA, setting a new MLB record with 106 appearances. And in those 106 outings, Marshall pitched 208.1 innings and went 15-12 with a league-leading 21 saves. Five years later, he set the American League record for the most appearances in a season (90) as a member of the Minnesota Twins.
Sparky Lyle, New York Yankees, 1977
In 1977, Sparkly Lyle became the first American League reliever to win the Cy Young as he helped the New York Yankees win their first World Series title in 15 years.
In a league-high 72 appearances for the Yankees that season, Lyle pitched 137 innings and went 13-5 with 26 saves.
Bruce Sutter, Chicago Cubs, 1979
Next up was Bruce Sutter, who took home the hardware in 1979 as a member of the Chicago Cubs.
Sutter appeared in 62 games for the North Siders that season, going 6-6 with a league-high 37 saves while posting a 2.22 ERA with 110 strikeouts.
Rollie Fingers, Milwaukee Brewers, 1981
Not only did Milwaukee Brewers closer Rollie Fingers win the American League Cy Young Award in 1981, but he also won AL MVP.
Fingers appeared in 47 games for the Brewers that season, going 6-3 with a league-best 28 saves while posting a minuscule 1.04 ERA.
Willie Hernandez, Detroit Tigers, 1984
Like Fingers, Willie Hernandez won both the American League Cy Young and Most Valuable Player for the Detroit Tigers in 1984. But unlike Fingers, Hernandez also added a World Series title.
Hernandez made a league-high 80 appearances for the Tigers that year, going 9-3 with 32 saves. The lefty struck out 112 batters in 140.1 innings and posted a 1.92 ERA.
Steve Bedrosian, Philadelphia Phillies, 1987
Converted to a full-time relief pitcher in his first year in Philadelphia in 1986, Steve Bedrosian won the NL Cy Young Award in his second season with the Phillies in 1987.
Bedrosian appeared in 65 games for the Phils that season, posting a 5-3 record with a league-high 40 saves.
Mark Davis, San Diego Padres, 1989
While an off-and-on starter in the early years of his career with the Philadelphia Phillies and San Francisco Giants, Mark Davis converted to a full-time relief pitcher when he joined the San Diego Padres in 1987.
In his third and final season with the Padres, Davis won the NL Cy Young, posting a 4-3 record with a league-high 44 saves.
Dennis Eckersley, Oakland A's, 1992
In 1992, Dennis Eckersley became the third relief pitcher to win both a Cy Young and an MVP trophy.
In helping the Oakland A's to a fourth ALCS in five years, Eckersley appeared in 65 games and went 7-1 with a league-high 51 saves, at the time the second-most in a single season in MLB history.
Eric Gagne, Los Angeles Dodgers, 2003
The last relief pitcher to win the Cy Young Award was Eric Gagne, who did so for the LA Dodgers in 2003.
The Canada native appeared in 77 games for the Dodgers that season and went 2-3 with a league-best 55 saves. Gagne recorded 137 strikeouts in 82.1 innings while posting a career-low 1.20 ERA.