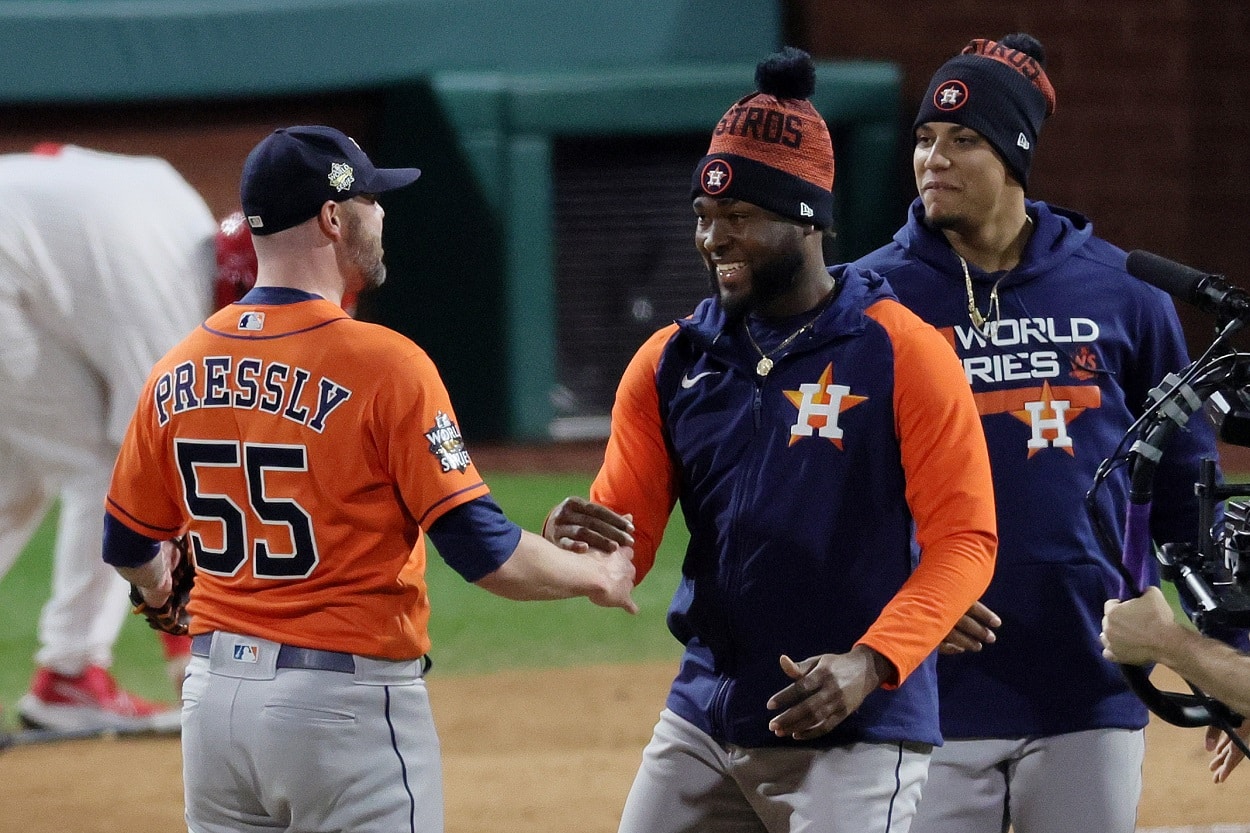 When Was the Last No-Hitter For Every MLB Team?
A look at the most recent no-hitter for every team in Major League Baseball.
For close to a century and a half, the no-hitter has been one of the rarest and most remarkable feats in the game of baseball. While it sometimes might not seem so rare given today's talent, the chance of a team (whether one pitcher or a group) throwing a no-no is still quite slim.
To this day, Major League Baseball officially recognizes 321 no-hitters, including the most recent thrown on Aug. 10, 2023, by Michael Lorenzen.
The Los Angeles Dodgers have the most no-hitters in MLB history with 26, while four teams have just one. Here's a look at the most recent no-no thrown by every team.
American League East
Baltimore Orioles: May 5, 2021-John Means
On May 5, 2021, John Means no-hit the Seattle Mariners and retired all 27 batters he faced. However, he missed out on a perfect game as Sam Haggerty reached base in the third inning on a third-strike wild pitch. Haggerty was then caught stealing second base, but the wild pitch nullifies the perfect game.
It was the first individual no-hitter for the Orioles since 1969 and the first overall since 1991 when four pitchers threw a combined no-hitter against the Oakland A's.
Boston Red Sox: May 19, 2008-Jon Lester
On May 19, 2008, just two years after beating cancer, Jon Lester threw a masterpiece against the Kansas City Royals. The no-no was the 18th in Red Sox history, tied for second on the all-time list. It was also the fourth career no-hitter caught by Jason Varitek, which set a new MLB record that Carlos Ruiz later tied.
New York Yankees: June 28, 2023-Domingo German
On June 28, 2023, New York Yankees righty Domingo German authored the 13th no-hitter in franchise history and just the fourth perfect game.
In becoming the first pitcher born in the Dominican Republic to toss a perfect game, German threw 99 pitches against the Oakland A's, striking out nine while obviously allowing zero walks. It was the first perfect game in Major League Baseball since Felix Hernandez accomplished the feat in 2012. This was also just the second no-hitter for the Yanks on the road since Allie Reynolds threw one in Cleveland on July 12, 1951. Corey Kluber did so against the Rangers on May 19, 2021.
Tampa Bay Rays: July 26, 2010-Matt Garza
Matt Garza has the first and only no-hitter in Tampa Bay history. Still called the Devil Rays then, Garza shut down the Detroit Tigers in a 5-0 win. This was one of six no-hitters during the 2010 season. Oddly enough, Max Scherzer actually had a no-hitter of his own going into the sixth inning.
Toronto Blue Jays: September 2, 1990-Dave Stieb
The only no-hitter in Toronto Blue Jays history couldn't have happened to a better pitcher. On three occasions, Dave Stieb had taken a no-hitter into the ninth inning before it was broken up. On September 2, 1990, he finally got one in a 3-0 victory over the Cleveland Indians.
American League Central
Chicago White Sox: April 14, 2021-Carlos Rodon
Chicago White Sox left-hander Carlos Rodon came about as close as one can get to throwing a perfect game but had to settle for his first career no-hitter in an 8-0 win over the Cleveland Indians. With one out in the ninth, Rodon hit Roberto Perez in the foot, giving the Indians their first baserunner of the game, but then struck out Yu Chang before getting Jordan Luplow to ground out to third.
Rodon threw 114 pitches on the night and hit 98.8 miles per hour on the radar gun with one of his last pitches, his fastest toss in five years.
Cleveland Indians: May 15, 1981-Len Barker
The Cleveland Indians' last no-hitter came all the way back in 1981. Len Barker was on the hill that day early in the season and dominated the Toronto Blue Jays in a 3-0 win. Barker pitched a perfect game, the 10th in MLB history, and just 19 of his pitches that day weren't strikes.
Detroit Tigers: July 8, 2023-Matt Manning (6.2 IP), Jason Foley (1.1 IP), Alex Lange (1 IP)
The Detroit Tigers have nine no-hitters in franchise history, and two of those belong to Justin Verlander. The perennial Cy Young candidate threw the second of his three career no-nos on May 7, 2011, in a 9-0 win over the Blue Jays. The most recent individual effort belongs to righthander Spencer Turnbull, who threw the fifth no-no of the 2021 season on May 18 in a 5-0 win over the Seattle Mariners. But just over two years later, three pitchers combined to limit the Toronto Blue Jays to a zero in the hit column.
Kansas City Royals: August 26, 1991-Bret Saberhagen
Bret Saberhagen was a three-time All-Star, a two-time Cy Young winner, and a World Series champion. He also has the most recent no-hitter for the Kansas City Royals. On August 26, 1991, Saberhagen had the unfortunate task of facing Frank Thomas to clinch the no-no but got The Big Hurt to ground out in the 7-0 victory.
Minnesota Twins: May 3, 2011-Francisco Liriano
Francisco Liriano certainly doesn't have the prettiest no-hitter in history, but he has one nonetheless. Liriano kept the White Sox hitless on May 3, 2011, in a 1-0 win for the Minnesota Twins but struck out just two batters while walking six.
American League West
Houston Astros: November 2, 2022-Cristian Javier (6 IP), Bryan Abreu (1 IP), Rafael Montero (1 IP), Ryan Pressly (1 IP)
In the 688th World Series game ever played, the Houston Astros pitched just the second no-hitter in the history of the Fall Classic.
One night after giving up five home runs to the Philadelphia Phillies, four Astros combined to no-hit Bryce Harper & Co. in Game 4 of the 2022 World Series. Cristian Javier pitched the first six innings, and Bryan Abreu, Rafael Montero, and Ryan Pressly threw one each as Houston took a 5-0 win to tie the series at 2-2.
Los Angeles Angels: May 10, 2022-Reid Detmers
Before this night, 22-year-old Reid Detmers had must 10 big-league starts with the Los Angeles Angels. And in start No. 11, he became the youngest Angels pitcher in history to throw a no-hitter. The Springfield, Illinois native had never gone more than six innings in the majors but threw 108 pitches over nine innings, recording two strikeouts and a walk, as the Angels decimated the Tampa Bay Rays, 12-0.
Oakland Athletics: May 7, 2019-Mike Fiers
Just about six months before Oakland A's pitcher Mike Fiers made headlines as the whistleblower in the Houston Astros scandal, he threw a no-hitter against the Cincinnati Reds in a game delayed by lightning. This was Fiers' second career no-no, and he became the 35th pitcher in MLB history to have two or more.
Seattle Mariners: May 8, 2018-James Paxton
Just four days after the Dodgers had posted a group no-hitter, Seattle Mariners pitcher James Paxton got one on his own in a 5-0 win over the Blue Jays in Toronto. That's noted because Paxton became the first-ever Canadian-born hurler to throw a no-hitter in Canada.
Texas Rangers: July 28, 1994-Kenny Rogers
Kenny Rogers' no-hitter for the Texas Rangers was the fifth in franchise history. With an umpire behind the plate who called just eight MLB games in his career, Rogers bested the then-California Angels, 4-0.
National League East
Atlanta Braves: April 8, 1994-Kent Mercker
It's crazy to think that Greg Maddux, Tom Glavine, or John Smoltz never threw a no-hitter for the Atlanta Braves. Kent Mercker threw two, one in a combined effort on September 11, 1991, and one on his own on April 8, 1994, in a 6-0 win over the Dodgers.
Miami Marlins: June 3, 2017-Edinson Volquez
It's not often that a pitcher gets released the same year he throws a no-hitter, but that's what happened to Edinson Volquez in 2017. Volquez blanked the Arizona Diamondbacks, 3-0, in June and was then released following the season and missed all of 2018 due to Tommy John surgery.
New York Mets: April 29, 2022-Tylor Megill (5 IP), Drew Smith (1.1 IP), Joely Rodriguez (1 IP), Seth Lugo (0.2 IP), Edwin Diaz (1 IP)
Five New York Mets pitchers combined for the franchise's second no-hitter and the first of the 2022 MLB season on April 29. Tylor Megill pitched the first five innings against the Phillies but was pulled after 88 pitches. Drew Smith, Joely Rodriguez, Seth Lugo, and Edwin Diaz worked the final four innings to complete the 3-0 victory. The five combined to throw an incredible 159 pitches.
Philadelphia Phillies: August 9, 2023-Michael Lorenzen
Michael Lorenzen, making just his second start for the Philadelphia Phillies after the organization shipped off minor leaguer Hao-Yu Lee to the Detroit Tigers for his services eight days earlier, replaced Cole Hamels with the most recent no-no in franchise history. Throwing a whopping 124 pitches, he struck out five batters and walked four but maintained the zero in the all-important hits column.
Washington Nationals: October 3, 2015-Max Scherzer
Max Scherzer is one of the most dominating pitchers of his generation, and that includes the last no-hitter for the Washington Nationals, which came on October 3, 2015, in the second-to-last game of the year. Scherzer had 17 strikeouts in the 2-0 win over the Mets.
National League Central
Chicago Cubs: June 24, 2021-Zach Davies (6 IP), Ryan Tepera (1 IP), Andrew Chafin (1 IP), Craig Kimbrel (1 IP)
In 2020, the Chicago White Sox and Chicago Cubs threw no-hitters in the same season for the first time ever. But it didn't take long to do it a second time, as both accomplished the feat again in 2021.
As you saw earlier, Carlos Rodon threw a no-no for the South Siders in April, and the Cubs used four pitchers to do so on June 24, getting six innings from Zach Davies and an inning apiece from Ryan Tepera, Andrew Chafin, and Craig Kimbrel in a 4-0 win over the Dodgers.
Cincinnati Reds: May 7, 2021-Wade Miley
In MLB's second no-hitter in three days, Cincinnati Reds lefty Wade Miley completely shut down the Cleveland Indians, who were no-hit for the second time in less than a month on May 7, 2021. The game began with an 83-minute rain delay, but that didn't deter Miley, who took a perfect game into the sixth inning before giving up a walk, Cleveland's only baserunner of the night, and ended the game with eight strikeouts.
Milwaukee Brewers: September 11, 2021-Corbin Burnes (8 IP), Josh Hader (1 IP)
Corbin Burnes and Josh Hader combined to throw just the second no-hitter in Milwaukee Brewers history on September 11, 2021, against the Cleveland Indians. Burnes struck out 14 batters over eight innings and took a perfect game into the seventh before giving up a walk. He was yanked after a career-high 115 pitches, and Hader threw a perfect inning to seal the 3-0 victory.
Pittsburgh Pirates: July 12, 1997-Francisco Cordova (9 IP), Ricardo Rincon (1 IP)
Ah, the beauty of the 10-inning no-hitter. Pittsburgh Pirates starter Francisco Cordova pitched nine innings of no-hit baseball against the Astros on July 12, 1997. Unfortunately, his offense couldn't score any runs until the 10th, when Mark Smith blasted a three-run homer. Ricardo Rincon came on in the 10th and finished things off.
St. Louis Cardinals: September 3, 2001-Bud West
In just his 11th start in the majors, St. Louis Cardinals pitcher Bud West threw a no-hitter against the San Diego Padres on September 3, 2001. The no-no was one of just seven wins Smith would earn in his career.
National League West
Arizona Diamondbacks: August 14, 2021-Tyler Gilbert
On August 14, 2021, Arizona Diamondbacks left-hander Tyler Gilbert became just the fourth pitcher in MLB history to throw a no-hitter in his first career start. Joining Randy Johnson and Edwin Jackson as the only Diamondbacks' pitchers to throw a no-no, the 27-year-old struck out five and walked three in Arizona's 7-0 win over the San Diego Padres.
Colorado Rockies: April 17, 2010-Ubaldo Jimenez
Ubaldo Jimenez was the first pitcher in Colorado Rockies history to throw a no-hitter, and he remains the only one to do so. Jimenez pitched the first of the six no-nos during the 2010 season with a 4-0 win over the Atlanta Braves.
Los Angeles Dodgers: May 4, 2018-Walker Buehler (6 IP), Tony Cingrani (1 IP), Yimi Garcia (1 IP), Adam Liberatore (1 IP)
The Los Angeles Dodgers lead all MLB teams with 26 no-nos, the most recent coming on May 4, 2018, as four pitchers combined for the feat in a 4-0 win over the Padres. Walker Buehler pitched six innings, and Tony Cingrani, Yimi Garcia, and Adam Liberatore threw one inning each.
San Diego Padres: April 9, 2021-Joe Musgrove
After going more than 50 years without a no-hitter, the San Diego Padres became the last MLB team to get a no-no when Joe Musgrove, who grew up in the San Diego area, blanked the Texas Rangers at Globe Life Field on April 9, 2021, in a 3-0 Padres victory.
Musgrove's battery mate, Victor Caratini, made a little history and became the first catcher in MLB history to catch consecutive no-hitters for two different teams. Before Musgrove, the last MLB no-hitter came from the Cubs' Alec Mills with Caratini behind the plate.
San Francisco Giants: June 9, 2015-Chris Heston
Perhaps the most unique no-hitter in recent memory came from San Francisco Giants pitcher Chris Heston on June 9, 2015. Heston no-hit the Mets in a 5-0 win but managed to hit three batters. Heston won 12 games in 31 starts in 2015. He finished his career with 13 wins.