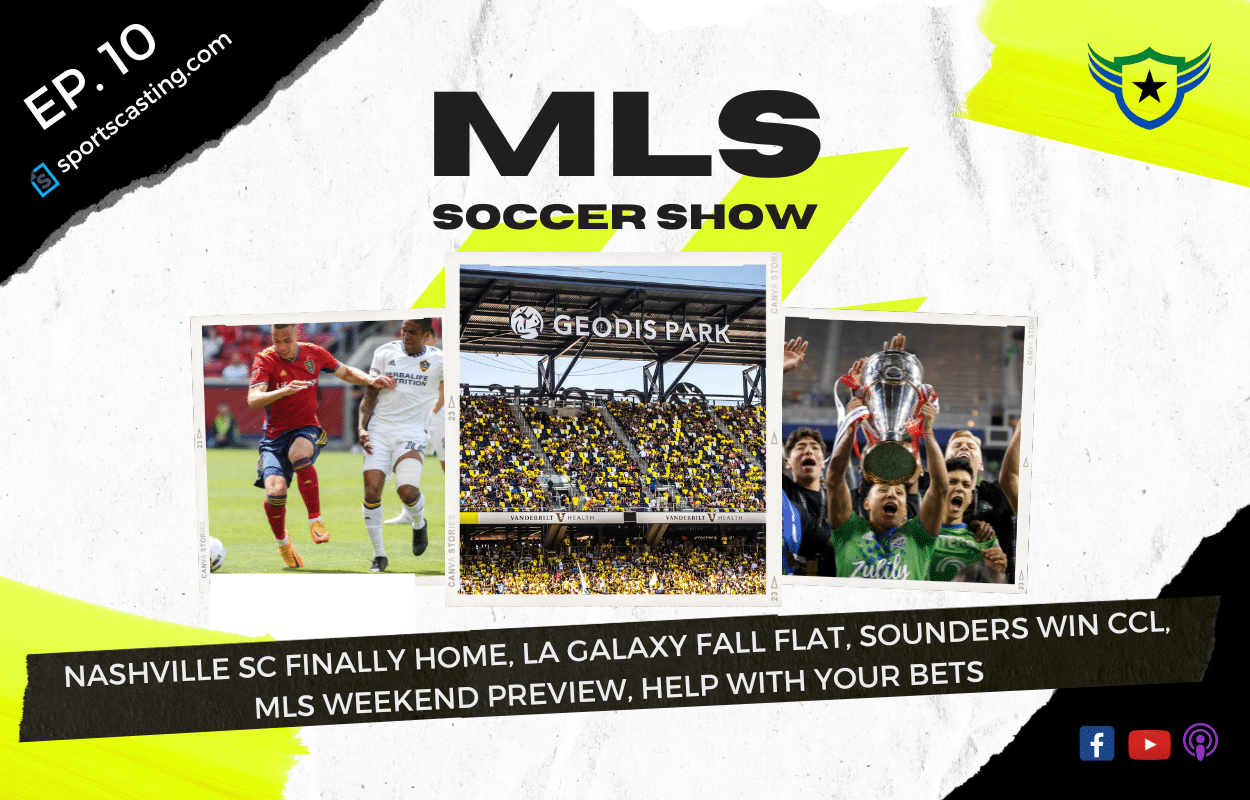 MLS: Nashville SC Finally Opens Its New Home, LA Galaxy Pull a No-Show and the Seattle Sounders in the Concacaf Champions League on This Week's 'MLS Soccer Show'
On the latest episode of the 'MLS Soccer Show,' topics include the LA Galaxy, Nashville SC, the Seattle Sounders, and a big weekend ahead, plus Best Bets and more.
After eight straight away games to open the 2022 Major League Soccer (MLS) season, Nashville SC finally christened their new home, GEODIS Park. Unfortunately for the home side, the Philadelphia Union somewhat spoiled the grand opening. The Union scored the first-ever goal there and played Nashville to a 1-1 draw. 
Elsewhere around the MLS, the LA Galaxy traveled to Utah to take on the mid-table Real Salt Lake. RSL started the game in the midst of a six-game winless streak that included a loss in the U.S. Open Cup to the Northern Colorado Hailstorm, a USL League One team that played its first-ever professional match just 14 days prior. 
Despite the poor run of form, Real Salt Lake bested the LA Galaxy 1-0. This result was largely due to a no-show by superstar striker Javier "Chicharito" Hernandez. The former Manchester United and Real Madrid forward played a full 90 minutes. However, he didn't record a single goal, assist, shot, foul, or even an offside call. 
The question is now, was Chicharito and the Galaxy's performance just an off week? Or is it something the team needs to be concerned about as it heads into a massive match vs. Austin FC this coming weekend?
A big weekend ahead in MLS
After the bad loss to Real Salt Lake, the LA Galaxy have no time to lick their wounds as they travel to Q2 Stadium in Texas this weekend to face a hot Austin FC side.
Despite its own bad U.S. Open Cup loss to the USL Championship's San Antonio FC, Austin has only lost once in nine MLS matches this season. With Austin playing so well and striker Sebastián Driussi playing at an MVP level and tied for the league lead in goals with seven, the LA Galaxy can't afford another lackluster performance.
Additionally, the other City of Angles team, LAFC, has a big match of its own. The first-place Western Conference squad welcomes the East-leading Philadelphia Union to LA. This match will come down to the LAFC offensive stars — like Carlos Vela, Cristian Arango, Kellyn Acosta, and Ilie Sánchez — and how they do against the best goalkeeper in MLS, Andre Blake. 
A historic victory for the Seattle Sounders and American pro soccer 
Major League Soccer kicked off its inaugural season in 1996 and started playing in the Concacaf Champions Cup in 1997. Both D.C. United (1998) and the LA Galaxy (2000) won that trophy. However, no MLS side has won a Concacaf Champions League title since the tournament started in its new two-legged knockout format in 2008. 
The Seattle Sounders broke that barrier when they beat Liga MX's Pumas UNAM 3-0 (5-2 on aggregate) in front of 68,000-plus fans (per MLS) in the Seattle Seahawk's Lumen Field.  
Sounders forward Raúl Ruidíaz netted twice, and captain Nicolás Lodeiro drove home the final goal to guide Seattle to the historic win for the franchise and MLS. 
You can hear about all these topics and more on this week's episode of the MLS Soccer Show with Cal and Crean on Sportcasting.com. 
Like Sportscasting on Facebook. Follow us on Twitter @sportscasting19 and subscribe to our YouTube channel.