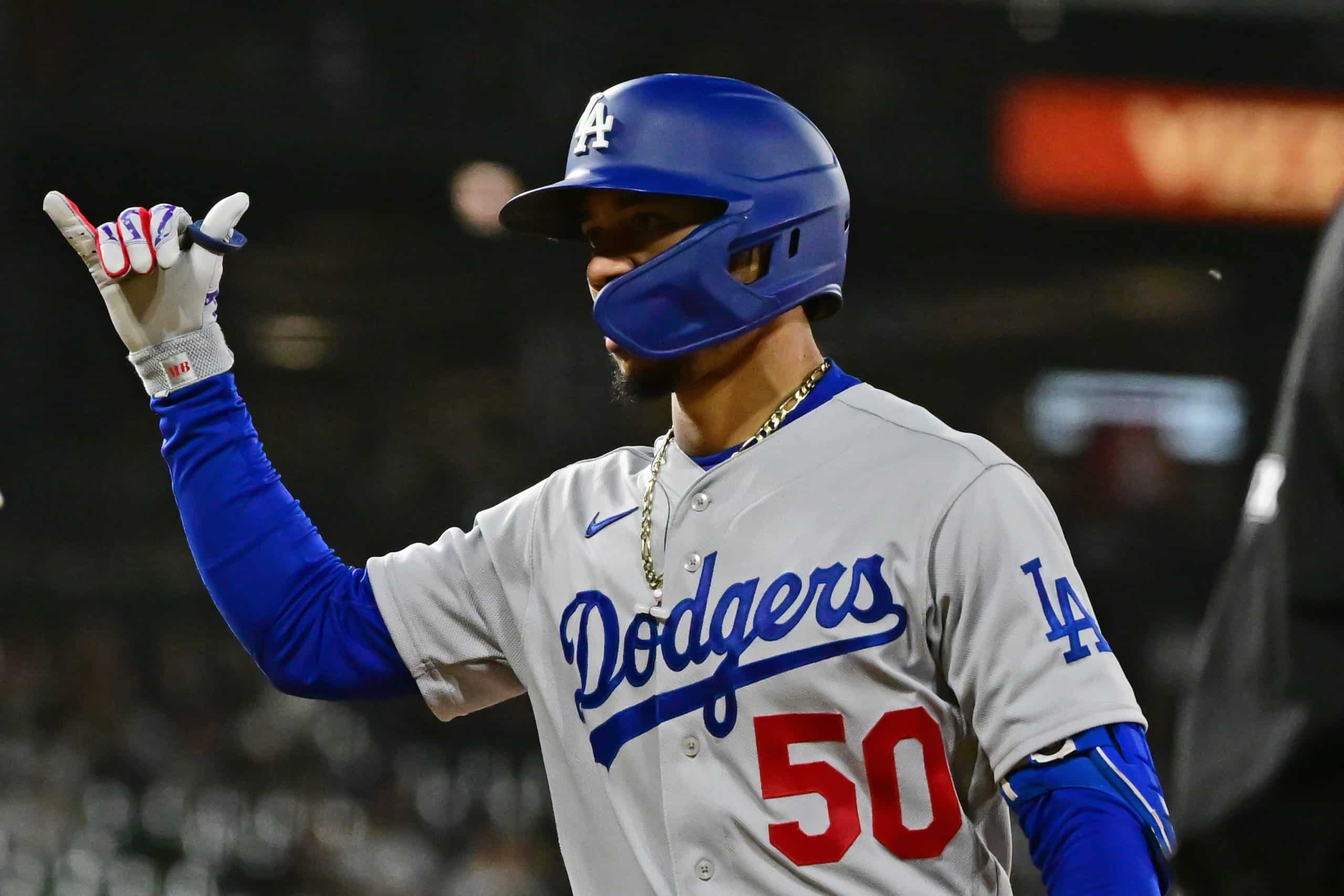 Mookie Betts Digs Deep Regarding His Time With the Boston Red Sox
Los Angeles Dodgers outfielder Mookie Betts wanted to touch on a few things about his time with the Boston Red Sox.
Mookie Betts continues to prove he's one of the best in the business. In his third year with the Los Angeles Dodgers, Betts is having yet another All-Star season, leading the National League in runs scored and home runs while hitting at a .302 clip.
Betts spent the first six years of his career with the Boston Red Sox, the team that drafted him in the fifth round of the 2011 MLB Draft out of Overton High School in Tennessee. Since he's been in LA, Betts hasn't spoken much about his time with the Red Sox.
He recently sat down with Rob Bradford of WEEI on The Bradfo Sho and discussed his time in Boston and what eventually led to his breakup with the team.
Mookie Betts played in four straight MLB All-Star Games with the Red Sox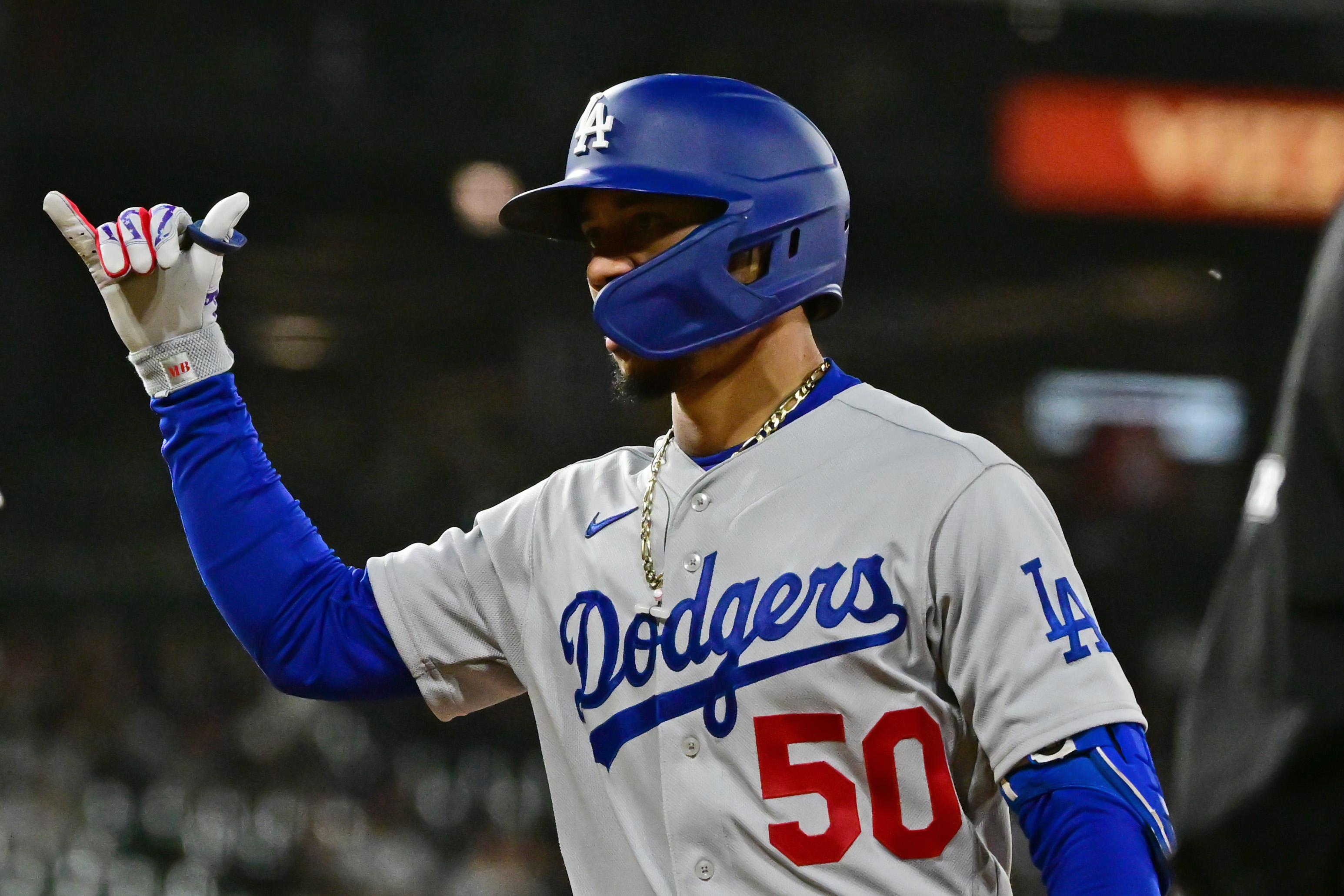 After getting a taste of the big leagues with 54 games in 2014, Betts came into his own during the 2015 season. The 5-foot-9, 180-pound outfielder showed he had some pop in his bat, smacking 18 home runs and driving in 77 runs in 145 games. That was only the beginning.
In 2016, Betts began his four-year streak of All-Star Game runs with Boston when he collected 31 homers and drove in 113 runs while hitting .318. He finished second in the American League MVP voting.
Betts earned MVP honors in 2018 when he led the league in hitting (.346), slugging percentage (.640), and runs scored (129). He also had a career-high 32 home runs.
Those numbers, however, forced the Red Sox to make a decision. Could they afford to keep him? Should they pony up nearly $400 million to keep him in Boston?
The Red Sox decided to trade Betts to the Dodgers prior to the COVID-19-impacted 2020 season. The Dodgers immediately signed Betts to a 12-year extension worth $365 million.
His streak of All-Star Games ended in 2020 only because there was no game. The pandemic forced a delay to the start of the season, which consisted of 60 regular-season games. The All-Star Game was canceled. He still managed to rack up 16 home runs in 55 games that season.
Betts gets blunt about his time with the Sox
Betts recently sat down with Bradford and spoke candidly about his time with the Red Sox. He wanted it to be known how much he enjoyed Boston, calling it "the best time of my life." He had to learn to understand the business side of the game, and that's what ultimately led to his departure.
"I just don't want anybody, especially when I go back, man, I don't want it to be like it was hatred or I didn't want to be there," Betts said, per WEEI. "I loved everybody in Boston. Loved it. That was the best time of my life. Obviously, it's a new chapter now and I've got to live where my feet are. I'll never forget all those memories, all those fans, and all the things I did in Boston, all the people. That was my life. It's something I'll never forget.
"Every time I go back to Boston, I'll go back to all the places I used to go to and see all the people I used to see, and just tell everybody how loved (I felt) and thank everybody for the opportunity, the cheers, the boos, the happiness, the crying, the ups and … everything man. It was a great time in my life and I want to thank everybody for that."
Betts said he understands Boston's reasons for not shelling out the big bucks to keep him. He also said he knew his value. There are no hard feelings.
"They had things they needed to take care of," said Betts. "They were in a situation where they had to do what's best for them. You can't really be mad at somebody for having to do what's best for them, especially when you have to do what's best for you. There's definitely no hatred there. Chaim (Bloom) did a great job kind of talking and being upfront and honest and made the whole process smooth. It sucks, but that's part of it.
"There was an offer that was put out there and we just declined and we felt I just wanted to get my value, man. That's all. Just like any person that lives, they want to get their value, what they're worth. That's pretty much all that that it was. Just the numbers didn't align, which is normal. We just had to go our separate ways. Just like anything else, there was a lot of talk where I didn't want to stay, or this, that, and the other. That's false. It's just business."
Like Sportscasting on Facebook. Follow us on Twitter @sportscasting19 and subscribe to our YouTube channel.