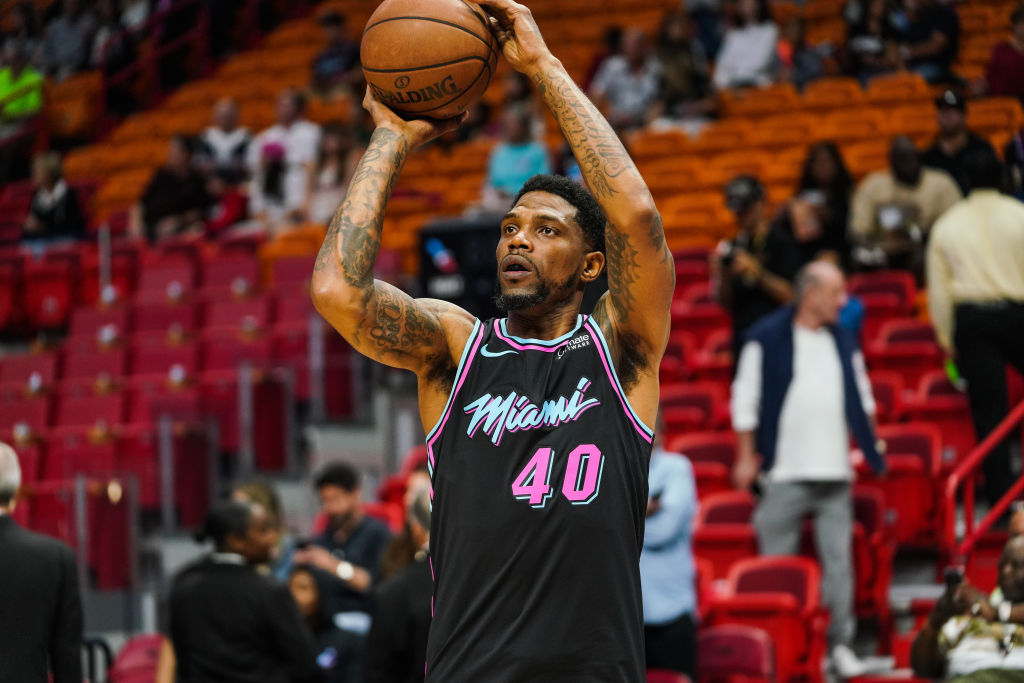 NBA: Miami's Udonis Haslem Joins Elite Group Who Spent Whole Career With 1 Team
When the Miami Heat's Udonis Haslem signed a one-year contract for the veteran minimum, he cemented his status in NBA history.
When the Miami Heat's Udonis Haslem signed a one-year contract for the veteran minimum, he cemented his status in NBA history. Haslem became one of just six players to spend their entire career with one franchise for more than 16 seasons.
The now-39-year-old went undrafted out of the University of Florida. Then, the Heat signed him to a rookie minimum deal. Haslem turned hard work and hustle into a leadership role and gained the trust of LeBron James and Dwyane Wade as they fought for NBA championships. Haslem's feat is only beaten by five NBA players, who all proved their loyalty to just one team.
5. Reggie Miller: 18 seasons, Indiana Pacers
The Pacers drafted Reggie Miller and outraged fans, who didn't expect a California kid to be able to play Indiana's style of basketball. Then, Miller turned into one of the best three-point shooters in NBA history. His Indiana Pacers had countless battles with the New York Knicks. In one amazing series of events, Miller scored eight points in nine seconds, pulling out a comeback victory in Madison Square Garden.
Now 53 years olds, he averaged over 18 points per game for his career and joined five All-Star teams and three All-NBA teams. When you list the best NBA shooters ever, Miller is almost certainly in everyone's top five. He retired in 2005.
4. John Stockton: 19 seasons, Utah Jazz
You don't become the all-time leader in assists by jumping from team to team. John Stockton played 19 seasons in the NBA, all with the Utah Jazz. The Hall-of-Famer was a 10-time All-Star and one of the games toughest defenders. He made five All-Defensive teams and led the league in assist nine times. Stockton went to the 1997 and 1998 NBA Finals with Utah, losing to the Chicago Bulls both times. He retired in 2003.
3. Tim Duncan: 19 seasons, San Antonio Spurs
When the San Antonio Spurs drafted Tim Duncan out of Wake Forest, they sought to pair him with one of the best big NBA men in David Robinson. The two quickly connected, which helped the Spurs win the 1999 NBA Finals. This was the first of five championships for San Antonio as they became the most consistent team in the NBA.
Duncan made 15 All-NBA teams and 15 All-Defensive teams. He was named to the All-Star team 15 times. He also won an MVP award and averaged 19 points and 11 rebounds per game for his career. With the No. 1 pick in the 1997 NBA Draft, the Spurs hit the jackpot when they chose Duncan, arguably the best power forward in NBA history.
2. Kobe Bryant: 20 seasons, Los Angeles Lakers
When Jerry West and Los Angeles traded for Kobe Bryant, a new era for Lakers basketball began. Bryant was the prototype shooting guard — a carbon copy of Michael Jordan. Matching his game off of Jordan's style, he wowed Lakers fans from the start of his career.
Bryant is one of the most accomplished players in NBA history. The 2008 NBA MVP won five NBA championships, was named to 15 All-NBA teams and 12 All-Defensive teams, and competed in 18 All-Star games. Jordan is considered the greatest shooting guard ever, and we think there's no other choice than Kobe Bryant as No. 2.
1. Dirk Nowitzki: 21 seasons, Dallas Mavericks
When you think of great international players, Dirk Nowitzki is one of the first who comes to mind. Drafted with the ninth overall pick in the 1998 draft, the NBA viewed Dirk as a skinny European with a skill set that did not complement that era's NBA player. The Bucks traded him to the Mavericks on draft night, and the rest is history.
All Nowitzki did is average 20 points and seven rebounds per game for his career, while shooting over 38% from behind the arc. Making 12 All-NBA teams, he was the 2007 MVP and the 2011 NBA Finals MVP after leading the Mavericks to a victory over the Miami Heat. He announced his retirement in early 2019.