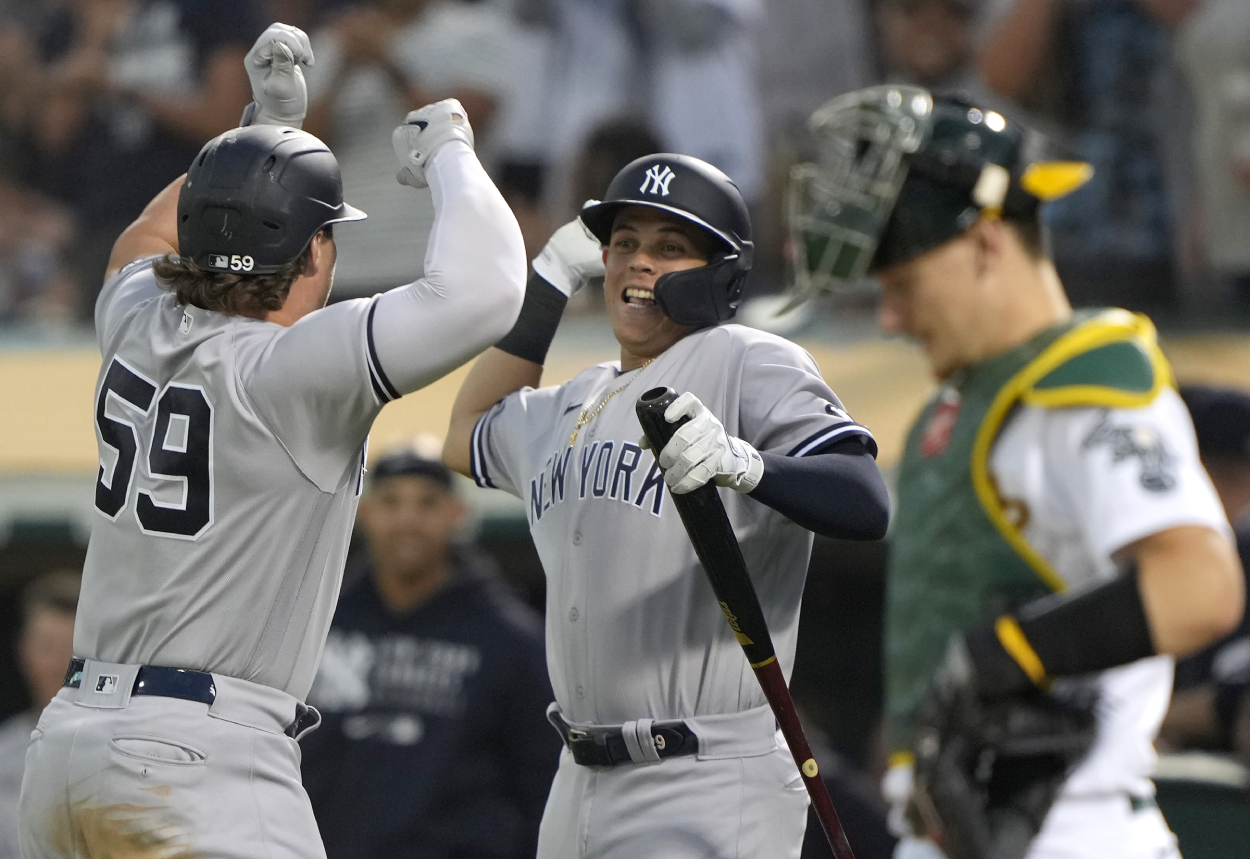 What Is the New York Yankees' Longest Win Streak in History?
The New York Yankees are riding a 13-game win streak.
The New York Yankees continue to roll. Friday night's 8-2 win over the Oakland Athletics put their win streak at 13 games. More importantly, it increased their lead for the first wild card spot to three games. New York hasn't lost since Tim Anderson of the Chicago White Sox hit a dramatic walk-off home run in the Field of Dreams game back on Aug. 13. How far away are the Yankees from reaching their longest win streak in franchise history?
The New York Yankees were a mess two months ago
There weren't too many believers in the Yankees two months ago other than the Yankees themselves. They had a tough time stringing together victories and found themselves 10.5 games out of first place on July 5 and in fourth place in the American League East. Manager Aaron Boone was on the hot seat, but players remained calm. They were frustrated but never lost hope.
"All the way back in April we expected to win (every game), but things weren't rolling our way, things weren't clicking for us,'' slugger Aaron Judge said, according to the New York Post after Thursday's win at Oakland that put the streak at 12 games. "Now that all guys are locked in on the same page, magic happens."
Boone was admittedly feeling the pressure. Players were pressing but stayed the course. August rolled around, and the tide quickly turned. New York has won 20 of its last 23 games. Since July 5, the Yankees are 34-11 and own a 76-52 mark.
What is the New York Yankees' longest win streak in history?
With Friday's victory over the A's, the Yankees' 13-game win streak is tied for the longest this season. Oakland accomplished the feat back in April.
The streak, however, is only tied for sixth in franchise history. The Yankees also won 13 straight in 1954 and again in 1961. New York will have to put together seven more victories to break their franchise record of 19 straight wins, which happened in 1947 from June 29 to July 17.
A win over the Athletics on Saturday would tie New York's 14-game streak that was set in 1941. The Yankees also have win streaks of 15 games (Sept. 16 to Oct. 2, 1960), 16 games (May 10-26, 1926), and 18 games (May 27 to June 14, 1953), according to CBS Sports.
The Yankees have been able to use a strong mix of pitching and offense to get to where they are today. GM Brian Cashman also made some noise at the trade deadline, bringing in Anthony Rizzo and Joey Gallo to help spark a stagnant offense.
Confidence is riding high for the Yankees
Everything is clicking for the Yankees, but they still remain four games behind the Tampa Bay Rays in the division race. That doesn't seem to matter a whole lot to the players. They know if they keep clicking like they are, good things will happen.
"We're clicking on all cylinders," said Giancarlo Stanton, according to MLB.com. "We're grinding away at the opponent. We've discussed what it took to get here and how we've all fed off each other, the work that we've all put in. It's cool to see it develop."
"This is what we thought we were going to do all year," Luke Voit said.
Boone has been able to relax a little more, thanks to his well-rounded team.
"It was another good one tonight," Boone said after Friday's win. "The best part about it is the many contributions we're getting from the entire roster. Tonight was just a really good all-around win for us."