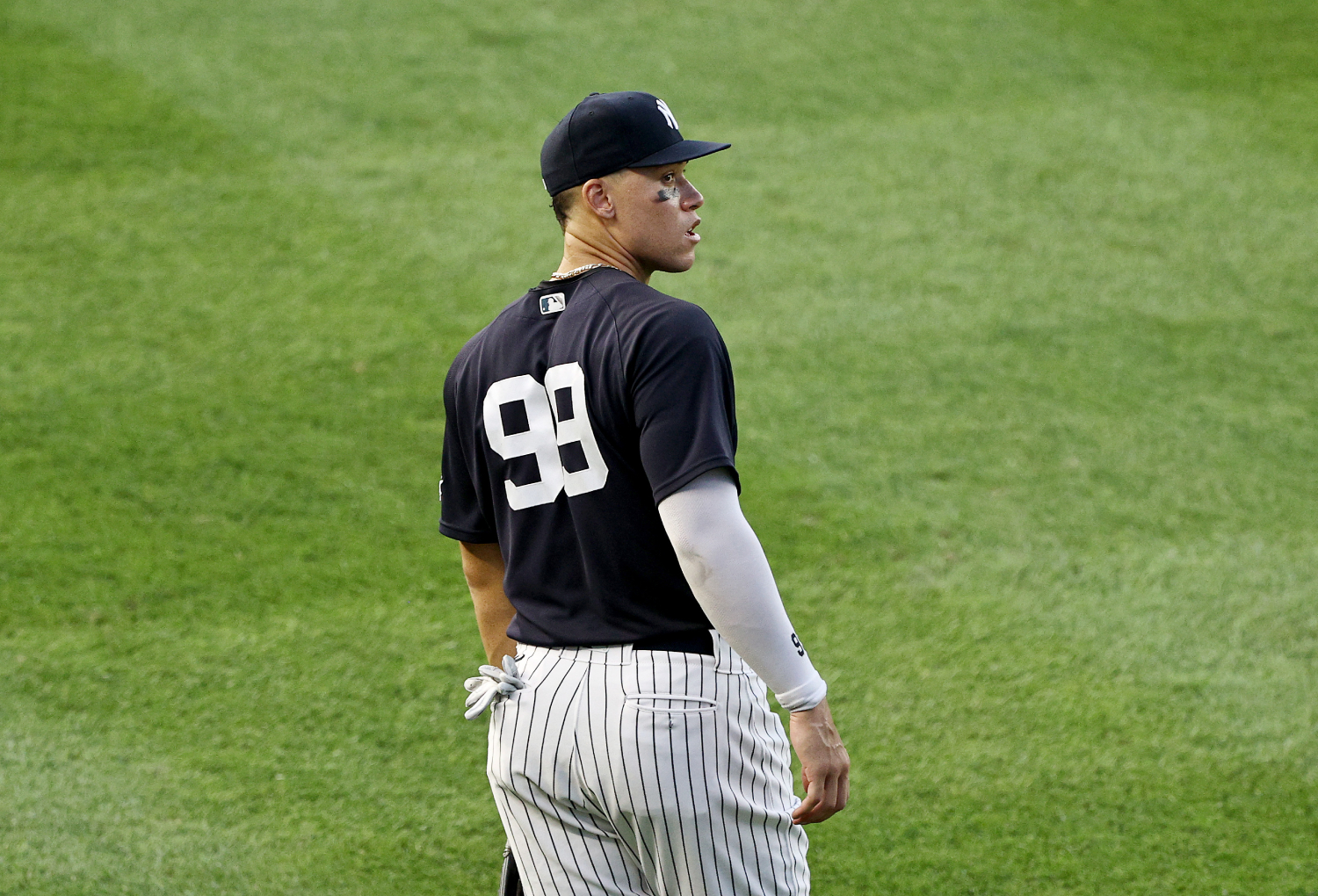 How Aaron Judge Came to Realize He Was Adopted
When he was about 10 years old, Aaron Judge asked why he didn't look like his parents. They told him he was adopted and it's never fazed him.
Aaron Judge is quickly becoming the new face of the New York Yankees. The 6-foot-7, 280-pound right fielder has been with the team for your seasons and has turned himself into a fan favorite. He's also a pretty good baseball player. Growing up, Judge was also an inquisitive kid and he asked his parents a very important question when he was 10 years old. He was told the truth and then simply went about his day as if it was no big deal.
Aaron Judge's baseball career
In 2010, Aaron Judge was drafted by the Oakland Athletics right out of Linden High School in Linden, California. He was selected in the 31st round but decided to attend Fresno State to play baseball. After a strong collegiate career, Judge was selected by the New York Yankees in the first round of the 2013 June amateur draft.
Judge made his big-league debut on Aug. 13, 2016, against the Tampa Bay Rays. He drew attention right away with a home run in that game. It was one of four he hit the remainder of that season. In 2017, Judge took over as an everyday starter and sent a message to the rest of the league. In his first full season, he captured Rookie of the Year honors by leading the league in home runs with 52.
Judge was more than just a power hitter. He finished the season with a .284 batting average and led the league in both walks (127) and strikeouts (208). Judge also drove in 114 runs and swiped nine bases. He finished second in the MVP voting. Judge has battled through some injuries the last two seasons, missing 50 games in 2018 and then 60 last season. He still managed to smack 27 home runs in each of those seasons.
Judge could have played football at Notre Dame
Aaron Judge was a three-sport star at Linden High School in California. According to Sports Illustrated, Judge set the school record for touchdowns by a wide receiver. He averaged 18.2 points per game as a center on the basketball team. Despite the success in all three sports, he decided on baseball.
According to nj.com, Mike Huber, Judge's football coach at Linden, Judge was offered multiple Division I college football scholarships. Those offers came from big-time schools such as Notre Dame, Stanford, UCLA, and more. "There wasn't anything he couldn't do," Huber said. Judge shocked Huber when he accepted a partial scholarship, for pitching, no less, to Fresno State.
Judge never shied away from his decision to play baseball. In fact, he never made any official visits to the schools offering him a football scholarship. "I actually commended him for that," said Huber. "Sometimes, you take a job and you hate it. I just think he loved baseball and he stuck true to his heart and it worked out great for him."
Judge found out he was adopted when he was 10
The day after he was born, Aaron Judge was adopted by Patty and Wayne Judge, something Aaron didn't find out until he was about 10 years old. He noticed he didn't resemble his parents in any way and asked them why. "I think it was like, 'I don't look like you, Mom and I don't look like you, Dad. Like, what's going on here?'" Judge said in an MLB.com article. "They just kind of told me I was adopted. I was like, 'OK, that's fine with me.' You're still my mom, the only mom I know. You're still my dad, the only dad I know.

"Nothing really changed. I honestly can't even remember too much, because it wasn't that big of a deal. They just told me I was adopted, and I said, 'OK, can I go outside and play?'"
Judge credits his mother for making him what he is today. "I know I wouldn't be a New York Yankee if it wasn't for my mom," Judge said. "The guidance she gave me as a kid growing up, knowing the difference from right and wrong, how to treat people and how to go the extra mile and put in extra work, all that kind of stuff. She's molded me into the person that I am today."