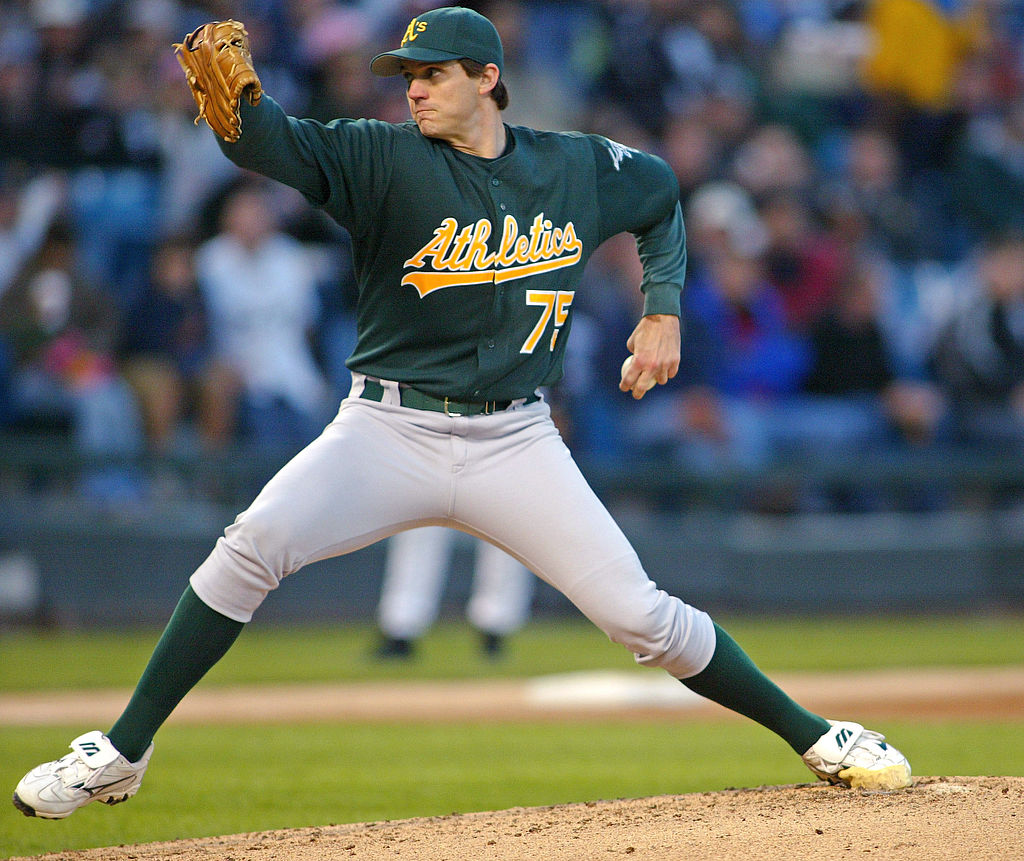 Whatever Happened to Oakland A's Cy Young Pitcher Barry Zito?
Barry Zito's baseball career peaked with a Cy Young Award, but dropped off after signing a huge deal with the San Francisco Giants.
Barry Zito's Major League Baseball career is a tough one to figure out. The southpaw with one of the best curveballs the big leagues has sever seen had an up-and-down career. Zito's time in the majors was highlighted by both a Cy Young Award and a World Series title, but the lefty hurler had a rough patch after inking a free-agent deal with the San Francisco Giants.
The glory days with the Oakland A's
The Oakland Athletics selected Barry Zito with the ninth overall pick in the 1999 MLB draft out of the University of Southern California. He made his Major League Baseball debut on July 22, 2000, tossing five innings in a 10-3 victory over the Anaheim Angels. He pitched in 14 games that season, winning seven, and compiled a 2.72 ERA. Zito finished sixth in the American League Rookie of the Year voting.
Zito's biggest season in Oakland came two years later when he won a league-high 23 games and finished with a 2.75 ERA. He edged Boston's Pedro Martinez, who went 20-4 with a 2.26 ERA. Zito also made the first of his three MLB All-Star appearances that season.
Zito's Cy Young season came on the heels of a terrific sophomore season when he won 17 games against eight losses and had a 3.49 ERA. In his first three seasons with the Athletics, Zito's record was 47-17. Following his Cy Young season, Zito was an AL All-Star again, going 14-12 with a 3.30 ERA. In his final season with the Athletics in 2006, Zito had another all-star season, going 16-10 with a 3.83 ERA.
Zito inks huge deal with Giants
After the 2006 season, Barry Zito signed a seven-year, $126 million deal with the San Francisco Giants. At the time, deal tied Vernon Wells' contract for the sixth-highest of all time. Zito thanked the Giants for the commitment and said he would be just as committed.
"It's a lot of years," he said. "I'm just so thankful that there's such a commitment there — thankful they would go out on a limb and trust my work ethic. I guarantee I'll do all the things to stay healthy. That kind of commitment is not something that a lot of people get."
With the Giants, Zito was committed, but not nearly as effective as he was in Oakland. He pitched seven years with the Giants, but managed just one winning season. His best year came in 2012 when he went 15-8 with a 4.15 ERA. The Giants won the World Series that year, sweeping the Detroit Tigers. In his career with the Giants, Zito went 63-80 with a 4.62 ERA.
Zito's life after baseball
Barry Zito has done a lot with his life after retiring from Major League Baseball. He's written a book called Curveball: How I Discovered True Fulfillment After Chasing Fortune and Fame (ISBN0785227881), a memoir book about his life and his conversion to Christianity.
He"s also been building on a foundation he created in 2005 called Strikeouts for Troops which develops creative programs and activities to support and raise money for injured troops and military families.

Zito's biggest passion, however, has been music. He grew up with music and spent a lot of time with his guitar, playing while he was on the road when in the big leagues. He became a singer-songwriter after his baseball days, but got started in the music business playing guitar in his sister's band during the offseason in the early part of his baseball days.
In 2017, Zito released his first EP No Secrets, a country collection of five songs, all of which he either wrote or co-wrote.