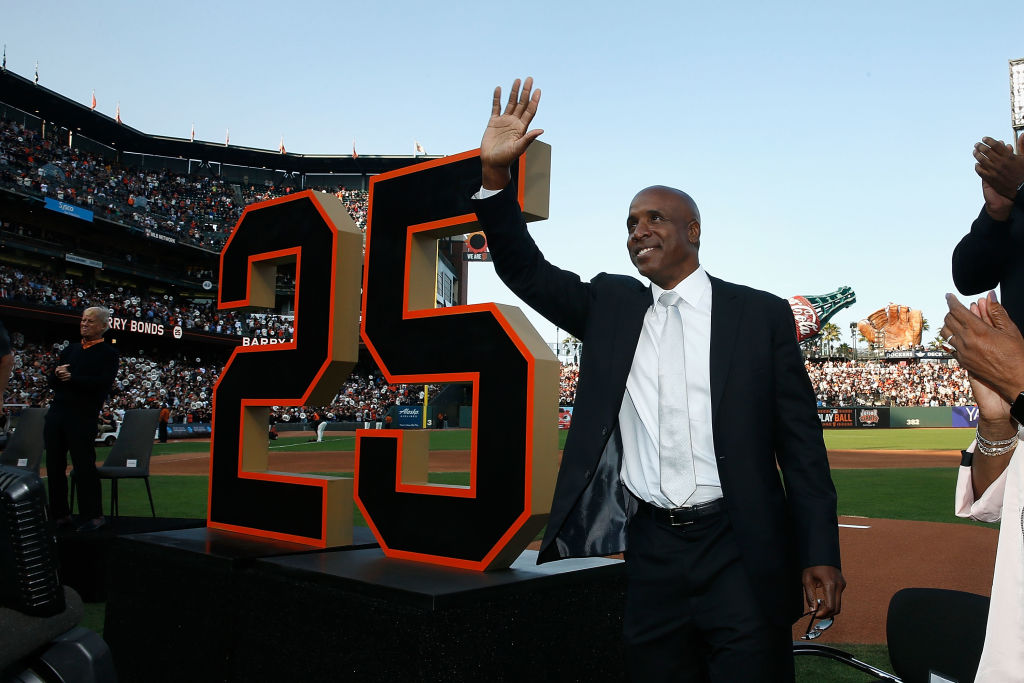 What Happened to San Francisco Giants Slugger Barry Bonds?
During the 2000s, few Major League baseball players were more famous than Barry Bonds. What happened to the San Francisco Giants slugger?
Whether you remember Major League Baseball's steroid era as an exciting time or a period of unforgivable cheating, it's impossible to forget. Seemingly everyone was belting home runs; guys like Sammy Sosa and Mark McGwire became household names. No one, however, became more emblematic of that stretch than San Francisco Giants slugger Barry Bonds.
Bonds last took the field as a player at the end of the 2007 seasons. What happened to the man who, for better or worse, became one of Major League Baseball's most prominent stars?
Barry Bonds' early baseball career
As the son of a former Major League player, Barry Bonds seemed destined for athletic greatness. He played baseball, basketball, and football in high school, before deciding to follow in his father's footsteps and ply his trade on the diamond.
Bonds then headed to Arizona State, where he immediately made an offensive impact. Despite posting a batting average above .360 during two of his three seasons with the Sun Devils, the outfielder wasn't popular with his teammates; for all his talent, they considered him "rude, inconsiderate, and self-centered."
Regardless of any potential character flaws, Bonds' talent was impossible to ignore. The Pittsburgh Pirates selected him with the sixth-overall pick of the 1985 draft; within a year, he was in the big leagues.
Becoming one of Major League Baseball's biggest stars
After a few seasons in Pittsburgh, Barry Bonds developed into a legitimate star. While he wasn't belting 70 home runs in a season, he was more than capable at the plate; in 1990, for example, he hit .301 with 114 RBIs, a .565 slugging percentage, and a .970 OPS, en route to his first MVP award. He would claim the title again in 1992 but left Pittsburgh at the conclusion of that campaign.
Bonds landed in San Francisco, where he continued producing at a prodigious pace. With each passing season, his batting average and power numbers climbed higher and higher; he also piled up an impressive number of walks as opposing batters were simply unwilling to pitch to him.
Bonds belted 73 home runs during the 2001 season; he would go on to break Hank Aaron's all-time home run record in 2006. The outfielder played one more season after that, hitting free agency end of the 2007 campaign. While he never officially retired, no team was willing to offer him a contract.
Despite his unprecedented statistical dominance, Bonds won't be remembered for any of those numbers. The slugger has become one of the main faces of the steroid era. While he was posting impressive numbers even during his days with the Pirates, the fact that he used performance-enhancing drugs have made him a persona non grata for most baseball fans.
What happened to Barry Bonds?
Despite his reputation as a cheater, Barry Bonds is still involved with Major League Baseball. He spent a season as the Miami Marlins hitting coach, but didn't find much success. It's often hard for star players to explain what comes naturally to them, but Bonds reportedly didn't put much effort into his new role.
These days, however, Bonds has returned to his old stomping grounds in San Francisco. Serving as a special adviser to the team's CEO, he "represents the organization at various community and organizational events in San Francisco. He also attends the Giants' Spring Training Camp in Scottsdale, Arizona, and works with the organizations' young players."