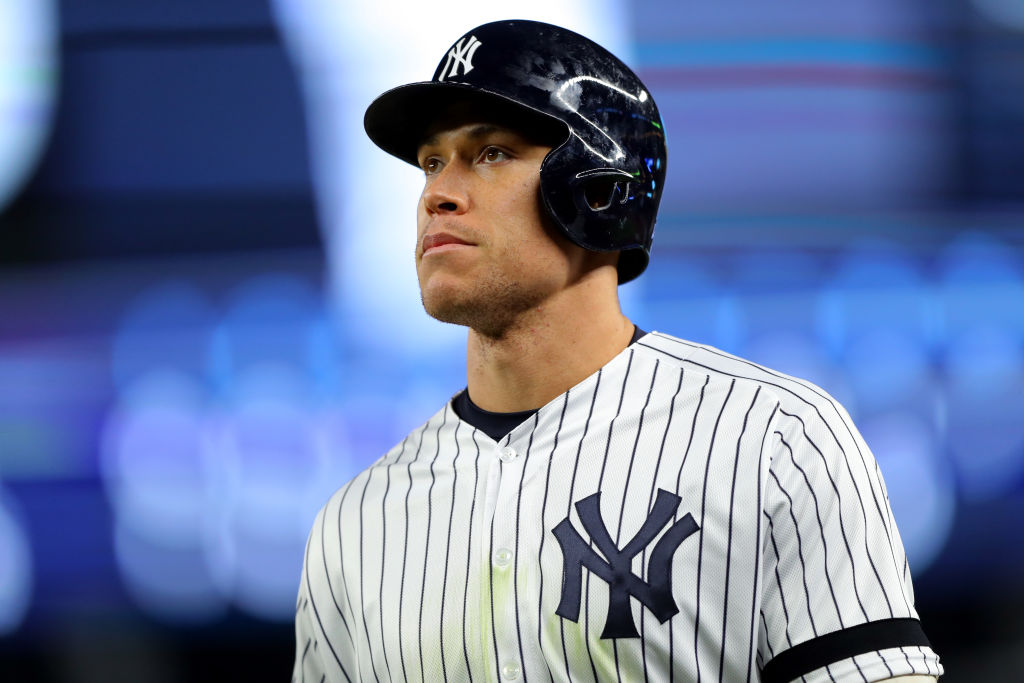 Who Are Aaron Judge's Parents?
The right fielder has had quite a path to MLB. His disciplined approach to MLB starts with his family. So who are Aaron Judge's parents?
Currently one of the best sluggers in MLB, Aaron Judge is the latest in a long line of great Yankees outfielders along with Babe Ruth, Lou Gehrig, Mickey Mantle, Joe DiMaggio, and Bernie Williams. While Judge has a ways to go before he reaches those players' feats, he's off to a great start three seasons into his MLB career.
Judge has had quite a path to reach MLB. His disciplined, consistent approach to baseball starts with his great family life. It begs the question: Who are Aaron Judge's parents? 
Aaron Judge's MLB career
In 2016, Judge had 95 plate appearances as a late-season call-up, but 2017 was his rookie year. That was Judge's best season to date, as he hit 52 home runs and 114 RBI. The Linden, California native batted .284 with a .422 on-base percentage.
Judge was AL Rookie of the Year and finished second in the MVP voting to the Astros' Jose Altuve. It's highly likely that Judge would've won the award had Altuve not been aided by the Astros' illegal sign-stealing scandal, which MLB punished the team for this season. Here are Judge's career stats so far: 
18.6 WAR
387 hits
110 home runs
.273 batting average
.394 on-base percentage
.558 slugging percentage
.952 OPS
Judge is a two-time All-Star. Baseball-Reference prepares similarity scores to put players' careers into the proper context. Judge compares favorably to the following players so far in his career: 
Miguel Sano
Juan Soto
Cody Bellinger
Kyle Schwarber
Ronald Acuna, Jr. 
Aaron Judge's rise to MLB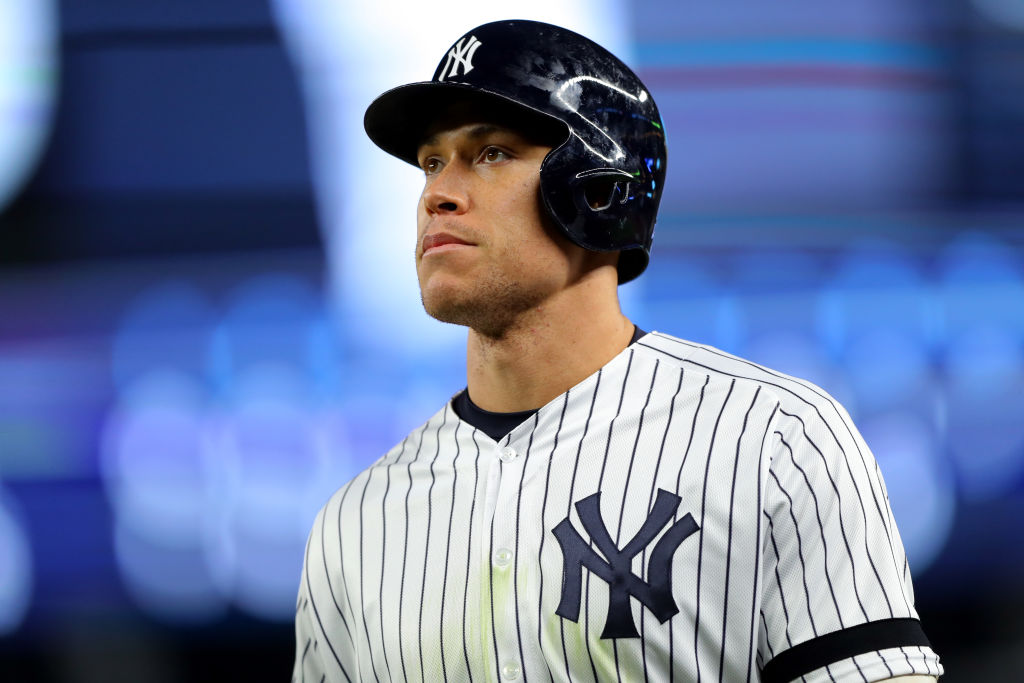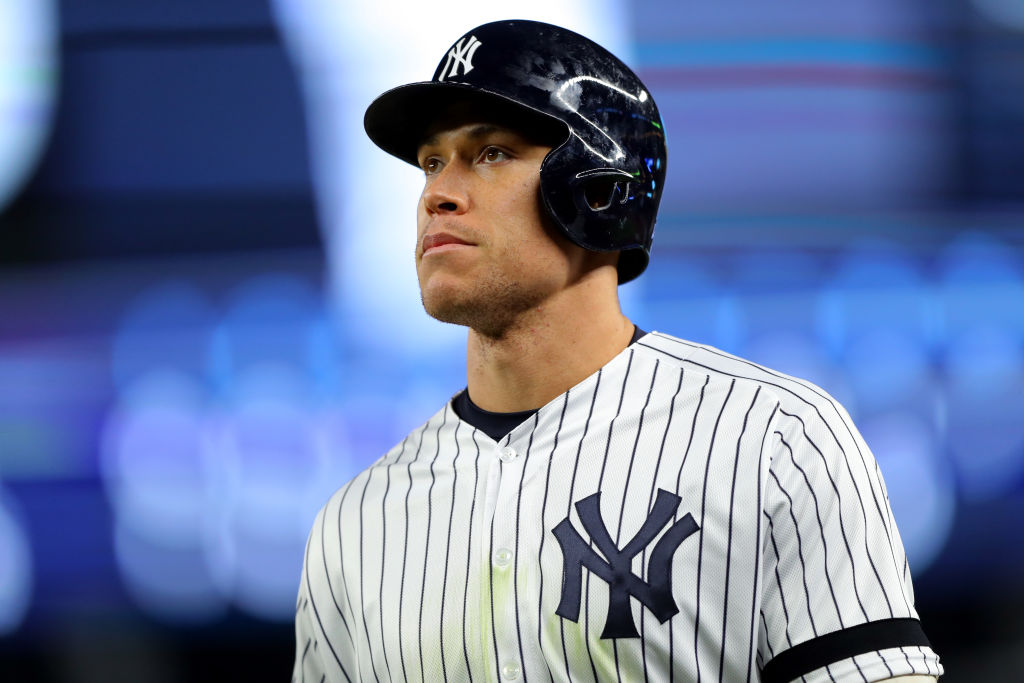 Now, Judge is firmly ensconced in right field for the Yankees. It's been a long journey to the majors for him. The Oakland Athletics drafted Judge out of high school in the 31st round of the 2010 MLB Amateur Draft. Instead, he opted to try his luck at the NCAA level. He played one season at Fresno State. There he hit 12 home runs with 36 RBI and a .369 batting average.
The Yankees selected him with the 32nd overall selection in the first round of the 2013 MLB Amateur Draft. He played four seasons in the minors for the Yankees with stops at Tampa, Charleston, Trenton, and Scranton-Wilkes Barre.
Judge's last season in the minors showed he was ready for the big leagues. In 2016 playing for the Scranton-Wilkes Barre RailRiders, Judge hit 19 home runs, 65 RBI, and 95 hits. 
His time in college and the minors shows how hard Judge has worked. His natural talent combined with his work ethic makes him one of the greatest hitters in MLB. But every great player needs a strong support system, and Judge definitely has this, starting with his parents. 
Who are Aaron Judge's parents? 
Wayne and Patty Judge are Judge's parents. The two retired physical education teachers from California adopted Judge when he was a newborn, only two days old in 1992.
Judge has a great relationship with his family and credits them with a lot of his success: "My parents are amazing, they've taught me so many lessons. I honestly can't thank them enough for what they've done for me."
Judge's case was a closed adoption, meaning he never had any contact with his biological parents. Judge has never sought them out either. According to Judge, "I have one set of parents, the ones that raised me. That's how it is."
The story of Judge's family is an inspiring one. It shows that a player's family can really shape their career. It also demonstrates that families come in all shapes, types, and sizes.
Follow more updates from Sportscasting on our Facebook page.