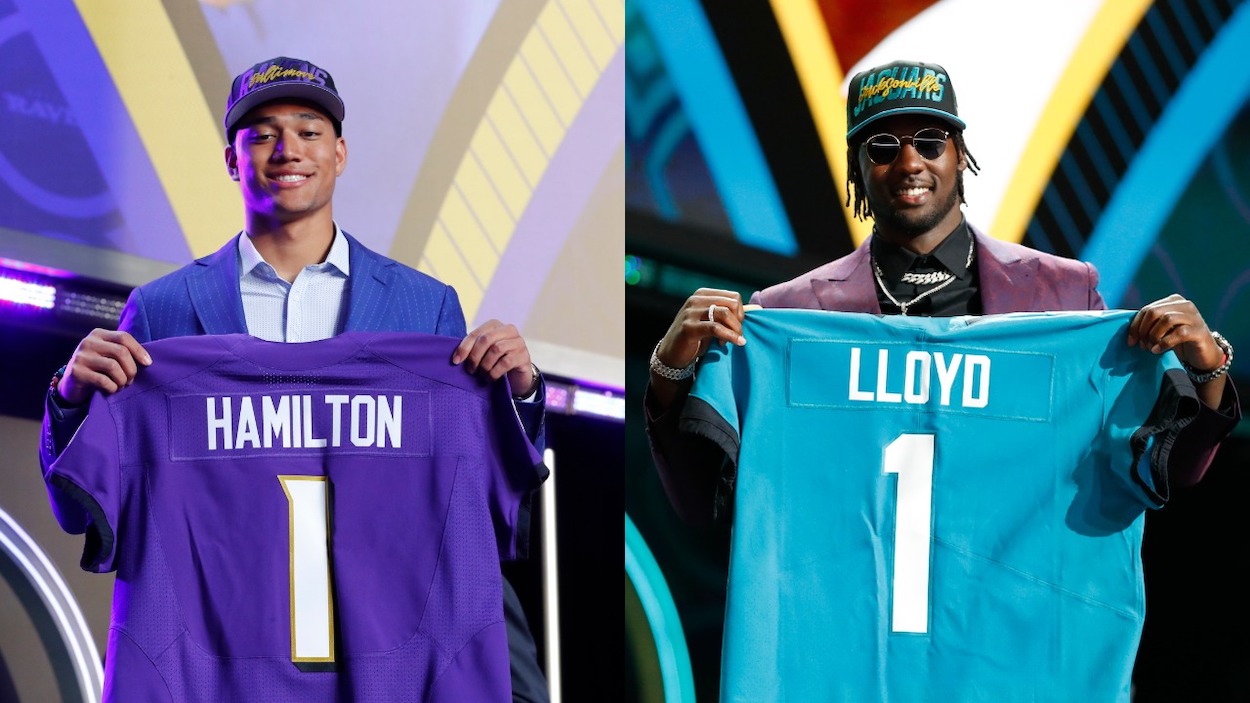 NFL Draft: Round 1 Winners and Losers
In the NFL, we keep score on and off the field. Because of that fact, here are the 2022 NFL Draft winners and losers from Round 1.
Round 1 of the 2022 NFL Draft is in the books. It was a historic night with the most trades in first-round history and the most defensive players from one team (Georgia Bulldogs) going in the first round. So, since this is football and we always keep score, the question is, who are the NFL draft winners and losers of the first round?
WINNER: New York City 
The New York Jets and New York Giants had four first-round picks between them and ended up with five total players. While many pessimistic New Yorkers expected their franchises to mess up at least one of those picks, neither did. That's why they top this NFL draft winners and losers list.
The best-case scenario for Big Blue was to come away with a premium pass-rusher and offensive tackle, and it did just that. There may be some question marks about Kayvon Thibodeaux's want-to, but his talent is undeniable. If Brain Daboll and company can get the best out of him, that's a home run.
Also, Evan Neal is the most versatile offensive lineman in the draft, and he should find a place somewhere on the Giants' line for years to come.
Gang Green had an even better night. The Jets got Ahmad "Sauce" Gardner, who should be Richard Sherman 2.0 in Robert Saleh's defense. They also picked up the No. wide receiver on my board, Garrett Wilson. The former Ohio State pass-catcher seems like the most likely candidate to turn into next season's Ja'Marr Chase or Justin Jefferson if Zach Wilson can get him the ball.
The Jets weren't done there, though. They saw one of the best pass-rushers in the draft, Jermaine Johnson II falling and traded back up to No. 26 to get him. Johnson was a top 12 prospect in this year's class and, after his 11.5 sack performance at Florida State last season, could have a monster upside. Plus, he's the most versatile rusher in the class. He can play on the left or right side, either standing up or with his hand in the dirt.
Big night for the Big Apple.
LOSER: Jacksonville Jaguars
Some of this wasn't the Jacksonville Jaguars' fault. The team had the No. 1 overall pick in a year where there wasn't a truly deserving No. 1 pick on the board. Picking Travon Walker was a swing for the fences, but it's a risky one.
Walker was a defensive tackle at Georgia before fellow first-rounders Jordan Davis, and Devonte Wyatt beat him out. The Bulldogs moved him to the edge, and he had just 6.0 sacks to show for it on the most dominating D in college football.
It really seems 50/50 that Walker develops into a difference-maker, and those are tough odds to bet on at No. 1.
Mistake No. 2 is the Jags' fault. Trading back into the first round for off-ball linebacker Devin Lloyd was a mistake. Not only is that not a premium position that doesn't warrant trading up to get, Lloyd is solid but has some flaws in his game. Teams were able to confuse him and scheme him out of games in college, and that's only going to continue at the next level.
Worst of all, Lloyd might have been there six picks later when the Jags picked at No. 33. Even if he wasn't Georgia LB Nakobe Dean definitely is, and he's smaller but just as good a long-term prospect as the former Utah LB.
That blunder put them on the loser side of this NFL draft winners and losers list.
LOSER: Pittsburgh Steelers 
After tens of thousands of words were spilled in mock drafts around the internet debating how many quarterbacks would go in Round 1 and how high should they go, only one team actually pulled the trigger on a signal-caller in this lackluster class.
And they picked the wrong one.
The Pittsburgh Steelers took Pitt's Kenny Pickett at No. 20 over Malik Willis, Desmond Ridder, Matt Corral, and Sam Howell. The thing is, the Steelers already have Mitchell Trubisky and Mason Rudolph, yet they picked another QB of that ilk.
Pickett is the most NFL-ready QB in this draft, but a lot of that is because he'll be 24 when the NFL season starts, which is a full year or more older than the rest of the top QBs (except Corral, who is just six-months younger).
Almost 20 years ago, the Steelers took a gamble on a big, strapping small school QB from Miami (OH), and it paid off big time. They should have made a similar move on Willis and missed out.
WINNER: Baltimore Ravens, as usual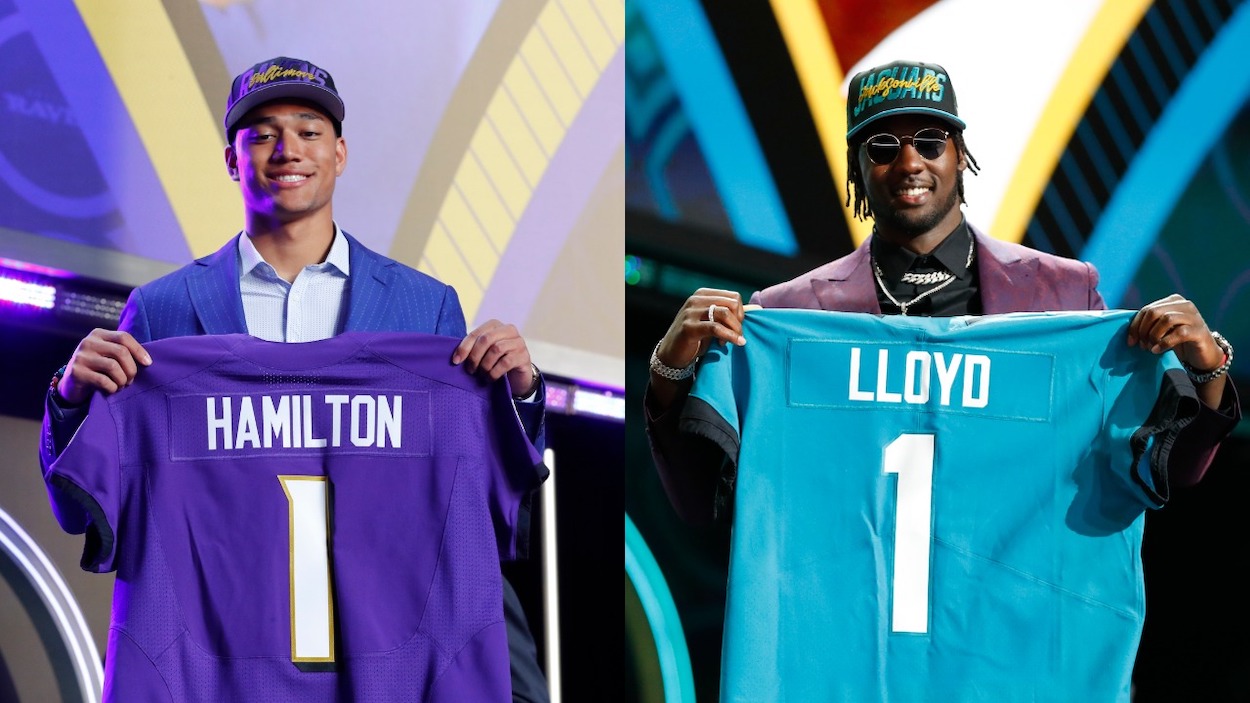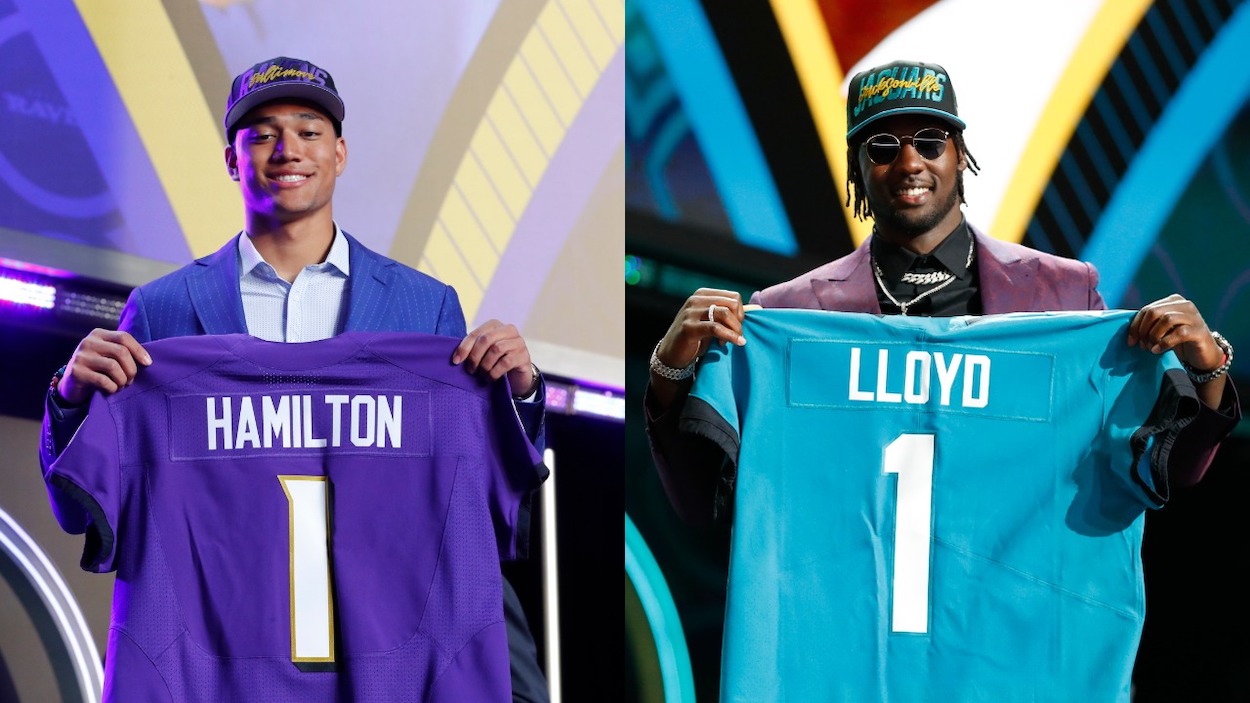 It's getting boring to anoint the Baltimore Ravens as winners of NFL draft night, but they did it again.
They got arguably the best player in the draft at a reasonable spot when they picked Notre Dame's Kyle Hamilton at No. 14. Again, looking at history, the Ravens made a similar move in 2002 when they took Ed Reed at No. 24, and he's got a Super Bowl ring and a gold jacket now. Hamilton could be on the same path.
They also traded mediocre WR Marquise "Hollywood" Brown to the Arizona Cardinals for pick No. 23, then traded back two spots with the Buffalo Bills. With those moves, they picked arguably the best lineman in the draft in Iowa center Tyler Linderbaum. This feels like a Marshall Yanda-type pick, which will solidify the center of the Ravens line for years to come.
????: Tennessee Titans
The Tennessee Titans made the shocking move of the night, sending Pro-Bowl WR A.J. Brown to the Philadelphia Eagles for the No. 18 pick. In that slot, the Titans chose Arkansas wideout Treylon Burks, whose profile compares favorably to Deebo Samuel or Brown himself.
In addition to finding a ready-made replacement for Brown, the team also saved itself around $22 million per year with a rookie WR over Brown and his massive new contract extension.
Burks is unproven, so it's hard to know where to put the Titans on this list of NFL draft winners and losers. If Burks pans out, the Titans are winners for sure. If not, they're losers. Simple as that.
Like Sportscasting on Facebook. Follow us on Twitter @sportscasting19.