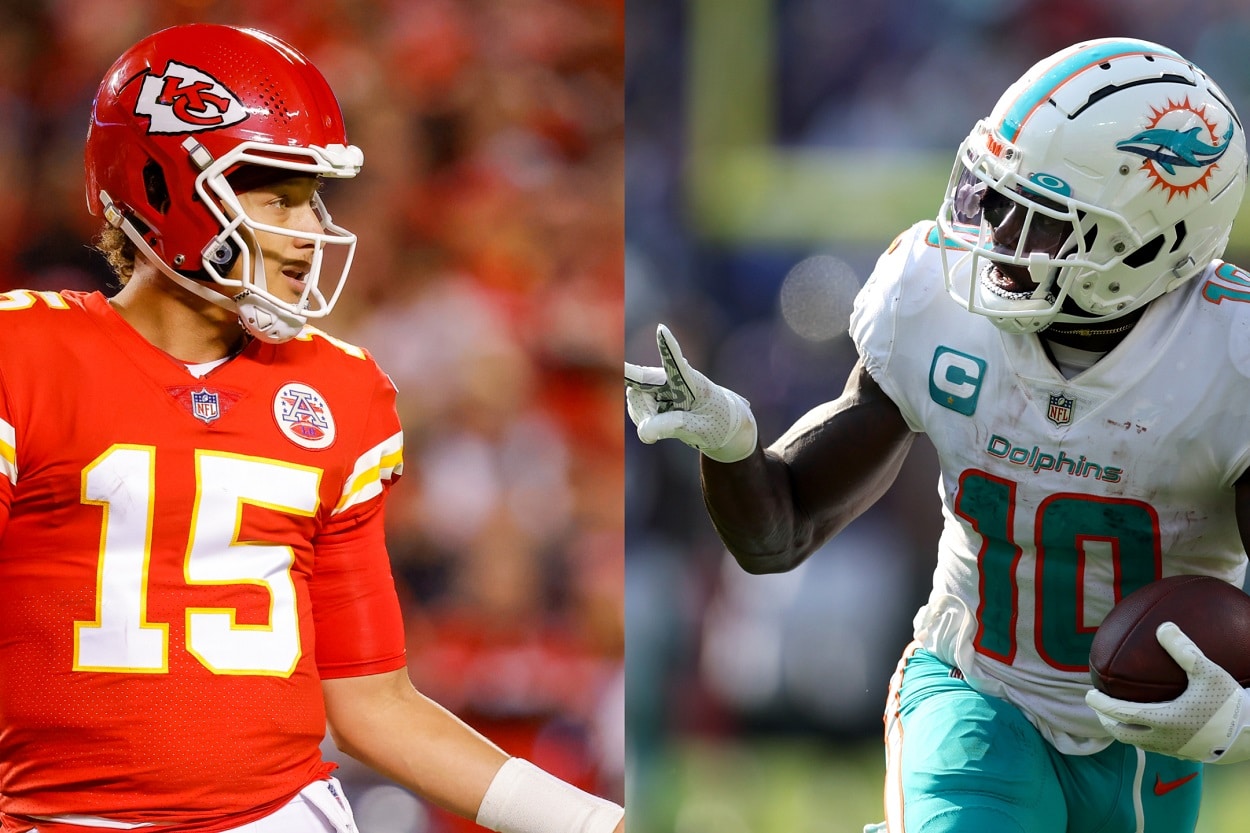 NFL MVP Rankings: Tyreek Hill's Transformative Season Makes Him a Top Threat to Patrick Mahomes
A look at the top seven players in the running for NFL MVP midway through the 2022 regular season.
Patrick Mahomes may be the favorite to win NFL MVP honors at the midpoint of the 2022 season, but he faces stiff competition for the league's most coveted award. And in a true stroke of irony, one of the biggest threats to the star signal-caller's candidacy happens to be his former Kansas City Chiefs teammate. 
Although the MVP trophy typically goes to a high-profile quarterback, Tyreek Hill's sensational debut with the Miami Dolphins could force voters to go in a different direction.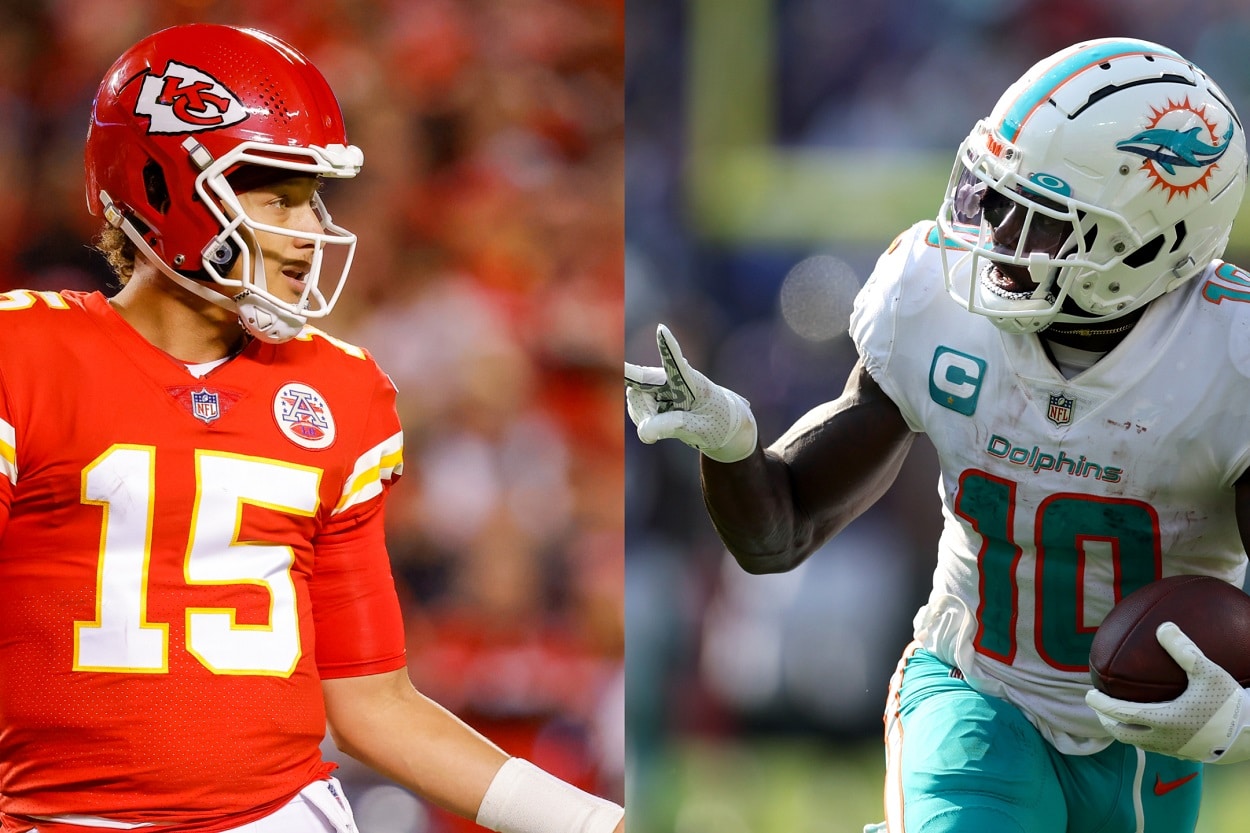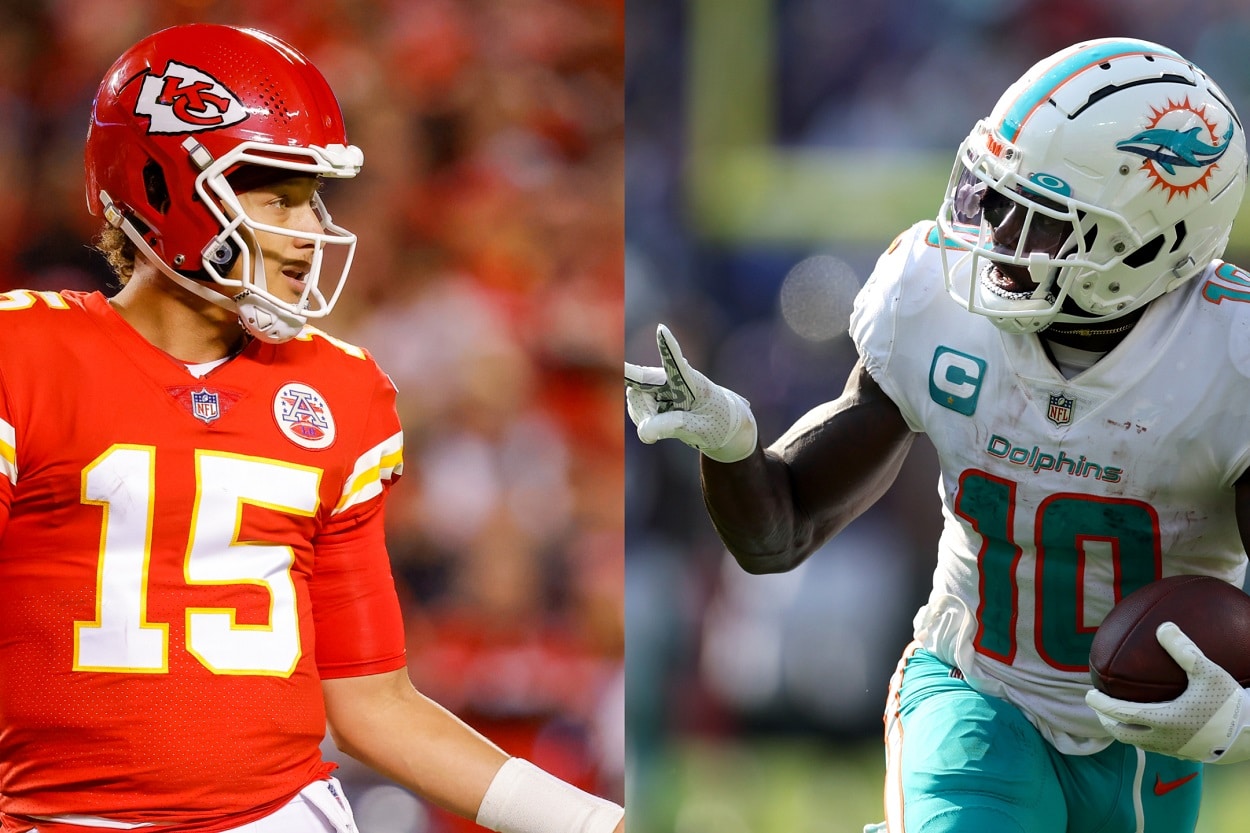 After all, while Mahomes certainly deserves strong consideration for his own prolific play, his former No. 1 wideout has undoubtedly transformed the Dolphins' dismal offense into an explosive unit that should become even more difficult to stop as the team masters Mike McDaniel's system. 
Ultimately, the second half of the season offers ample opportunity for top MVP candidates like Mahomes, Hill, and Josh Allen to build their cases. 
At this point, though, here's how I'd rank the top seven contenders, starting with a quarterback who could easily jump up this list if he gets better protection moving forward.
7. Joe Burrow, QB, Cincinnati Bengals
Joe Burrow just edges out fellow AFC North star Lamar Jackson for the No. 7 spot. While his Baltimore Ravens counterpart continues to do damage with his running ability, Burrow's passing acumen makes him a more deserving candidate for the NFL MVP award. 
Just how good has the 2020 No. 1 overall pick been in his third season? Despite playing behind an offensive line that still can't figure out how to keep him out of harm's way, Burrow has completed 70% of his passes for 2,535 yards (third in the NFL) and 18 touchdowns (also third). Plus, the resilient signal-caller has added four touchdowns on the ground while keeping the Bengals in the hunt for a division title. 
However, Burrow's chances of winning his first MVP award hinge heavily on whether Cincinnati's overhauled offensive line can step up during the team's final eight regular-season games. If so, he could find himself in the running against Mahomes and Hill. 
If not, the reigning AFC championships and their biggest star will likely be watching the playoffs from home.
6. Tua Tagovailoa, QB, Miami Dolphins
Has there been an NFL player who's undergone more scrutiny and setbacks this season than Tua Tagovailoa? Yet after facing criticism for his play and overcoming a scary concussion situation, he's been even better than Burrow. 
In fact, the numbers suggest that Tagovailoa has arguably been the best passer in the league. 
The 24-year-old leads all players at his position with a 79.9 QBR–a significant leap from the 55.7 mark he posted in 13 games a year ago. Plus, for someone who supposedly doesn't have great arm strength, Tagovailoa also ranks No. 1 in yards per attempt (9.2). 
Perhaps most impressive of all? The talented lefty has posted an elite touchdown-to-interception ratio of 15:3, which puts him ahead of all of his peers with a 6.9% touchdown rate. Oh, and with the Dolphins firmly in the mix for a playoff spot, there's no doubt Tua should be in the mix for MVP honors—even after missing two and a half games.
5. Geno Smith, QB, Seattle Seahawks
Any speculation about Geno Smith's ability to sustain a high level of play should be gone now. At this juncture, it's clear the veteran journeyman isn't just an upgrade over the 2021 version of Russell Wilson. 
He's better than the 2022 version, too. 
Like Tua, Smith has done a fantastic job taking care of the football. With 15 passing touchdowns (tied for fourth), 2,199 passing yards (sixth), and a mere four interceptions, the 32-year-old has objectively transformed into an elite quarterback in his ninth NFL season.
With Smith operating at an MVP level, the Seattle Seahawks have surprised everyone by getting off to a 6-3 start. If he takes advantage of winnable matchups against the Las Vegas Raiders (2-6), Los Angeles Rams (3-5), and Carolina Panthers (2-7) over the coming weeks, don't be surprised if he thrusts himself into top-three territory.
4. Josh Allen, QB, Buffalo Bills
Expected to be the frontrunner for the MVP award, Josh Allen has seen his candidacy take a bit of a hit in recent weeks. However, don't count the 6-foot-5, 237-pounder out of the running yet, assuming he's able to fight through this elbow injury anyway.
Despite putting together less-than-stellar performances in back-to-back weeks, the Buffalo Bills star remains near the top of the leaderboard in most statistical categories. Allen ranks third in QBR (74.2), second in passing touchdowns (19), and fourth in passing yards (2,403). 
Of course, the talented athlete has also been a menace with the ball in his hands. With nearly 400 yards and four touchdowns on 62 carries, Allen looks poised to surpass last year's career-high of 763 rushing yards. That dual-threat skill set should allow him to put up big numbers down the stretch against a slate of defenses that all rank in the bottom third of the league in points allowed. 
With matchups against the Cleveland Browns (24th), Detroit Lions (32nd), Miami Dolphins (25th), and Chicago Bears (21st) on the horizon, Allen can remind everyone why he entered the season as the odds-on favorite to capture MVP honors. Plus, he has two chances to expose a New England Patriots defense that showed no ability to slow down the Bills in either of their two most recent battles.
3. Tyreek Hill, WR, Miami Dolphins
Not even the great Jerry Rice won the MVP award during his illustrious career. 
Could Tyreek Hill become the first receiver to do so? 
When you consider his individual brilliance and his impact on his new team, it's impossible not to include him in the conversation. In fact, the perennial Pro Bowler may be playing the best ball of his own Canton-worthy career. 
Although Hill has only found the end zone three times, he leads the league in both receptions (76) and yards (1,104). By dominating secondaries on a weekly basis, the explosive wideout is on pace to break Calvin Johnson's single-season record of 1,964 receiving yards–a remarkable feat considering he spent the last four years catching passes from Patrick Mahomes. 
Besides providing fantasy owners and Dolphins fans with plenty to cheer about, Hill has helped unlock the best out of both Tua and 2021 first-rounder Jaylen Waddle. Coming off a rock-solid rookie campaign in which he surpassed 1,000 receiving yards but only recorded 9.8 yards per reception, Waddle has nearly doubled that mark (17.3) while matching his 2021 total of six touchdown grabs through just nine games.
Clearly, trading for Tyreek Hill will go down as a franchise-altering move on multiple levels for the Dolphins. And if the speedy playmaker keeps building chemistry with Tua, he could keep climbing up the MVP rankings–and put his team in a position to topple Mahomes and the Chiefs or Allen and the Bills.
2. Jalen Hurts, QB, Philadelphia Eagles
A year after Josh Allen announced his arrival as a bonafide star, Jalen Hurts has done the same. Of course, it helps to have a stout offensive line and excellent weapons. 
But make no mistake about it: Hurts has been one of the best players in a league full of great ones through the first half of the season. 
Philadelphia's acquisition of A.J. Brown couldn't have come at a better time for a quarterback who entered 2022 with questions to answer. With the big-bodied receiver routinely getting open, Hurts has experienced a significant year-three leap that should cement his case as the guy for the Eagles moving forward.
Hurts has increased his completion percentage from 61.3 to 68.2, raised his yards-per-attempt average from 7.3 to 8.5, and lowered his interception rate from 2.1 to a paltry 0.8. 
Oh, he's also racked up 326 yards and six touchdowns as a runner in his second full season as a starter. By leading the Eagles on a scorching 8-0 start, Hurts has not only put his team in a strong position to represent the NFC in Super Bowl 57, but he's also put himself squarely in the conversation for MVP honors.
1. Patrick Mahomes, QB, Kansas City Chiefs
Coming off a down season by his lofty standards, Patrick Mahomes has looked more like the player who took the NFL by storm in 2018. Even though he may not match the 50 passing touchdowns he posted in his first year as a starter, he certainly looks poised to come awfully close. 
In addition to leading the league with 21 passing TDs, Mahomes ranks No. 1 in passing yards (2,605). His 75.4 QBR puts him just behind Tua, who's attempted more than 100 fewer passes than the Chiefs superstar. And when you consider he's accomplished all of that after his team traded away one of the most productive receivers in NFL history, that only makes his candidacy look even stronger. 
As the face of the NFL and the leader of a 6-2 Chiefs team that seems poised for another deep playoff run, Patrick Mahomes is in prime position to earn his second MVP award. 
Ultimately, though, the uber-competitive, uber-talented quarterback will only call this season a success if he wins a second Super Bowl ring.
Have thoughts on this topic? Keep the conversation rolling in our comments section below.