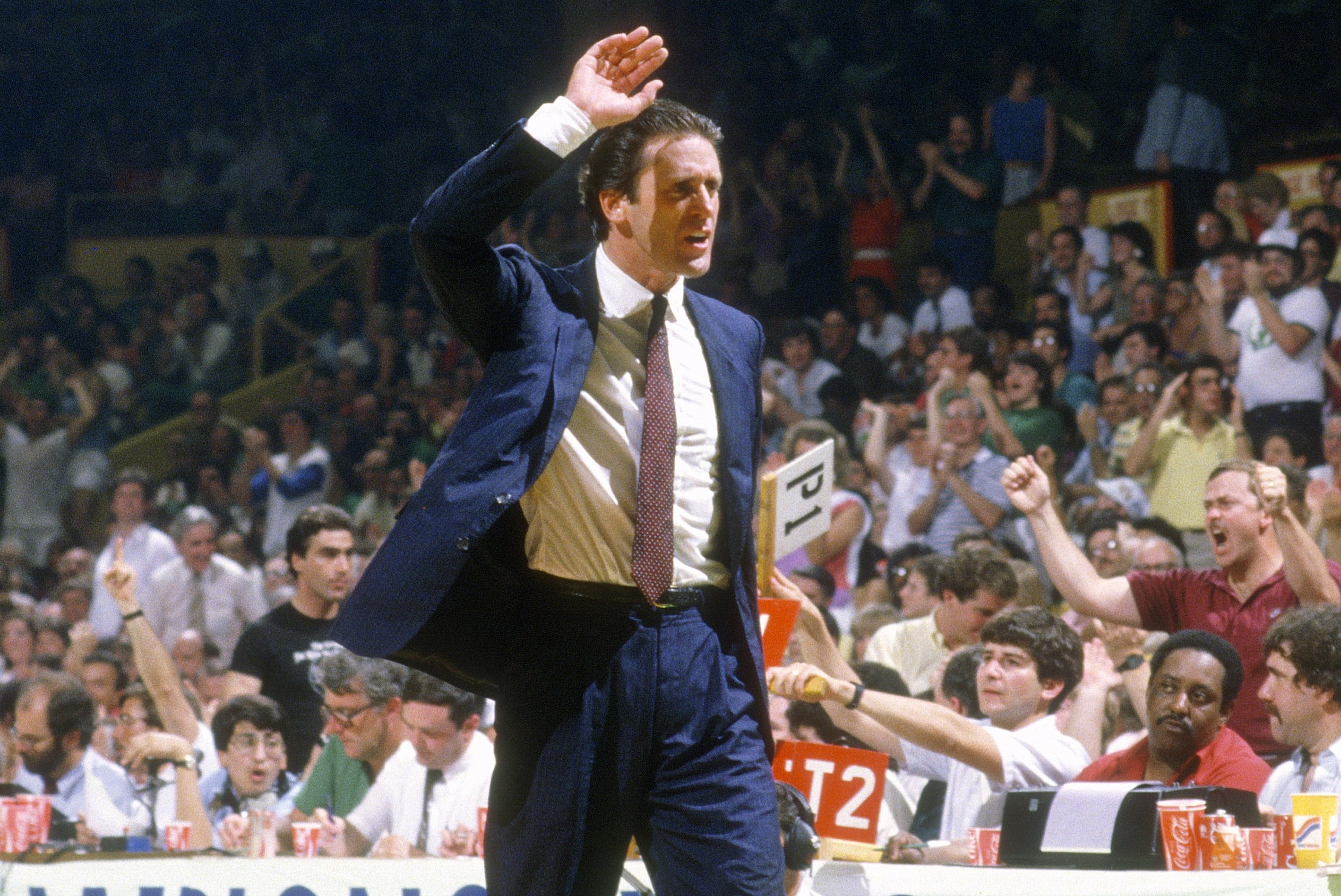 Pat Riley Took the Blame After the Boston Celtics Stunned the Lakers in Game 2 of the 1984 Finals: 'It Was the Biggest Mistake of My Career'
Pat Riley said he was to blame for his LA Lakers melting down in Game 2 of the 1984 NBA Finals.
Game 2 of the 1984 NBA Finals is one that many Los Angeles Lakers fans and former players would love to forget. Having already stolen homecourt advantage from the Boston Celtics with a 115-109 victory in Game 1, they appeared well on their way to taking a 2-0 series lead back home.
The Lakers held a two-point lead in the waning seconds and had possession of the ball. James Worthy's cross-court pass was picked off by Gerald Henderson, who laid it in for a game-tying layup. Boston won in overtime. Worthy was crushed after the game, but Pat Riley took full blame.
Pat Riley and the LA Lakers let a championship get away in 1984
James Worthy said he still gets night sweats when he thinks about that errant pass intended for Byron Scott with 13 seconds left in Game 2.
"Magic Johnson grabbed it and threw it to me," Worthy recalled on Off the Dribble: The Byron Scott Podcast in 2021. "I was nervous as a scarecrow because here we are 13 seconds away from winning Game 2. I'm in the backcourt, but I need to get rid of it. I didn't even look nor think. I just tried to throw… (it was) an errant pass to you. You were way out of the play.
"Gerald Henderson was just licking his chops. Man, to this day, I wake up at night with sweat because he went for that layup and I can still feel that leather just go from my hand. That was our fourth championship. I'll always say that was our fourth championship but just came up short.
"We still had a chance in Game 7, but Game 2 was the one. It was a painful year, but it was a learning year at the same time."
The Lakers blew out the Celtics in Game 3 and held a six-point lead in the third quarter of Game 4. That's when Kevin McHale clotheslined Kurt Rambis, shifting the momentum in Boston's favor. The Celtics eked out another overtime victory.
The Celtics outlasted the Lakers in seven games in a series that, if not for Henderson's steal, the Lakers would have likely been up 3-0.
Riley took the blame for the Game 2 loss
Before Worthy's errant pass, Boston's Kevin McHale went to the free-throw line with 20 seconds left and his team trailing 113-111. A 78% foul shooter, McHale missed both shots, and Magic Johnson grabbed the rebound. All the Lakers had to do was run out the clock or wait to get fouled.
Instead, he called a timeout, giving the Celtics a chance to come up with a defensive game plan. Lakers coach Pat Riley instructed Johnson to call a timeout if McHale made the free throws and tied the game.
"I'm to blame," Riley admitted in Jackie MacMullan's book When the Game Was Ours. "It was the biggest mistake of my career. I was so busy on the sidelines talking to my players and preparing for the final seconds, I never even looked up to see if McHale made the free throws.
"I just assumed he did. Earvin did what he was told. It was my fault. I should have been more conscious of what was unfolding. My best player had rebounded the ball, and all he had to do was run up the floor and the game would have been over."
There were plenty of mistakes to go around for the Lakers in Game 2. That loss proved costly, preventing the Lakers from another championship in the decade.