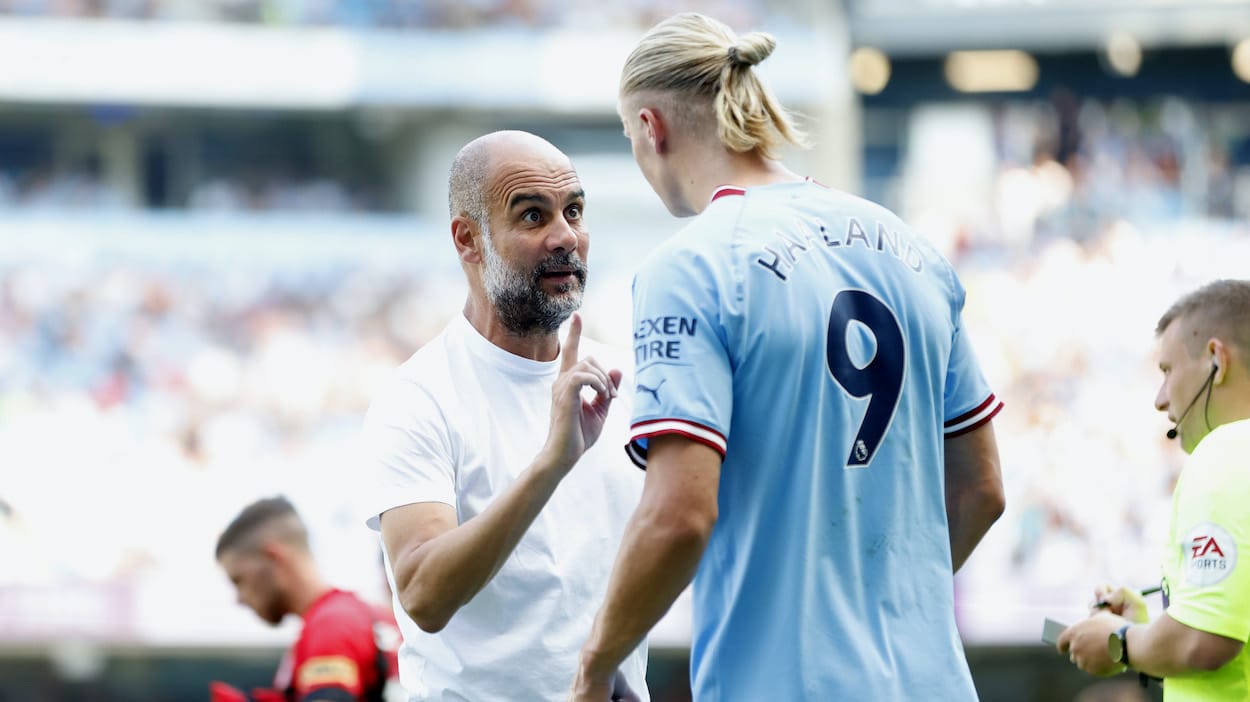 Pep Guardiola 'So Upset' With Erling Haaland After Manchester City Crushes Southampton
Erling Haaland is tearing up European football in 2022 and his Manchester City manager Pep Guardiola can't help but joke about it.
The 2022-23 Manchester City freight train kept on rolling Saturday when the Cityzens easily took down Southampton 4-0. With his team's goal differential now at +24 and his new striker Erling Haaland scoring at a record rate, City manager Pep Guardiola doesn't have much to complain about. That's why he's taken to (sarcastically) complaining about his star soccer player only scoring one goal in his last game.
Pep Guardiola jokingly called out his star striker for only scoring one goal vs. Southampton
Coming into the Matchday 10 Premier League tilt vs. Southampton, Manchester City striker Erling Haaland was on fire. After scoring two goals in his EPL debut, Haaland only managed an assist in his second EPL appearance. After that, Haaland ripped off 12 goals in his next six EPL matches, scoring at least one in each.
The Champions League has treated Haaland just as well. The big Norwegian has five goals in three 2022-23 UCL matches.
Against Southampton, the now-17th-place team in the Premier League, on Saturday, Haaland's goal streak looked like it was in danger. Joao Cancelo and Phil Foden scored for Manchester City in the first half, and Riyad Mahrez put one in early in the second to make the game 3-0.
However, Haaland was not to be denied. In the 65th minute, the striker floated to the middle of the 18-yard box and drove home a driven cross from Cancelo to make the score 4-0.
After the match, when asked about Haaland's prolific and possibly record-breaking scoring streak, Pep Guardiola answered sarcastically:
I'm so upset with him. He didn't score three goals, so that's why the petition to sack him from the Premier League isn't going to happen.
Not scoring a hat trick every time out is just about the only thing Guardiola could possibly be upset with Haaland about. Although, Premier League fans that support other teams are mad at Haaland for something, as Guardiola alluded to in his statement. They're angry at the Man City forward for being too good.
Manchester City striker Erling Haaland is so good opposing fans want him kicked out of Premier League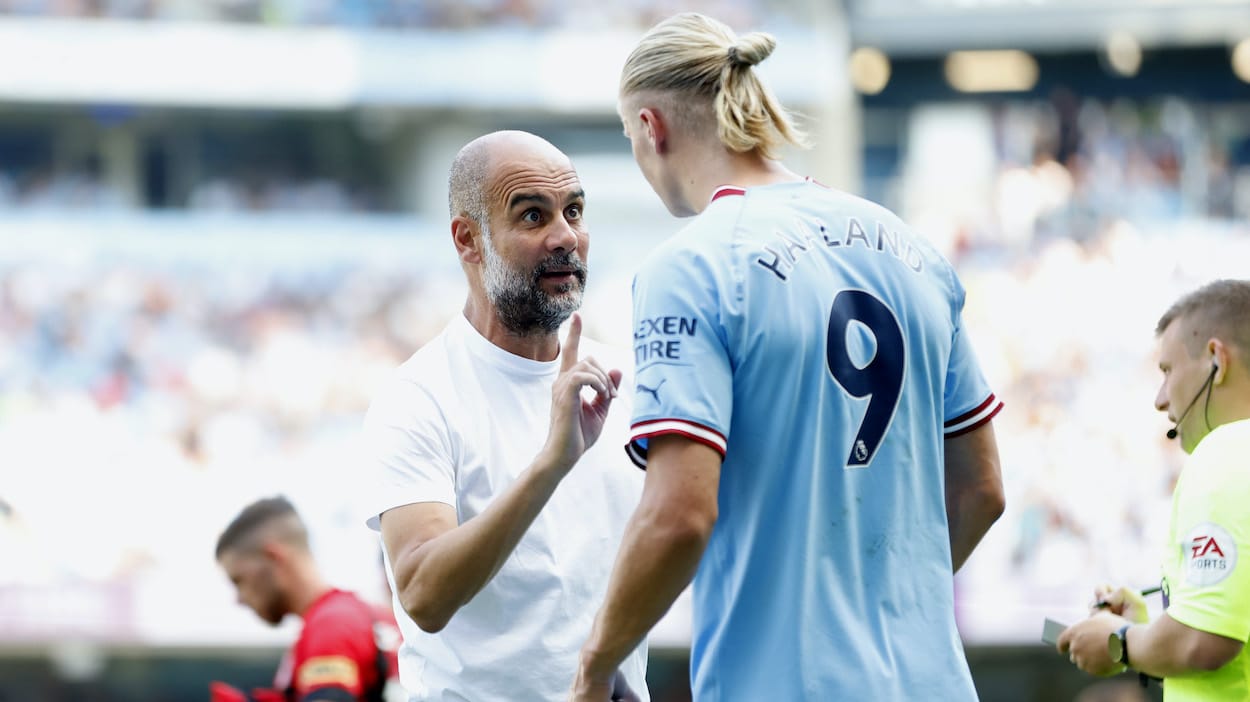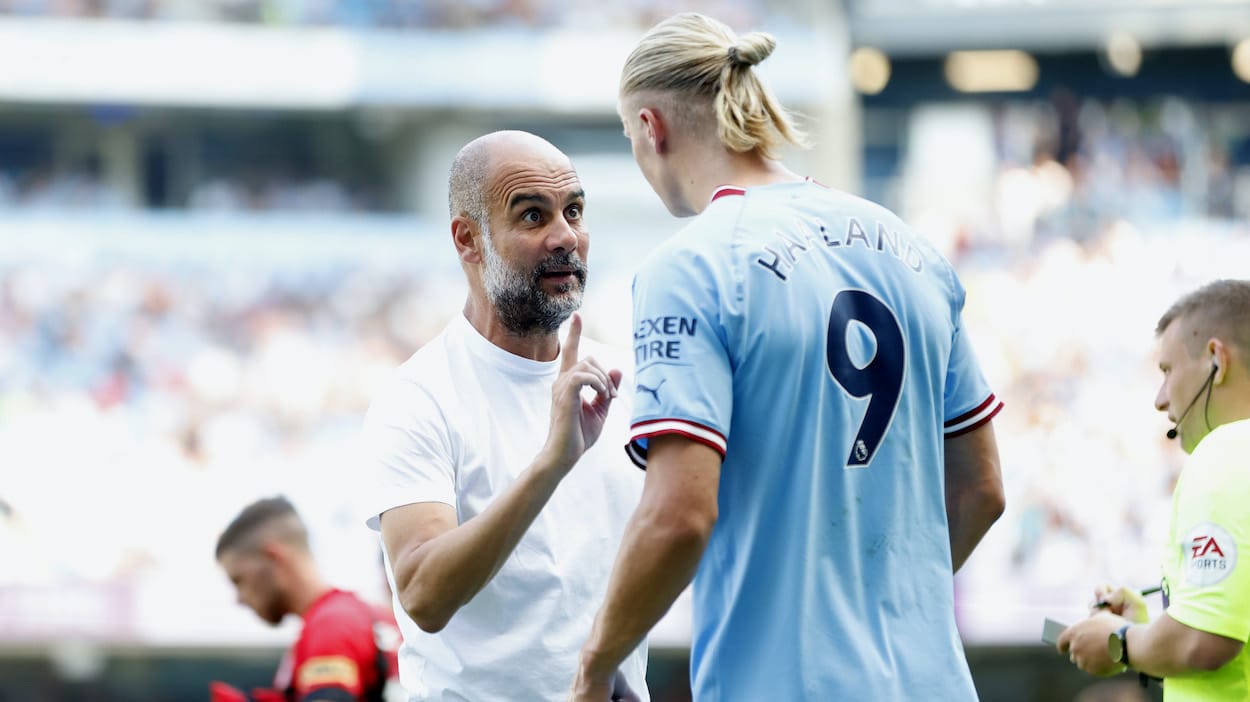 By "only" scoring one goal vs. Southampton, Erling Haaland's record goal pace dipped slightly. The one-goal effort took his average from 1.75 goals to 1.66 goals per game in the 2022-23 Premier League season.
That means he's now "only" on pace for 63 EPL goals this season. Still, that's more than good enough to obliterate the current EPL single-season record of 34 goals, set by both Newcastle's Andy Cole in 1993-94 and Blackburn's Alan Shearer Blackburn in 1994-95.
Cole and Shearer hit those marks in 42-game seasons. The record for the current 38-game schedule is Liverpool's Mohamed Salah, with 32 in 2017-18.
As Haaland continues his assault on these marks, Premier League fans are doing their best to desperately try and stop him.
After Machester City smoked Manchester United 6-3 in the first Manchester derby of the 2022-23 season, a United fan started a petition to boot Erling Haaland out of the Premier League because "it's just not fair" and he's a "robot," per the Mirror.
Now, a second petition titled "Remove Erling Haaland from the UK" has shown up, this time because "[Haaland] shows up out of the blue, and consistently ruins the weekends of the hardworking people of this great nation."
The horrific news for the fans of other EPL teams and other UCL teams around the world is that Haaland is as good as advertised, and he's here to stay.
Like Sportscasting on Facebook. Follow us on Twitter @sportscasting19 and subscribe to our YouTube channel.