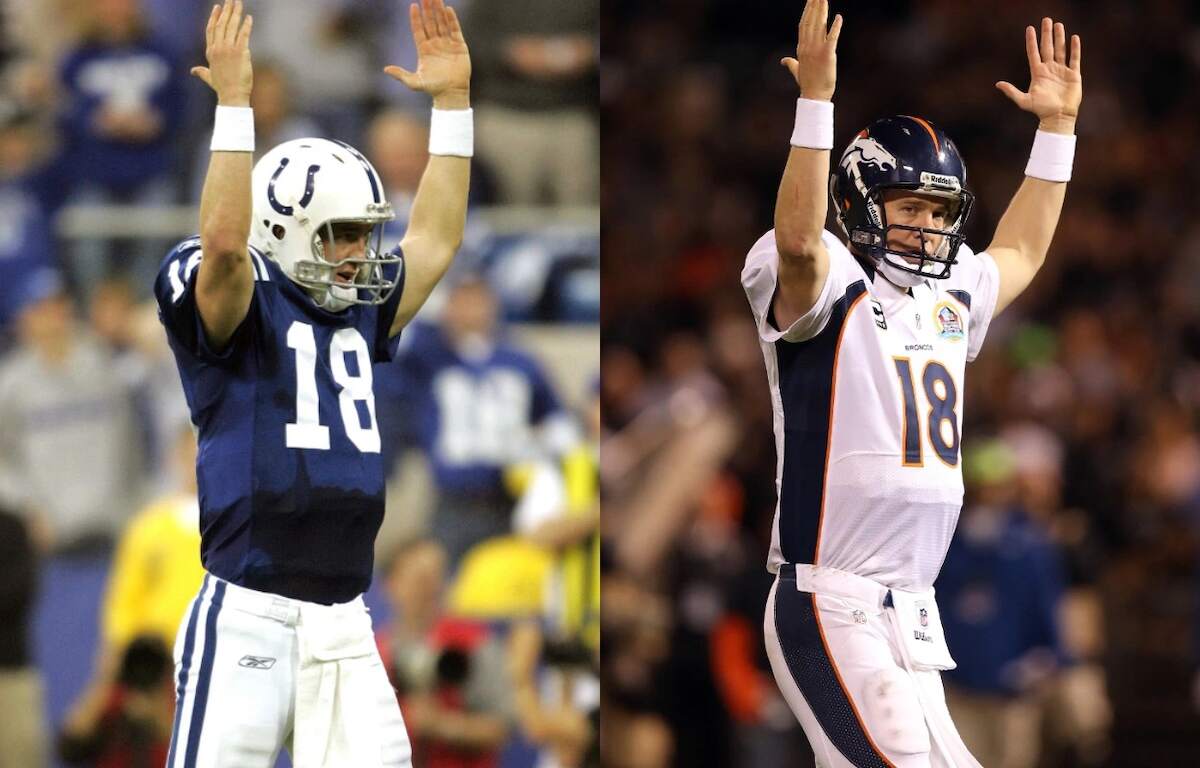 Peyton Manning: Ranking the Pro Football Hall of Fame QB's 5 Best Seasons
Of all of Peyton Manning's greatest NFL seasons, which rank at the top of his iconic resume? Let's take a deep dive.
For nearly two decades, Peyton Manning terrorized opposing defenses with his crisp touchdown passes, ability to thread even the tiniest hole, and how often he audibled at the line of scrimmage. Who needed pace of play if it meant watching The Sheriff in action?
Manning, the Indianapolis Colts' first overall pick in 1998, played at least one game in 17 seasons en route to winning two Super Bowls, five MVP Awards, and establishing his place as one of the greatest quarterbacks in league history. But which of Manning's seasons were his best?
For this list, we factored in statistics, the team's final finish, and the context surrounding the seasons. Based on consideration of the aforementioned prerequisites, Manning's greatest campaigns rank as follows:
Honorable mention: Peyton Manning's other MVP years (2003 and 2008)
If we ranked Manning's five best seasons and only included his five MVP seasons, this list wouldn't be as fun. Although he'd already been a three-time Pro Bowl selection and a two-time second-team All-Pro by the time the 2003 season began, the Tennessee product was still searching for his first postseason victory.
Manning broke out in 2003, completing 67% of his passes for 4,267 yards, 29 touchdowns, and 10 interceptions en route to sharing MVP honors with the Tennessee Titans' Steve McNair that season. The veteran gunslinger not only won a playoff game, but he even reached the AFC Championship Game.
Five years later, Manning and the Colts overcame a 3-4 start to win their final nine games and qualify for the playoffs as a wild-card team. Meanwhile, the then-San Diego Chargers won the AFC West at 8-8, and the Arizona Cardinals captured the NFC West at 9-7.
Manning ended his age-32 season with a 66.8 completion percentage, 4,002 yards, 27 touchdowns, and 12 interceptions. Those pesky Chargers upset the Colts in the AFC Wild Card Round and ended Tony Dungy's head coaching career in the process.
5. The penultimate dance (2009)
For much of the 2009 season, the Colts appeared destined for history. Indianapolis won its first 14 games despite not dominating opponents like the 2007 New England Patriots. Manning led seven fourth-quarter comebacks and ended the 2009 campaign with 4,500 yards, 33 touchdowns, and 16 interceptions in his penultimate season as the Colts' starting quarterback.
Manning continued his strong play in the postseason, completing 69.2 of his passes for 956 yards, six touchdowns, and two interceptions en route to reaching Super Bowl 44. So, why isn't the gunslinger's 2009 campaign higher on our list?
Six words: New Orleans Saints cornerback Tracy Porter.
And one more word: ugh.
4. Welcome to Denver (2012)
After Manning missed the entire 2011 season with a neck injury, the veteran quarterback and the Colts decided to start over. Indianapolis cut arguably the greatest player in franchise history ahead of free agency.
He soon signed with the Denver Broncos, the reigning AFC West champions. Manning carved through defenses en route to a 68.6 completion percentage, 4,659 yards, 37 touchdowns, and only 11 interceptions at 36 years old.
If not for Minnesota Viking running back Adrian Peterson's 2,097 rushing yards, Manning almost certainly would have won his fifth MVP Award. In fact, the veteran quarterback earned 19.5 votes to Peterson's 30.5.
3. Manning rewrites the record books (2004)
Manning also earned NFL Offensive Player of the Year and first-team All-Pro honors after leading the Colts to a 12-4 record and another AFC South title. As in 2003, Manning reached the AFC Championship Game but lost to Tom Brady's New England Patriots on the road.
A case could easily be made for ranking Manning's 2004 season second, especially considering he won the MVP Award. However, it's hard to argue against the two seasons we haven't covered yet.
2. Finally, a Super Bowl champion (2006)
Although Manning and the Colts won Super Bowl 41, it's incredibly easy to forget how dominant he was during the regular season. The 30-year-old threw for 4,397 yards, an NFL-high 31 touchdowns, and only nine interceptions, the only time in his career he didn't throw double-digit picks.
Remember that part about context? Well, we can look past Manning throwing three touchdowns against seven interceptions in the regular season because he and the Colts won the Super Bowl.
Any lingering questions about Manning's eventual legacy ended on a rainy night in Miami. Sure, he might not have matched Brady's rings — and he never would — but the Colts legend was a Super Bowl champion.
1. Peyton Manning's greatest passing season ever (2013)
Forget about Super Bowl 48 for a second. Manning's 2013 season remains arguably the greatest by any quarterback in NFL history, even if he didn't finish the job and win a second ring.
Manning completed 68.3% of his passes for an NFL-record 5,477 yards and 55 touchdowns; no quarterback had topped either record through the end of the 2021 season. He added another four passing touchdowns in the Broncos' first two playoff games and gave it his all in the Super Bowl.
If Manning's 2013 season is arguably the best by any quarterback in NFL history, how could we rank any other campaign above this one?
Like Sportscasting on Facebook. Follow us on Twitter @sportscasting19.