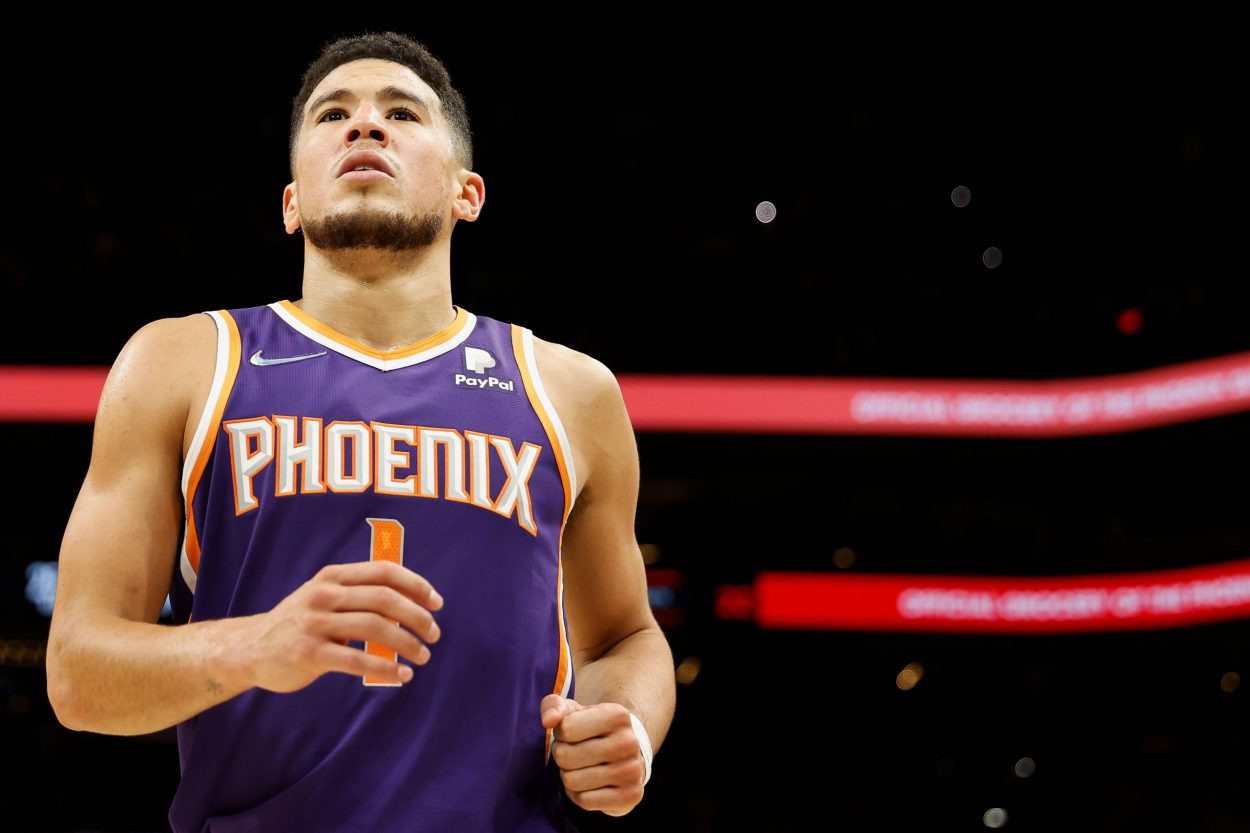 Phoenix Suns News: Devin Booker's Absence Threatens Pursuit of Franchise Record
The Phoenix Suns' pursuit of the franchise single-season wins record is in jeopardy with Devin Booker now on the shelf.
Despite the extended absence of Chris Paul, the Phoenix Suns remain 6.5 games clear of the Golden State Warriors for the top seed in the Western Conference and home-court advantage throughout the 2022 NBA Playoffs. But while the Suns are still in a terrific spot, Devin Booker's impending absence threatens the team's shot at a franchise record.
At 49-12, Phoenix is on pace for 65 wins. That number would eclipse the team's previous single-season record of 62 victories, first set during the 1992-93 season and replicated during the 2004-05 campaign.
However, Booker will be sidelined for the next several games, which could end all hopes of getting to 63 wins.
Devin Booker entering health and safety protocols
With Chris Paul in street clothes due to an avulsion fracture, Booker appeared primed to take on added playmaking responsibilities. Now, that onus falls on someone else.
Shams Charania of The Athletic reported Wednesday that Booker has entered the league's health and safety protocols. It had mostly been smooth sailing for the NBA with respect to COVID-19, but this case serves as a reminder that the virus still looms over the 2021-22 season.
Booker can receive clearance if he returns two separate negative PCR test results collected at least 24 hours apart. Still, it's reasonable to suggest he will miss at least 10 days.
How will Phoenix cope without its top scorer and primary shot-creator?
How Booker's absence impacts the Suns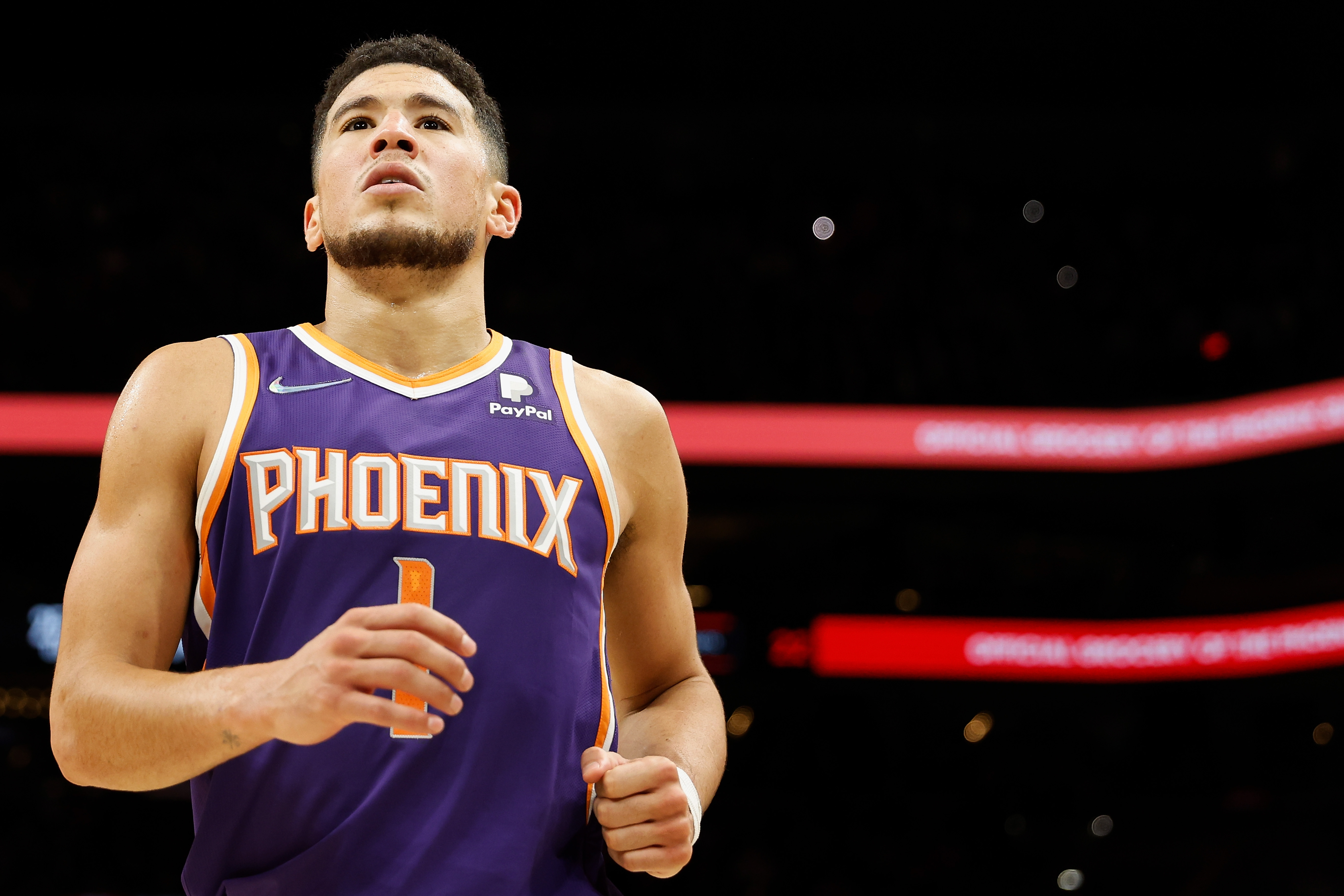 Devin Booker provides value to the Suns beyond merely scoring the basketball.
Booker is one of the team's best offensive initiators as a pick-and-roll ball-handler. His excellence as a mid-range scorer means everything to a Phoenix team that uses thrives on getting to those spots.
Moreover, Booker starts and finishes strong. He averages 9.0 points in the first quarter, the third-best mark in the league, per NBA.com. He's every bit as proficient at the end of games, averaging 3.0 points on 61.1% shooting in clutch situations.
Booker and CP3 have typically led the Suns to wins in close contests. Without its two stars on the floor, who will step up and fill the void for Phoenix?
Mikal Bridges figures to see more of the ball. Deandre Ayton should get more post touches as the Suns try to establish him on the low block. But unheralded players must elevate their play, as well.
In the midst of a career season, Cameron Johnson will have to plug some of the gaps in both scoring and ball-handling responsibilities. The Suns must also get strong production from a returning Cameron Payne.
Phoenix has a group deep enough to withstand recent roster setbacks. Still, the Suns could be hard-pressed to break the single-season wins record.
A historic achievement now in doubt
The 2021-22 Suns could be the best team in franchise history. Will their record reflect that?
Say Devin Booker has to remain in health and safety protocols for a full 10 days. Phoenix plays six games between March 2 and March 11. That slate isn't a cakewalk, either.
The Suns, fresh off consecutive losses, host the Portland Trail Blazers and New York Knicks in their next two games. They then hit the road for a trip that includes showdowns against Eastern Conference heavyweights in the Milwaukee Bucks and Miami Heat before returning home for a date with the Toronto Raptors.
If Phoenix manages to earn a split, it will be on pace for about 63 wins. Even once Booker hypothetically returns, reaching that milestone could prove challenging.
The Suns have a somewhat difficult closing schedule that includes a stretch in which they have to play the Minnesota Timberwolves, Denver Nuggets, Philadelphia 76ers, Golden State Warriors, and Memphis Grizzlies in consecutive order, with four of those five games being played on the road. Yeesh.
This has been a season to remember in the desert, and Phoenix (for now) has a stranglehold on the No. 1 seed in the West. But the Suns' shot at the franchise's single-season is slipping away, even more so with Booker on the sidelines for the foreseeable future.
Stats courtesy of Basketball Reference unless otherwise noted.