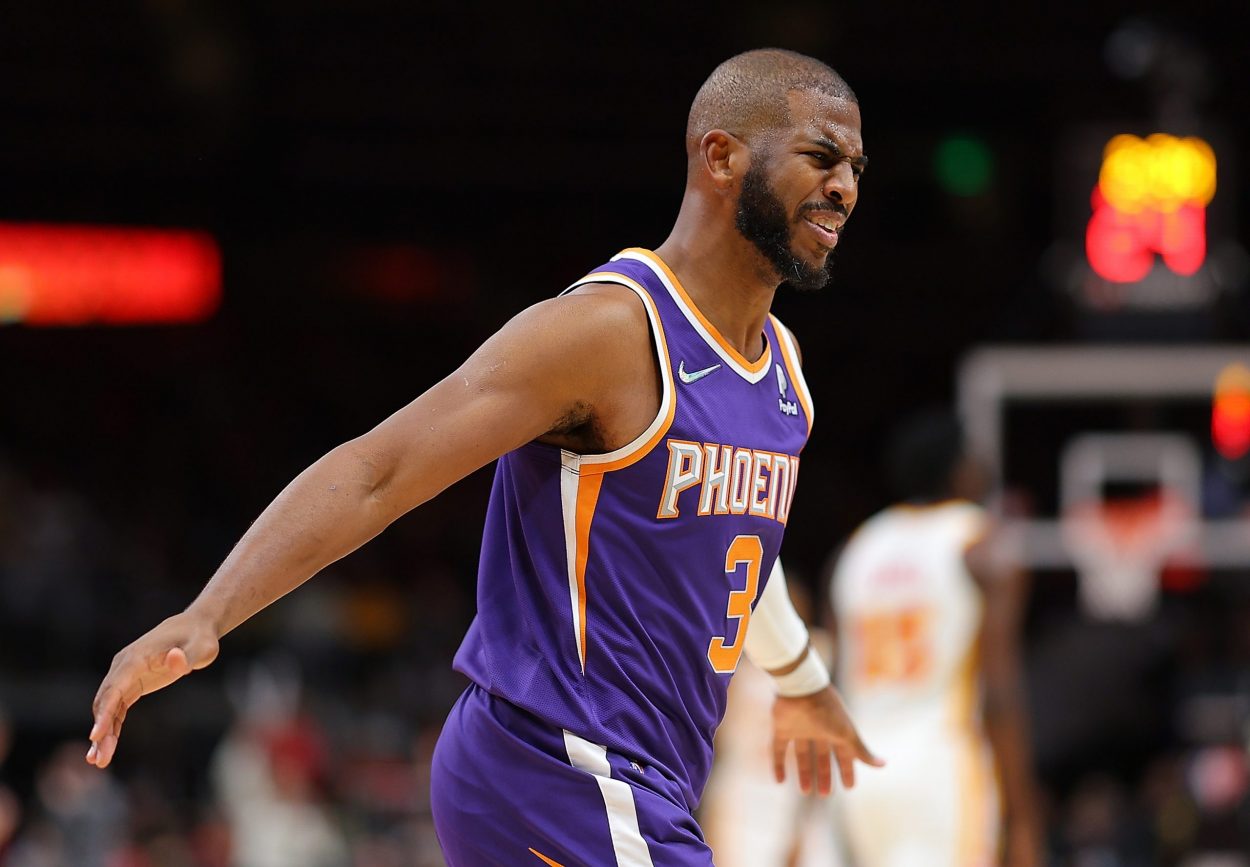 Chris Paul Feels 'At Peace' With His NBA Legacy but Still Thirsts For a Championship
Chris Paul has no qualms with potentially being known as one of the best players to never win an NBA championship, but he's still hungry for a ring.
Phoenix Suns fans should not confuse Chris Paul's apparent contentment with complacency. He's pleased with his NBA career but remains adamant about capturing his first championship.
Paul joined former teammate J.J. Redick on the Old Man and the Three podcast to discuss Phoenix's season and his legacy as a future Hall of Fame point guard. While being known as one of the greatest players never to win a ring isn't the most endearing distinction, CP3 believes his current body of work speaks for itself.
Still, the 36-year-old is hungry to give his resume a proper bookend of sorts. He has a strong chance of doing just that, as the Suns' success has resulted in Monty Williams earning the distinction of coaching an All-Star team while also making Phoenix one of the clear favorites to win the NBA championship.
Chris Paul has never won an NBA championship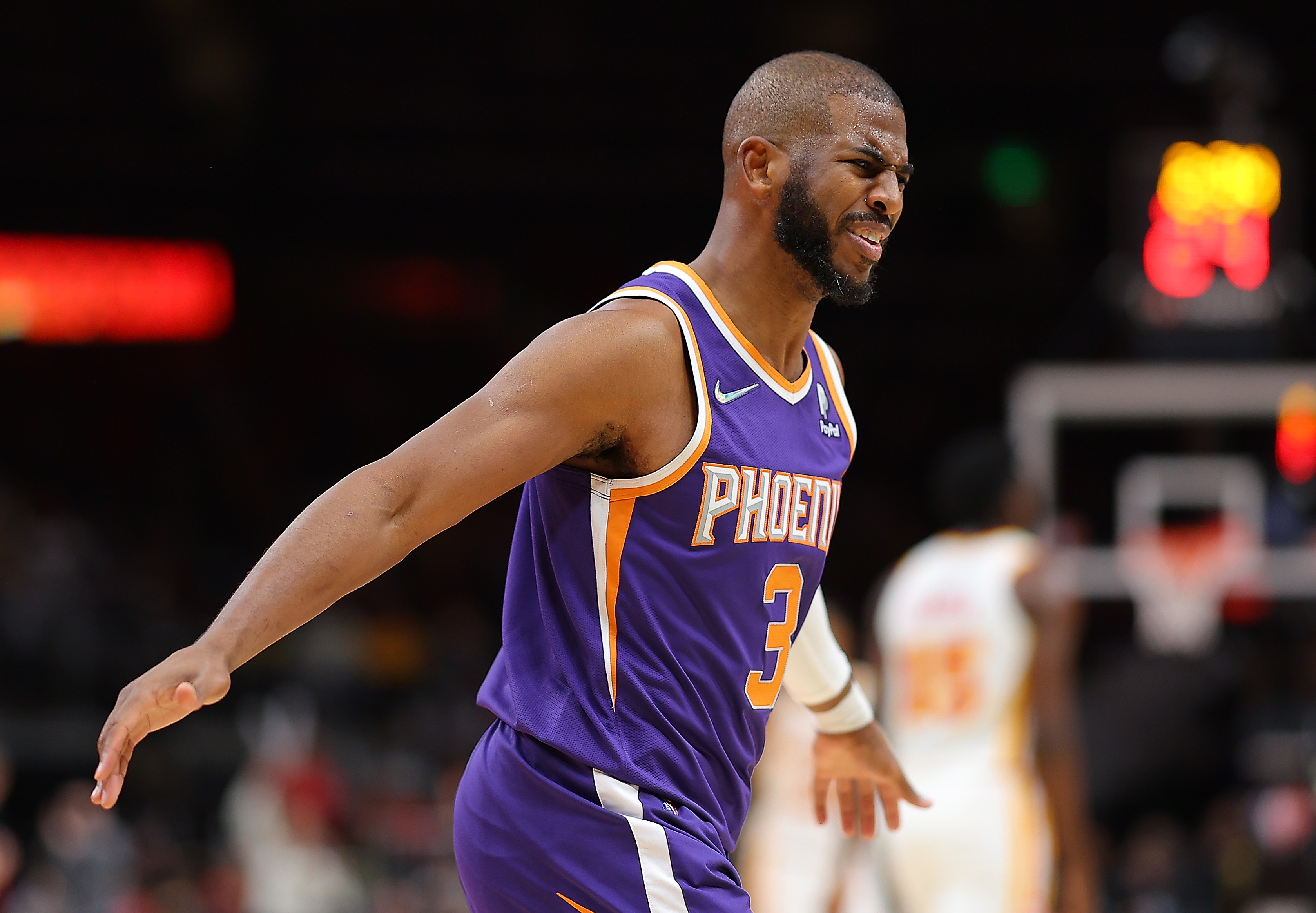 Chris Paul has accomplished quite a bit in his career.
The 17-year veteran has made 11 All-Star teams and 10 All-NBA squads. He ranks third on the all-time assist list and fifth all-time in steals. Paul's demonstrated two-way excellence over the course of his career makes him one of the best pure point guards in league history.
However, CP3 has yet to hoist the Larry O'Brien Trophy.
Letdowns and poorly-timed injuries stain Paul's playoff history. His Los Angeles Clippers teams often underachieved. He appeared ready to conquer past demons with the Houston Rockets in the 2018 Western Conference Finals, only to suffer an injury at the end of Game 5. Houston lost each of the next two games. Paul called that the biggest regret of his Rockets tenure.
Injuries also played a role during last year's NBA Finals against the Milwaukee Bucks. After suffering hand and wrist injuries in the first round of the 2021 playoffs, Paul struggled to take care of the ball as the Bucks climbed back into the series. The turnover issues led to questions about his health, and the Suns never again regained control of the series as Milwaukee won its first championship in 50 years.
One might assume the playoff shortcomings would eat away at Paul. Indeed, CP3 admitted to past frustrations about his inability to win a title. But he now feels more comfortable with his legacy.
Paul told J.J. Redick he is "at peace" with his NBA legacy, though he remains intent on winning a championship
Chris Paul does not feel he needs to win a championship to validate his career.
Paul told J.J. Redick on the Old Man and the Three podcast that, in past years, he would have gotten "tight" at the prospect of never winning a title. Things have since changed for CP3. That said, he's determined to check the last box and win a ring.
"Some years ago if you would have asked me that, like while you were talking, like my stomach would've started getting tight or something like that. But I'm so at peace, like, for real. But when I say that, man I'm gonna fight my ass off to win this championship this year, the next year, whenever it may be."

–Chris Paul
Paul explained he feels "grateful" and "blessed" merely to still play the game and do so at a high level. As CP3 noted, he's one of the few members still left from his 2005 draft class. He also stated that many players would probably like to "trade places" with him.
That said, Paul acknowledged the joy he felt in merely winning the Western Conference Finals last season. He wants to get over the hump and capture that elusive NBA title.
The Suns are a clear title favorite
Chris Paul and the Suns have the best record (42-10) in the league. That alone makes them a top favorite to win the 2022 NBA title. But merely looking at team record limits Phoenix's championship credentials.
The Suns dominate in the fourth quarter. According to NBA.com, Phoenix has the best offensive rating and the second-best net rating in the final period. Paul, Booker, and six other Suns are among the seven best players in terms of net rating in clutch situations.
Phoenix's closing ability is notable. So is its balance. The Suns rank third in offensive rating and second in defensive rating. They are second in field-goal percentage and third in defensive field-goal percentage.
Paul might not feel as obligated to win a ring. Yet, this Suns team probably offers his best chance to do just that.
Stats courtesy of Basketball Reference unless otherwise noted.