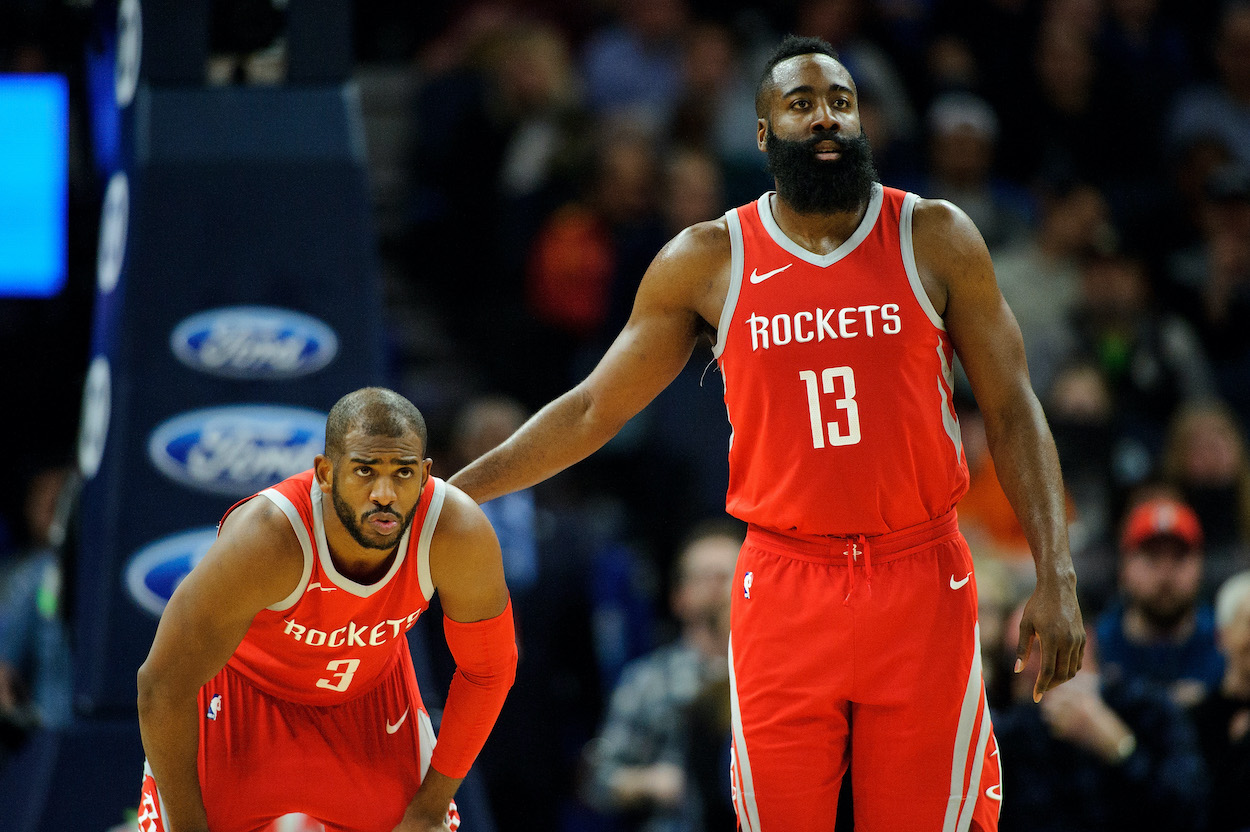 Chris Paul Painfully Admits His Deepest Regret From Failed Stint With James Harden and the Houston Rockets
Chris Paul believes a little more luck and a little more tough love could've won him an NBA title with the Houston Rockets.
Chris Paul almost won his first career NBA title last season with the Phoenix Suns, but we can't forget he also had a golden opportunity to put a championship ring on his finger in 2018 with the Houston Rockets.
In his first season with the team, Paul powered the Rockets to a 3-2 series lead over the mighty Golden State Warriors in the Western Conference Finals. One win in the next two games would've made Houston a sizeable favorite over LeBron James and the undermanned Cleveland Cavaliers in the NBA Finals, but an injured hamstring forced Paul out for the rest of the series.
After three years of reflection, Paul recently revealed his deepest regret from those lost years alongside James Harden in Houston.
A hamstring injury may have cost Chris Paul an NBA title in 2018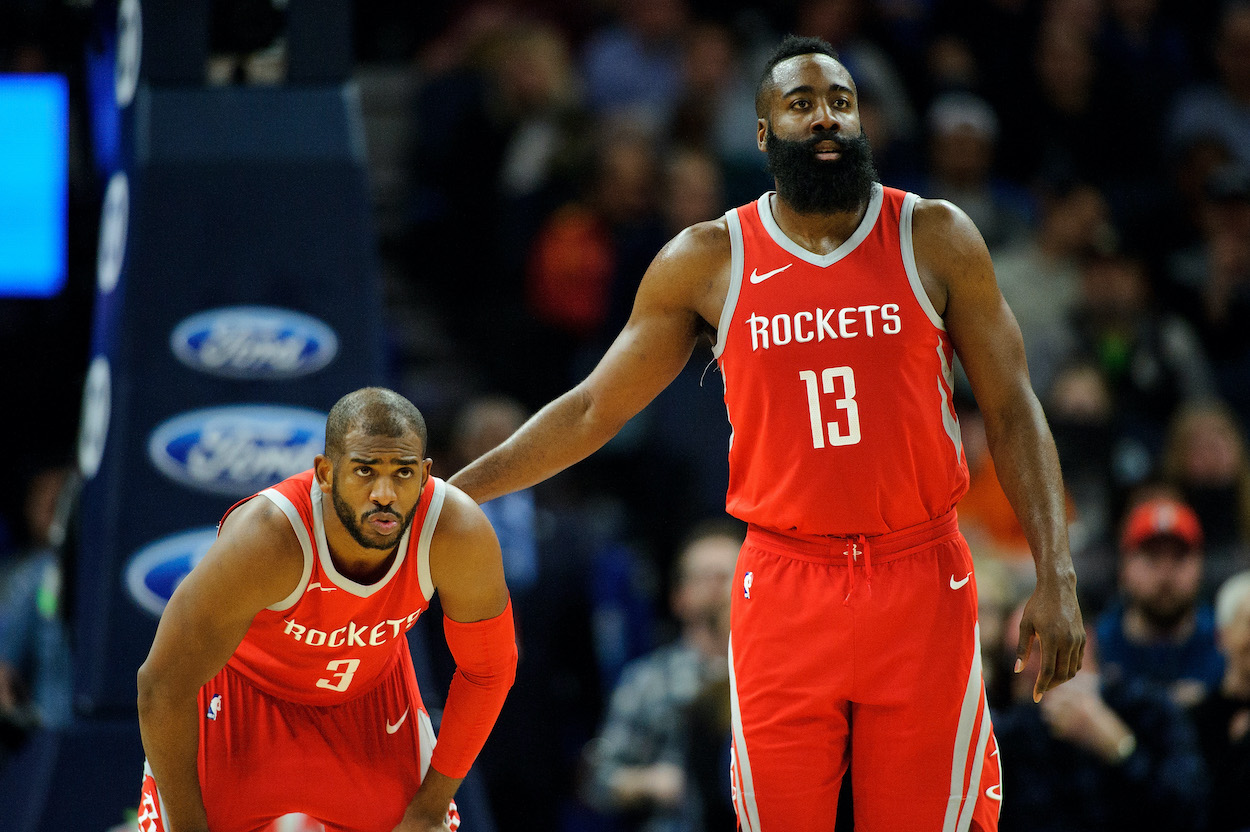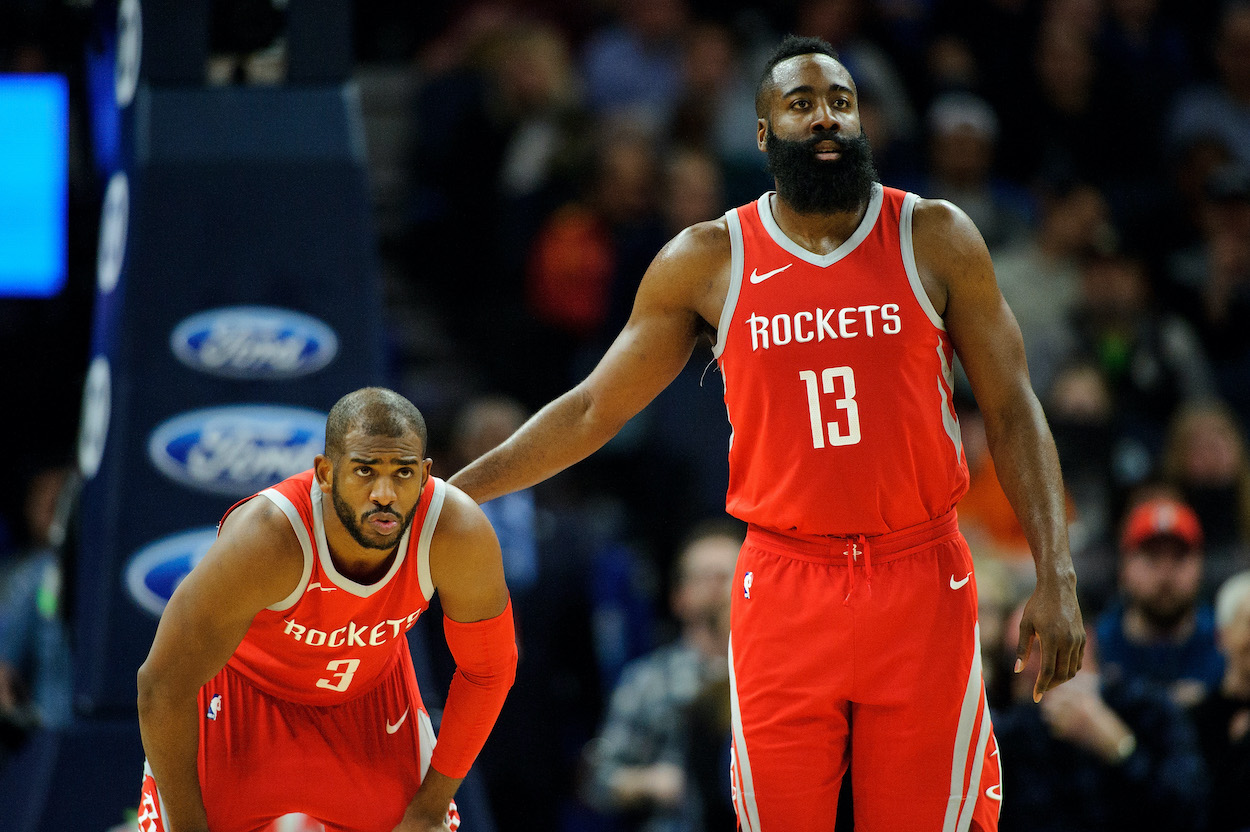 The year is 2018.
Stephen Curry and the Warriors have dominated the NBA for years, as they've won two of the last three titles and look to be on their way to a fourth straight Finals appearance. Enter the Rockets, an analytical juggernaut that chucked up and made more 3-pointers than any other team in the league, including the Warriors. Houston also finished the regular season with the best record in the NBA at 65-17.
The Warriors and Rockets met in the Western Conference Finals and split the first four games of the series. In Game 5, Paul overcame a poor shooting performance from Harden to lead the Rockets to a 98-94 win, but he also suffered a hamstring injury the same night. Unfortunately for Paul, he missed the last two games of the series, and Golden State came back to win in seven. The Warriors then swept an underwhelming Cavs team to win their third title in four seasons.
The following year, Houston again had a great regular season but lost to the Warriors in the playoffs. And after two failed seasons with the Rockets and a deteriorating relationship with Harden, Paul was traded to the Oklahoma City Thunder.
Chris Paul reveals his deepest regret with James Harden and the Rockets
Paul hasn't spoken much in recent years about his short tenure in Houston. He understandably hasn't wanted to rehash bad memories of yet another missed opportunity to win an NBA title.
But CP3 recently sat down with former All-Star Gilbert Arenas on No Chill with Gilbert Arenas and spoke about his failed stint with the Rockets. The star point guard wishes he engaged in more tough conversations with Harden when things started going wrong, and he believes he could have a ring today if his hamstring never gave out.
You have to be able to have them conversations. And the thing that frustrated me the most was that first year, I wasn't healthy. It's crazy. Them years in Houston are kinda a blur, to a certain extent, because there was so much going on at the time. But dang, we was good. We was real good.

And James, I still say it, can't nobody score the ball like he can. It's crazy, man. I wouldn't trade any experience or whatnot, but I wish we would've had some of those conversations. But most of all, I wish I would've been able to stay healthy.

Chris Paul
So do we, Chris. So do we.
The sand is running low in CP3's hourglass
Paul is still one of the smartest and most efficient players in the NBA. He just proved he can still lead a team to a deep playoff run and possibly an NBA title in his older age, but the sand seems to be running low in his hourglass at this point in his career.
CP3 is now 36 years old. He's about to enter his 17th season in the NBA. Not many point guards, especially ones on the shorter side, even make it this far, so the 6-foot-0 Paul realistically has only two or three more years to secure the all-important championship ring that has eluded him for nearly two decades.
Sadly, it feels as if last year was Paul's final chance to win a title. The luck meter finally flipped in his direction for once, and it all magically happened at the same time. Paul will never have an easier path to the Finals than the one he faced last season.
If CP3's resume is ultimately written without a championship attached, it'll still be a Hall of Fame career, but one riddled with regrets nonetheless.