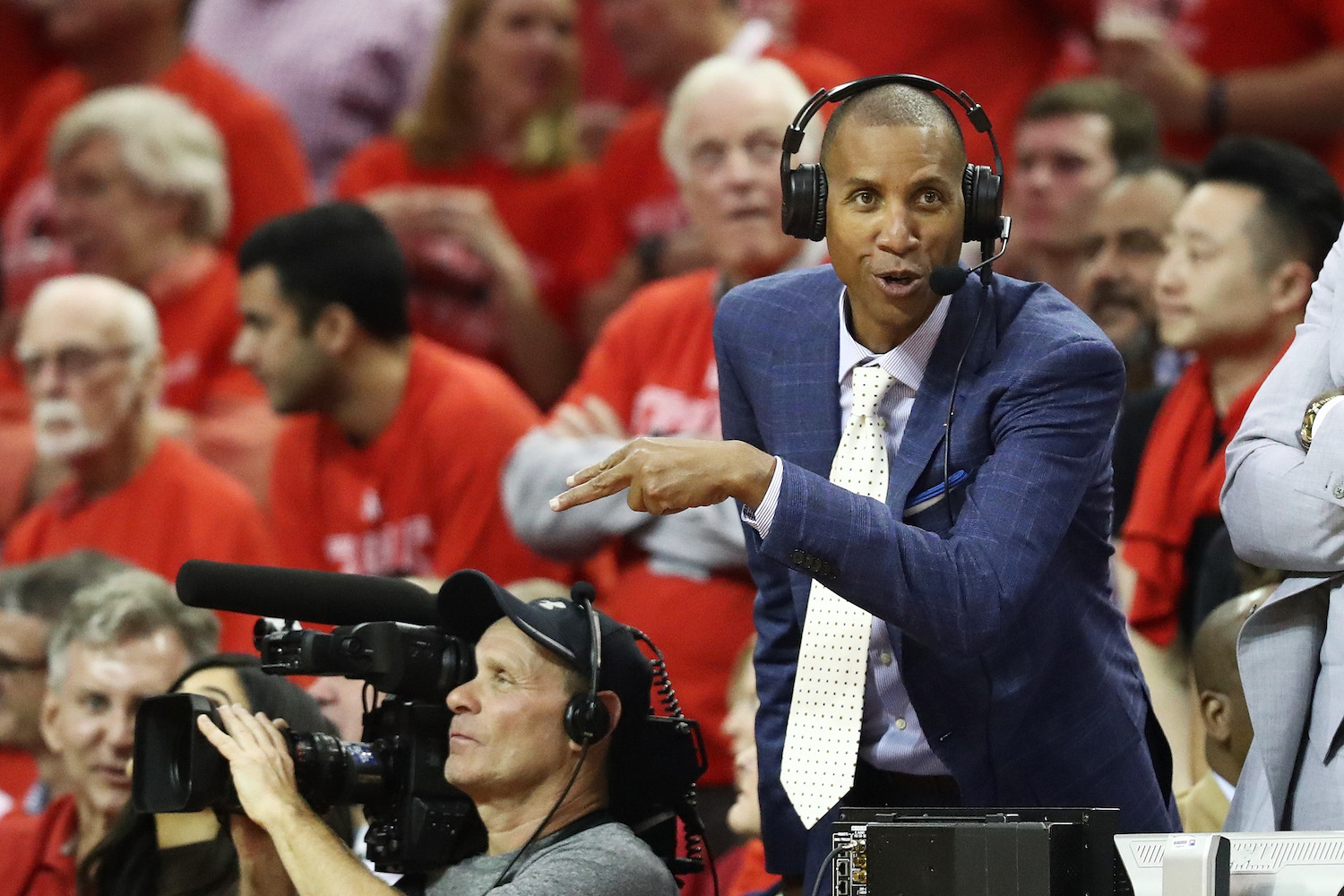 Reggie Miller Won't Shy Away From Social Justice Issues During NBA Broadcasts
As a player, Reggie Miller was known for his mouth. Since retiring, Miller has worked as an analyst on NBA games. With the NBA restart, Miller won't shy away from talking about social justice issues.
Reggie Miller was known for two things during his 18-year career with the Indiana Pacers — his three-point game and trash-talking, and not necessarily in that order. Since the NBA Hall of Famer retired in 2005, he has worked in the broadcast booth covering both the NCAA Men's Tourney and NBA.
Today, the 54-year-old, like everyone else, is looking forward to the NBA restart. However, he understands the game is different since it was last played in March and it's not just because the teams are playing in the midst of a pandemic in Orlando without any fans. Since the death of George Floyd, a nationwide movement has been born fighting against racial inequality and police brutality. Miller hasn't shied away from the topic on social media and doesn't plan to do so during NBA coverage. 
Reggie Miller's trash-talking game
Reggie Miller has never been at a loss for words when it comes to his game. He showed his penchant for talking early on during his rookie season in an exhibition game against Michael Jordan. After playing well in the first half — Miller scored 10 while holding Jordan to 4 — and at the urging of veteran teammate Chuck person, Miller challenged Jordan and questioned his greatness. Jordan came out and scored 40 in the second half while Miller scored just two. Lesson learned. No one talks to Black Jesus like that.
During the 1990s, when the Indiana Pacers and New York Knicks regularly battled for playoff supremacy, Miller took his trash-talking game to the next level against Knicks uber-fan and actor/director Spike Lee. 
In one game, Miller jawed at Lee on repeated trips up and down the court, even at one point flashing a choke sign at Lee. In an ultimate show of respect, Lee made an ESPN 30 for 30 documentary in 2010 called "Winning Time: Reggie Miller vs. The New York Knicks," which he highlighted some of his court-side interactions with Miller. 
Miller's social activism through social media
Social media has been Reggie Miller's friend. While he admits it would have been tough to handle as a player, Miller has used the various platforms in his post-playing life to talk game and what's going on around the world. 
Since the death of George Floyd, Miller has taken to Twitter on a frequent basis retweeting and commenting on posts that call out the injustices happening within the black community. He recently wrote about how Louisville police never attended to Breonna Taylor after they busted down her door, then shot and killed her.
"And on top of that she was still alive and they NEVER attended to her. They all have to go down," Miller wrote, referring to the fact that no officer involved in the shooting was ever arrested for the murder.
Reggie Miller's plans for NBA coverage after restart
RELATED: Reggie Miller Might Not Have Been the Best Basketball Player in His Family
Reggie Miller was outspoken as a player. He's been outspoken on Twitter about the pandemic and the social justice issues facing the nation. And he will be outspoken during the upcoming broadcasts for the remainder of the NBA season. But Miller said don't mistake his outspokenness for someone who is political.
"Coach (Stan Van Gundy) and I shoot from the hip at times. I can see where people at times will be uncomfortable with some of the things that I say or retweet on some of the political views. But I don't consider myself a political guy," Miller said in an interview with USA Today. "I mention and say things that I feel are right for common sense people. I've never heard anything from my bosses. That is the same as coaches or anyone from the league as well. I've always been outspoken even as a player. People expect that from me. They give me a long leash to venting."
While the NBA has been on hiatus for months and the world as we know it has dramatically changed, don't expect Reggie Miller to change his style. If anything, the Hall of Famer will bring his same expertise and brashness to each broadcast, and will interject his thoughts on the national conversation that is happening in cities and homes across the country about racial injustice and how we can overcome it.